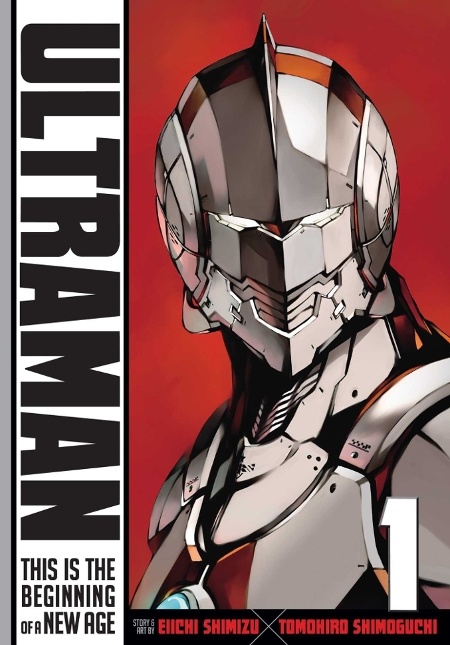 Ultraman Vol. 1 TP
Publisher: VIZ Media
Release Date: August 19, 2015
Price: $12.99
Creator(s): Tomohiro Shimoguchi, Eiichi Shimizu
Format: 240 pgs., Black & White, Trade Paperback
ISBN: 978-1-4215-8182-5
Age Rating: N/A
ICv2 Rating: 4 Stars out of 5
Decades ago when Shin Hayata was a member of The Science Patrol he merged with the giant Ultraman to help save the earth from an invasion of a giant monsters. His time being part of the alien gave Shin incredible powers, powers which he has passed onto his teenage son Shinjiro. Who will need those abilities as he's unknowingly being targeted by Bemular, the first enemy Ultraman faced on earth.
Those already familiar with Ultraman will most likely be surprised by this version of the character as it abandons the formula of the TV show, plus-sized hero gets pitted against a monster of the week, to bring the focus down to street level. Specifically to the humans who now possess the so-called "Ultraman Factor" and use mech suits to help channel their powers. Honestly, on the surface this iteration of the character is more Iron Man than Ultraman.
Not that that's necessarily a bad thing. I often find there's a certain sameness in a lot of modern manga, from the story to the storytelling, and I rarely find myself surprised. Ultraman, however, gets points for overall originality. For instance there much to admire in the artwork. While it's admittedly sparse and a little rough (in fact it frequently looks more like a film's storyboard than manga art) it's definitely effective. Fans of the original TV series will most likely enjoy this as much as those who are completely new to the franchise.
--
Steve Bennett: Writer and retail services consultant.