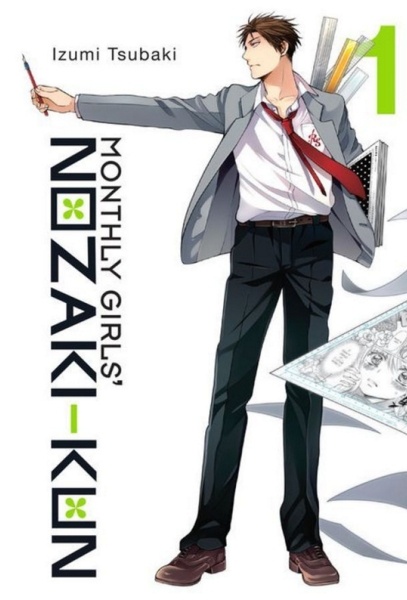 Monthly Girls' Nozaki-kun Vol. 1 TP
Publisher: Yen Press
Release Date: November 17, 2015
Price: $13.00
Creator: Izumi Tsubaki
Format: 144 pgs., B&W, Trade Paperback
ISBN: 978-0-3163-0947-9
Age Rating: 14+
ICv2 Rating: 5 Stars out of 5
Some series just work in the four panel format.
Monthly Girls' Nozaki-kun
is one of those series.
In this comedy series, the main character is a high school girl named Chiyo who confesses her feelings to her crush by saying that she is his fan and always wants to be with him. In exchange, her crush, Nozaki, gives her an autograph and reveals that he is actually a shojo manga author before bringing her onto his team. What follows is a wide variety of wild situations and incidents which will have readers rolling on the floor with laughter.
For those who first experienced this property through the anime series that came out a year or two ago, you know exactly what to expect and will not be disappointed. If you're new to the series entirely and have no idea what you're getting into, you'll be pleased to know that what you're getting is jokes, lots and lots of jokes and gags which will come at you at a mile-a-minute pace and keep you laughing for as long as you have this book in your hands.
What makes this first volume special is the seamless way that it is able to move from one joke to the next. Every page sets up a new gag and caps it off with a solid punchline by the fourth panel before repeating the process over and over again. Some people might find this old after a while but I'm willing to bet that most people are going to be in stitches while turning page after page.
This is a series for comedy fans who still enjoy and appreciate the four panel format that many of us grew up with.
Monthly Girls' Nozaki-kun
does a fantastic job with this format and brings it to life in a way that many other series try to do and fail with. Don't let this one slip you by.
--
L.B. Bryant