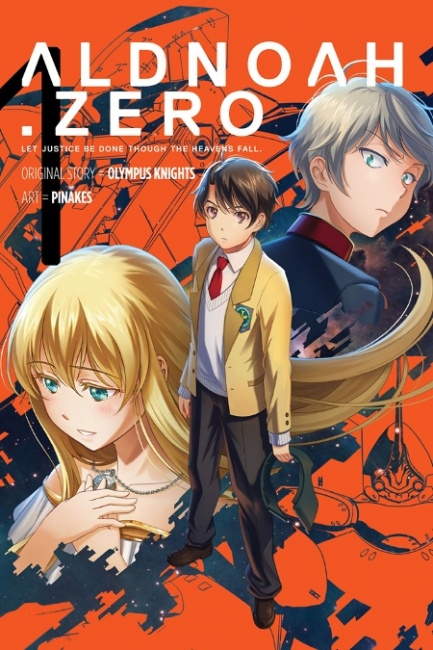 Aldnoah.Zero Season One Vol. 1 TP
Publisher: Yen Press
Release Date: December 15, 2015
Price: $13.00
Creator: Olympus Knights (story), Pinakes (art)
Format: 144 pgs., B&W, Trade Paperback
ISBN: 978-0-3163-0949-3
Age Rating: 13+
ICv2 Rating: 2 Stars out of 5
Aldnoah.Zero
has a lot going for it: an interesting premise, lots of action, and a sense of humor just to get the list started. Unfortunately, it's unable to pull all these things together into a cohesive unit that makes the opening volume an interesting read.
In this series, humanity has been separated into two factions: the faction which lives on Earth and the faction that lives on Mars and has declared its independence from Earth. The two were constantly at tense terms which eventually led to war. Finally, though, a truce is declared between the two factions of humanity; and the princess of Mars, Princess Asseylum, visits Earth on a diplomatic mission of peace. Sadly someone tries to take her life which reignites the war.
One thing that I really enjoyed about this volume and wish the creators had spent more time on was the political intrigue. This first volume felt rushed in many places. The first few pages are dedicated to introducing the general concept of the story but after that it is off to the races as war breaks out and the action begins.
It's possible that if the story had focused more on the political side of things the audience would have tuned out entirely, but that's a chance that I wish the authors would have taken as this proved to be much more interesting than the constant action scenes.
After only one volume there are still a ton of questions to be answered no doubt and there will be plenty of sci-fi and political drama fans in the audience who will want to read more. Many of you however are going to find this volume just as hard as I did to sit through and want to put it down long before reaching the final page.
--
L.B. Bryant