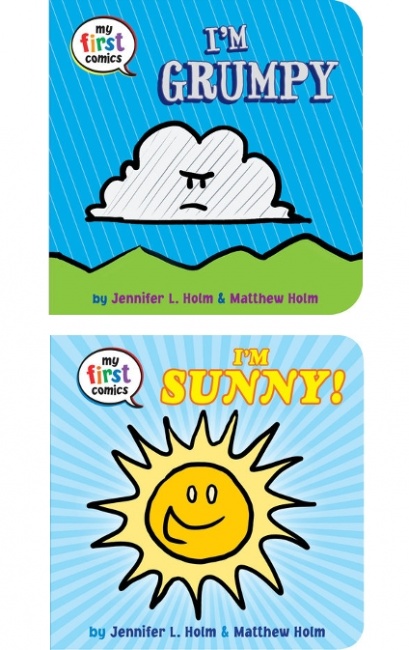 My First Comics: I'm Grumpy / My First Comics: I'm Sunny
Publisher: Random House
Release Date: January 26, 2016
Price: $7.99 (ea.)
Creator(s): Jennifer Holm and Matthew Holm
Format: 22 pgs., Full-Color, Board book
ISBN: 978-0-5535-3344-6 / 978-0-5535-3346-0
Age Rating: All-Ages
ICv2 Rating: 4.5 Stars out of 5
Doing Toon Books one better, these are actually graphic novels for pre-readers at the toddler level. That is not an easy task, but in this case the creators have succeeded.
Reading sequential art is a learned skill, and these books permit parents and caregivers to introduce very young children to the follow of a story, from panel to panel, with very simple stories. Starting off with simple one-panel-per-page layouts, each book progresses until, by the end of the book, there are multiple panels per page, with an actual story that is told by the sequence of images. With limited words, this is a story that, once read, children can enjoy on their own just from the progression of images. For a first time through, it will be more rewarding for a child to have these read to them, while they're sitting on a favorite lap.
While simpler than their more famous
Babymouse
stories, these two books are cute and clever. The sun and cloud characters are easy to recognize and understand, for younger readers, and the only tricky one is the "Tizzy Tornado" character, which may require parental explanation.
The books can be read separately, but there is a natural sequence to them if you read the
I'm Sunny
story first.
These books are intended for ages 0-3, but might be enjoyable for any pre-literate child.
--
Nick Smith: Library Technician, Community Services, for the Pasadena Public Library in California.