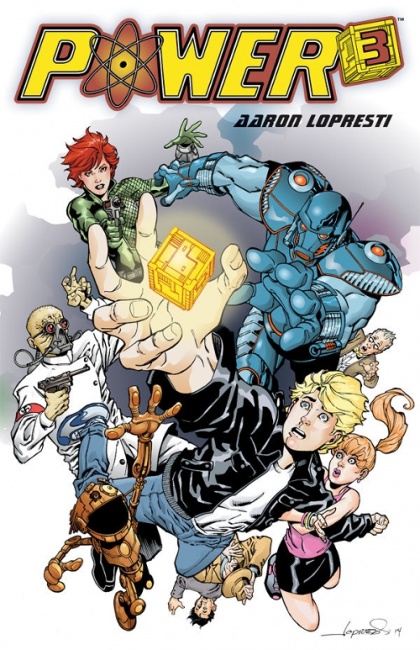 Power Cubed TP
Publisher: Dark Horse Comics
Release Date: May 4, 2016
Price: $14.99
Creator: Aaron Lopresti (story and art)
Format: 96 pgs., Full-Color, Trade Paperback
ISBN: 978-1-6165-5876-5
Age Rating: 12+
ICv2 Rating: 4 Stars out of 5
Kenny has a strained relationship with his emotionally distant father until the day he turns eighteen when he gives him the cube, a device that can turn just about anything into anything else. Creating dinosaurs and robots at will is fun at first, but soon everyone seems to cove Kenny's cube, from aliens to a jumpsuit wearing covert agent named Covert to a Nazi mad scientist named Dr. Cruel who kidnaps his girlfriend April. Luckily Kenny has a wild imagination and he's going to need it if he wants to hold onto his cube and rescue April.
In Power Cubed, veteran artist Aaron Lopresti's first creator owned comic, he brings a palpable enthusiasm to a premise rich in wish fulfillment that allows him to let his own imagination to run wild. Admittedly the material is somewhat overly familiar and the character types (the conflicted teen hero, his beautiful girlfriend, the mad scientist's hoodlum henchmen, the knockout super secret agent, etc.) standard issue, but what elevates it above the ordinary is Lopresti's expert craftsmanship and playful sense of fun.
What easily could have have been a fairly conventional science fiction with superhero overtones story is livened up by some stunning visuals and while Lopresti always takes the proceedings seriously there are also a lot unexpectedly funny moments as well.
Power Cubed
looks, reads and feels like a labor of love and should be enjoyed by anyone who loves a good story.
--
Steve Bennett: Writer and retail services consultant.