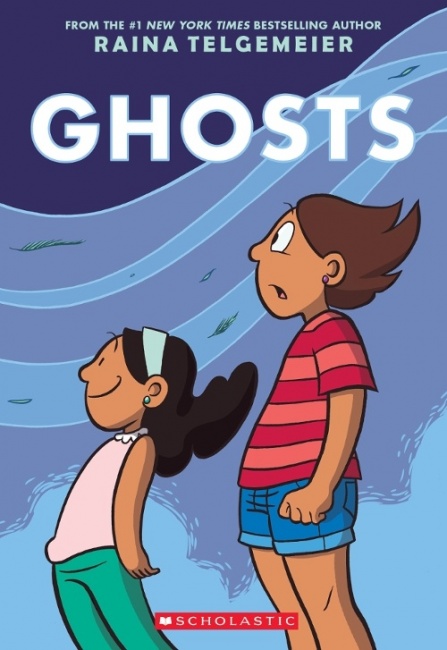 Ghosts GN
Publisher: Scholastic/Graphix
Release Date: September 13, 2016
Price: $24.99 (HC), $10.99 (TP)
Creator: Raina Telgemeier
Format: 256 pgs., Full-Color, Hardcover/Trade Paperback
ISBN: 978-0-5455-4061-2 (HC), 978-0-5-455-4062-9 (TP)
Age Rating: All Ages
ICv2 Rating: 5 Stars out of 5
Unlike some of her recent works, this one seems to be totally fictional. It still follows some of the themes of her successful graphic novels, though, including developing new ways to show the strengths of family and relationships.
In this story, Cat [short for Catrina, but don't call her that] has been torn away from her comfortable life for the benefit of her younger sister, Maya. Young Maya has cystic fibrosis, an incurable medical condition that greatly shortens the lifespan. Some of the symptoms can be mitigated, and it is in the hopes of helping Maya that the family moved to a place with a climate less stressful for her lungs.
In addition to everything being unfamiliar, the family has moved to a community whose culture seems to center around the Day of the Dead and openly discussing death and ghosts. So, while having to face a disrupted family life, there is also the constant reminder that her sister is slowly dying.
Unlike Telgemeier's other works, this one is openly fantasy for most of the story, as the town's ghosts begin to affect the actual plot. For readers familiar with the Day of the Dead festival, the ghosts are more comforting than scary, but there is still a danger in their different understanding of events and the needs of the living versus those of the dead.
The artwork softens the occasional scary moment, and this story is probably okay for all but the youngest readers. The real target audience is tweens and young teens, who will devour the story and want more. This is an outstanding book that belongs in every store and library, and will fly off the shelves.
--
Nick Smith: Library Technician, Community Services, for the Pasadena Public Library in California.