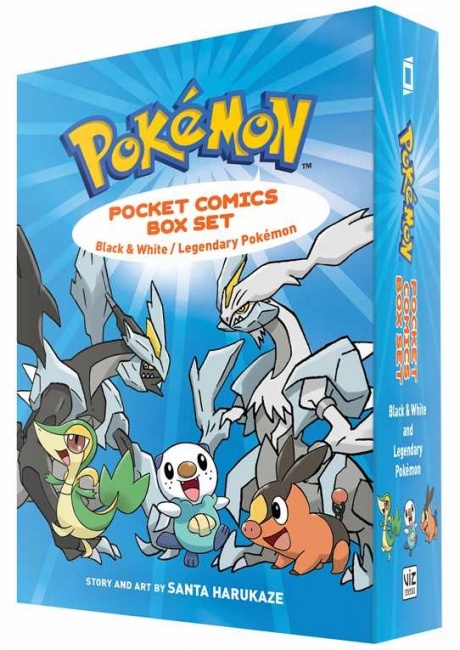 Pokemon Pocket Comics Box Set: Black & White/Legendary Pokemon
Publisher: VIZ Media
Release Date: October 4, 2016
Price: $16.99
Creator: Santa Harukaze
Format: 576 pgs., Black & White, Trade Paperback
ISBN: 978-1-4215-8964-0
Age Rating: 8-12 years
ICv2 Rating: 3 Stars out of 5
The
Pokemon Pocket Comics Box Set
features two pocket-sized books, with characters from
Pokemon Black and White
in one volume and
Pokemon Legendary
characters in the other. And along with comic strips there's also puns, jokes and quizzes that will test the reader's knowledge about each type of Pokemon's abilities and moves.
A lot of
Pokemon
comics have been published in this country over the years for different age groups, but these Pocket Comics with their large, clear four panel comic strips are clearly intended for the younger side of that spectrum. And they are perfect for young readers who may have never picked up a comic book or graphic novel before.
The comics are simple, straightforward and frequently funny, and the panels are bracketed with
Pokemon
quizzes with instructions to turn to a certain page to find the answer, making the reading experience a lot more interactive than your standard comic book. These colorful books are also sturdily constructed and should be able to handle being not so gently read and reread.
Pokemon
crazy kids should go crazy for this boxed set.
--
Steve Bennett: Writer and retail services consultant.