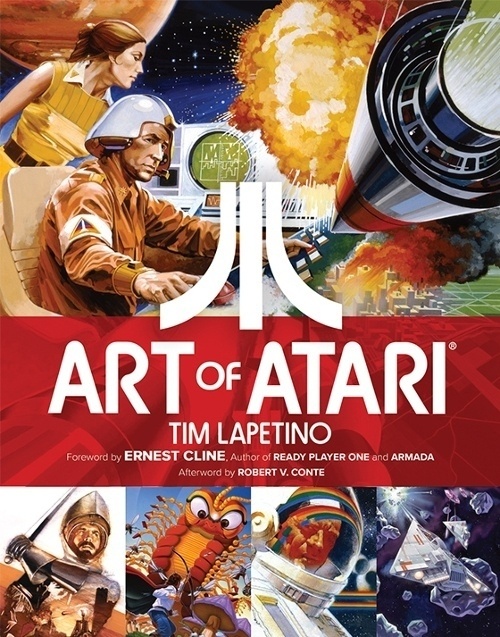 Art of Atari HC
Publisher: Dynamite Entertainment
Release Date: October 26, 2016
Price: $39.99
Writer(s): Tim Lapetino, Ernest Cline (Foreword), Robert V. Conte (Afterword)
Artist: Various (design by Jason Adam)
Cover: Various (design by Jason Adam)
Format: 352 pgs., Full-Color, 9-3/4"x11-1/4", Hardcover
ISBN: 978-1-50670-123-3
Age Rating: N/A
ICv2 Rating: 4.5 Stars out of 5
Not as limited as the title would have you believe, this is a marvelous romp through the history of video games, primarily the machines and software created by Atari. The first 50 or so pages focus on the early history of the company and its creations, and include many non-art history from that period, such as the time when Steve Jobs was working for Atari, but his work was really being done at night by a guy named Wozniak, like the Shoemaker and the Elves. The first chess video game was inspired not by demand, but by a false advertising lawsuit. This and many other tidbits await the reader.
Many of the artists who worked on the console designs, game packages and even the promotional campaigns to video arcade owners are interviewed, and the artwork included shows many of the early designs for things later changed or scrapped. The text often digresses into side stories, like the urban legends about the
E.T.
game cartridge, which was neither as bad or as big a failure as stories would have you believe.
Some of the best stories are the personal ones about the artists, including some of the women in the game design field. The visuals, though, include some amazing pieces, such as the artwork not used on various games, or the pieces buried in the instruction books because it was considered wrong for the game cover. The bizarre alternate versions of
Pac-Man
are stunning, but it's easy to see why they were rejected.
Mainly for adults who played the old Atari games, but some teens will appreciate the book, especially those interested in illustration as a career, or in the history of video games.
--
Nick Smith: Library Technician, Community Services, for the Pasadena Public Library in California.