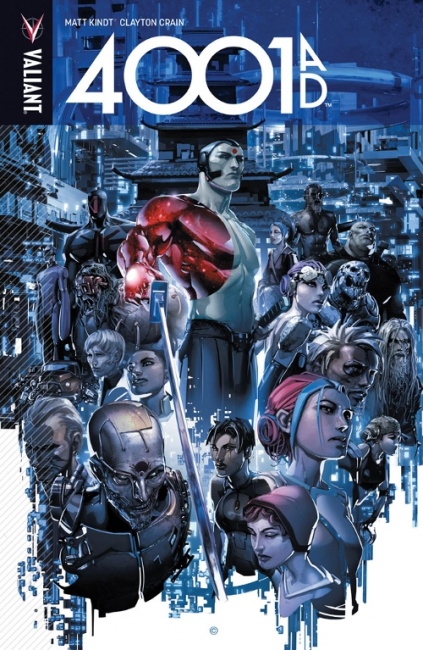 4001 A.D. TP
Publisher: Valiant Entertainment
Release Date: October 19, 2016
Price: $14.99
Creator(s): Matt Kindt (writer); Clayton Crain & David Mack (artists)
Format: 128 pgs., Full-Color, Trade Paperback
ISBN: 978-1-6821-5143-3
Age Rating: N/A
ICv2 Rating: 4 Stars out of 5
The only weakness to this otherwise outstanding science fiction graphic novel is that anyone unfamiliar with the earlier versions of the main character might be perplexed. This is a distant future variant of Rai, one of the more complex characters in the Valiant universe, and this volume has two thousand years of back story. Awkwardly, while this is the main story, there are three "optional" prequels and two "optional" sequels to this story.
This story, set almost two thousand years in the future, would be a man vs. machine story, except the main character isn't all that human himself, even in the 21st century stories. The result of this is a distancing effect, as it is more difficult for the reader to connect with the future Rai, especially if they're not already a fan of now-Rai.
Still, the battle between a semi-machine and a much bigger machine is exciting. High-tech swords vs. an orbital version of Tokyo run by an artificial intelligence makes for some great visuals, and both artists were up to the task. David Mack's opening sequence leads to Clayton Crain's main story in an interesting blend of styles.
It's not a good jumping-on point, but it is a good science fiction adventure story, one suitable for teens and adults.
--
Nick Smith: Library Technician, Community Services, for the Pasadena Public Library in California.