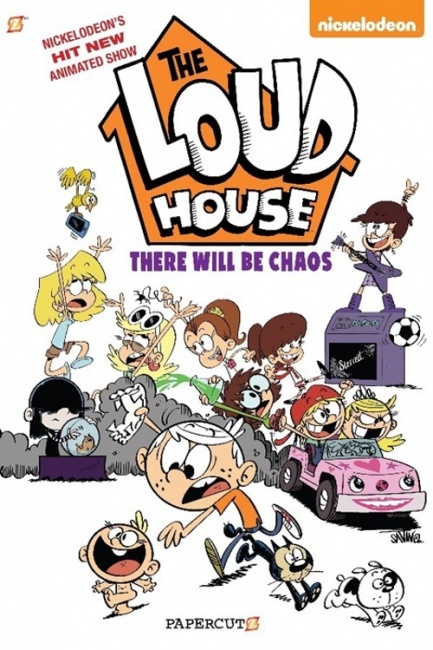 The Loud House Vol. 1: There Will Be Chaos TP
Publisher: Papercutz
Release Date: May 9, 2017
Price: $7.99 / $12.99
Creator(s): Chris Savino
Format: 56 pgs., Full-Color, 6" x 9", Trade Paperback/Hardcover
ISBN: 978-1-6299-1741-2 (TP)
Age Rating: N/A
ICv2 Rating: 4 Stars out of 5
Unlike some comic book adaptations from cartoon series, this one does not depend on the reader being a regular viewer of the show. The characters are set up quickly, and the humor is independent of the show's episodes.
Lincoln, the central character, is the only boy in a large family, having ten sisters [five older and five younger], each with distinct personality traits, even the baby.
Roughly half of this volume is in the form of a "choose your own adventure" story about finding the remote control for the TV. In a family with eleven kids and a few pets, this truly is an adventure, but the various paths to the story are very funny.
There are even life lessons included, like the idea that story spoilers are relative, and that sometimes privacy is overrated.
The artwork is simplified, matching that of the show, which means round heads and exaggerated facial expressions. Subtlety is not a part of these stories.
Children and adults will find plenty to laugh at, although some of the humor is based on stereotypes and sibling insult humor. The vocabulary of the book may deter early readers, but readers of age 9+ will generally be okay.
--
Nick Smith: Library Technician, Community Services, for the Pasadena Public Library in California.