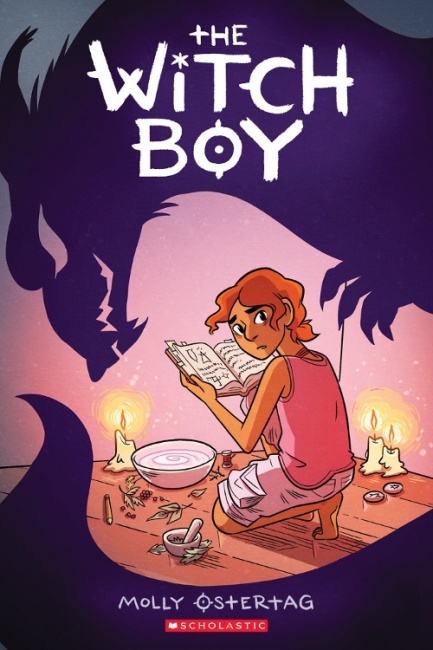 Witch Boy GN
Publisher: Scholastic Graphix
Release Date: October 31, 2017
Price: $12.99 (TP) / $24.99 (HC)
Creator: Molly Ostertag
Format: 224 pgs., Full-Color, Trade Paperback/Hardcover
ISBN: 978-1-338-08951-6 (TP) / 978-1-338-08952-3 (HC)
Age Rating: 8-12
ICv2 Rating: 4 Stars out of 5
Witch Boy
is a story about coming of age and crossing gender lines, set in a magical world that's closer to real life than high fantasy.
Aster, the main character, lives with his extended family in a secret enclave. The women are witches who use magic to make trees bear fruit, see things that are far away, and protect the family compound from danger. Men are shapeshifters, and finding their first spirit animal is an important coming-of-age ritual. The roles are strictly separated, and Aster's mother warns him that no good comes of boys dabbling in magic—his great-uncle did so, and the results were disastrous. Nonetheless, Aster spies on the girls' lessons and practices their spells in secret.
Prodded by his father, Aster goes on a quest for a spirit animal, but none appears. Instead, a malevolent spirit who has been kidnapping the other boys tries to lure Aster as well. Ultimately he defeats it by using the witches' magic that is supposed to be forbidden to him.
Witch Boy
has plenty of action and drama but goes easy on the angst. Aster's family is kind and understanding, if firm in their belief in the traditional gender roles, and his friendship with a human girl, who lives just outside his family compound, keeps him grounded.
Ostertag's art is simple and expressive, similar to that of Faith Erin Hicks's books for younger readers. The story intertwines themes of nature, magic, coming of age, and going against family tradition, making a solid choice for middle-grade readers who like slice-of-life stories with a supernatural element. Ostertag is the creator of the webcomic
Strong Female Protagonist
(see "
Strong Female Protagonist
") and the artist of
Shattered Warrior,
a dystopian YA graphic novel published by First Second (see "
First Second's Spring 2017 Titles
"), so older readers who are fans of her work may want to pick this one up as well.
Fox Animation has picked up the feature film rights to
Witch Boy
(see "
'Transformers,' 'Godzilla,' 'Witch Boy,' 'Aquaman,' 'Resident Evil'
").
--Brigid Alverson