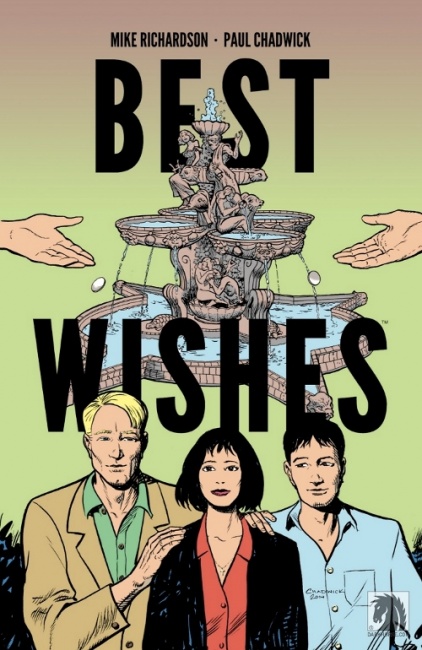 Best Wishes TP
Publisher: Dark Horse Comics
Release Date: November 15, 2017
Price: $19.99
Creator(s): Mike Richardson (story), Paul Chadwick (script, art, lettering)
Format: 160 pgs., B&W, Trade Paperback
ISBN: 978-1-50670-374-9
Age Rating: 14+
ICv2 Rating: 3.5 Stars out of 5
is an old-fashioned romance comic, with a love triangle, a workplace romance, and young people seeking their fortunes in the big city. The story has that same feeling of unreality that romance novels have, even though the characters have very modern preoccupations. It exists in a sort of bubble in which the events of the plot can simply happen, without the frictions of everyday life.
Mary is in love with Josh, a professional football player, but she's not sure he is capable of a stable relationship—not because he shows any signs of cheating but because he's a major hunk and women keep throwing themselves at him. Cal is a struggling graphic designer whose business is about to fail. Mary and Cal both toss coins in a fountain at the same time, Mary wishing Josh would see the true nature of love and Cal wishing for success as a designer. The twist is that they get each other's wishes.
A high-powered design firm announces a contest for a new logo for New York City, and Mary draws a one-line doodle that not only wins the contest but goes viral and seems to be changing people's behavior. The design firm hires her, although she has exactly zero graphic design experience, so she brings Cal on board to take care of the nuts and bolts. Josh, Mary, and Cal all get very intense with one another, with Mary's roommate Magda crashing into the scene from time to time to heighten the tension even further. These events all happen in a world that is free from the laws of probability, human resources departments, and the messier consequences of relationships.
It's a good yarn nonetheless, although it would be better without the weirdly supernatural aspect: Mary's logo apparently changes the behavior of New Yorkers, causing gang members to turn in their guns and scary-looking guys to give up their seats on the subway to old ladies. This is never explained, nor does a change in the logo cause everyone to go back to their old ways. While the plot could be tighter, though, the storytelling is pretty good, with solid pacing and plenty of twists. Chadwick's art is serviceable, although his figures sometimes seem a bit clumsy. The logos that are the center of the story aren't very good, but that seems to be intentional, perhaps poking fun at the more pompous practitioners of the profession.
In a way,
Best Wishes
breaks new ground: It's a graphic novel that would appeal to traditional romance novel readers. While it acknowledges current sexual mores, the story is otherwise old-fashioned, lacking the edginess and nihilism of many graphic romances. The characters are basically decent folks each looking for their version of the American dream. And like all good romances, it ends with everyone finding love—just not in the way they thought they would.
--Brigid Alverson