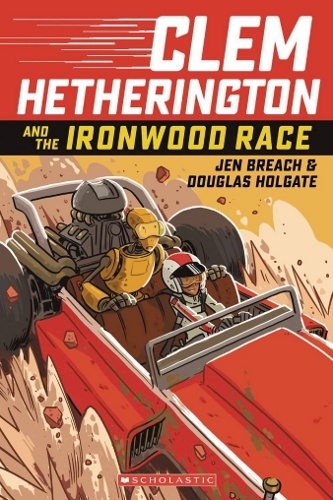 Clem Hetherington and the Ironwood Race GN (Clem Hetherington #1)
Publisher: Scholastic
Release Date: February 27, 2018
Price: $14.99 (TP) / $24.99 (HC)
Creator(s): Jen Breach (writer), Douglas Holgate (artist)
Format: 208 pgs., Full-Color, Trade Paperback
ISBN: 978-0-5458-1446-1 (TP) / 978-0-5458-1445-4 (HC)
Age Rating: 8-12 years
ICv2 Rating: 3 Stars out of 5
When 14-year-old Clementine Hetherington and her robot brother Digory run away, their dreams of becoming archaeologists like their dead parents are quickly dashed because of her age. With nowhere else to go, they reluctantly accept the offer of an old friend of the family and become participants in an anything goes rally race to reach archaeological sites and be the first to uncover valuable ancient artifacts.
From the strange creatures running around in
Clem Hetherington and the Ironwood Race
, it's presumably set either on an alien planet or in the future, but unfortunately we are never told which it is. The characters are a bit thin, Clem is your standard issue orphan and while it's nice that Digby is her sibling instead of her servant, we get to know even less about him. And the plot which turns archaeology into an extreme motorsport is patently preposterous.
But in spite of all that I really enjoyed it. It helps that I like high concept premises and Jen Breach has somehow made an implausible one seem almost practical. And while the artwork by Douglas Holgate is definitely on the simple side, it's also quite effective at both the action-packed racing scenes and selling the severity of poor Clem's situation. I found
Clementine Hetherington and the Ironwood Race
to be a lot of fun and I'm fairly certain that kids, its intended audience, will feel the same way.
--
Steve Bennett: Writer and retail services consultant.