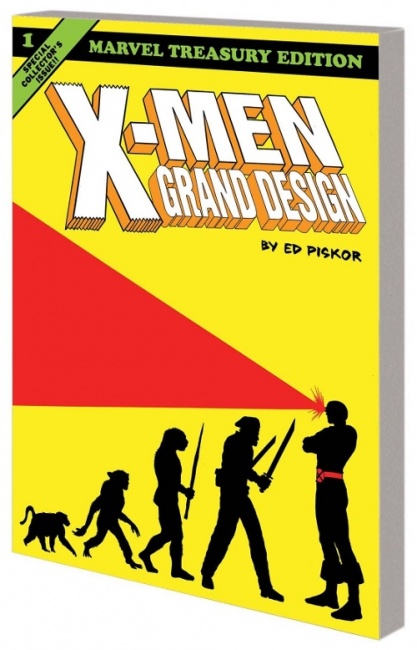 X-Men: Grand Design TP
Publisher: Marvel Comics
Release Date: April 3, 2018
Price: $29.99
Creator: Ed Piskor
Format: 120 pgs., Full-Color, Trade Paperback
ISBN: 978-1-3029-0489-0
Age Rating: 9 and up
ICv2 Rating: 3 Stars out of 5
Along with being a recounting of 60 years of the various X-Men comics told in comic book form,
X-Men: Grand Design
also weaves into their history previously unknown events which have been revealed in more-recent Marvel comics. But it also manages to be more than just a comprehensive chronicle by turning all of those individual stories into one cohesive epic.
It's also a strong contender for most unusual Marvel comic of the year. X-Men fans aren't used to seeing their mutant heroes drawn in the rough, raw art style of Ed Piskor, creator of
Hip-Hop Family
. Likewise, it might take some Marvel fans a while to get used to Piskor's unconventional color scheme of muted yellows and browns. It gives the pages an intentionally aged, distressed look, making it strangely appropriate when used on the volume's reprint of Stan Lee and Jack Kirby
X-Men
#1 from 1963.
That being said,
X-Men: Grand Design
is also clearly a labor of love; the entire work is done exclusively by Piskor, including the lettering. And after seeing the X-Men characters he drew as a kid that are included here, it would be hard for anyone to suggest he isn't a true fan of the series. While certainly usual, it's also an absolute original take on the characters that should appeal to hardcore fans as well as readers who would never otherwise think of reading an X-Men comic book.
--
Steve Bennett: Writer and retail services consultant.