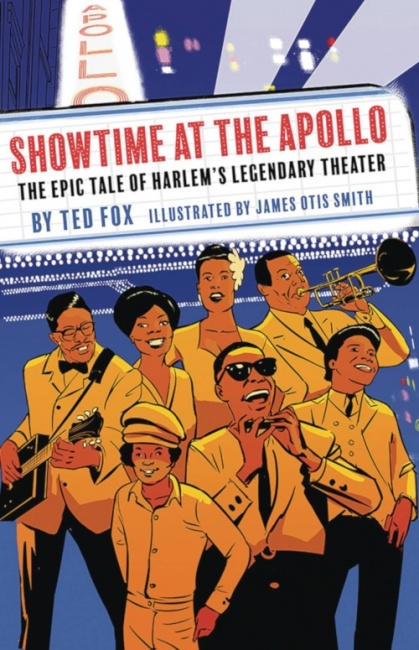 Showtime at the Apollo: The Epic Tale of Harlem's Legendary Theater HC
Publisher: Abrams ComicArts
Release Date: January 2019
Price: $24.99
Creator(s): Ted Fox (writer); James Otis Smith (artist)
Format: 224 pgs., Limited Color, 6"x9.2", Hardcover
ISBN: 978-1-4197-3138-9
Age Rating: N/A
ICv2 Rating: 4.5 Stars out of 5
Many years ago, Ted Fox wrote a book that was the then-definitive history of the Apollo Theater, a place that spent decades as the cultural heart of both Harlem and the African American entertainment community. This book is a graphic work based on the same research, but written by an older and more experienced version of Ted Fox, one who is able to convey the ups and downs of both the business and the theater.
James Otis Smith's artwork is occasionally rough, but fits the story and the setting very well. He conveys the joys and heartbreaks, and his versions of celebrities are a real treat, as the story unfolds.
The story itself is one that anyone interested in the history of American entertainment should want to read. The Apollo, from its early days in the 1930s to the end of this volume's story, which covers events up to just a few years ago, has been an incubator of musicians and comedians from the African American community, but sometimes more importantly, a measure of whether a particular style is going to have an impact. In the early days, the audiences were very mixed, racially, and this had its own impacts. It was at the Apollo that Elvis Presley saw how African American performers were using their bodies to sell the songs on stage, and it was soon after that he began doing the same thing. It was at the Apollo, too, that entire generations of singers had a chance to show what they could do. The infamous "amateur night" contests there gave performers their first chance to fail, and an incentive to improve at their craft. Those same nights were entertaining for the ways in which failing acts were removed from the stage, long before TV's
Gong Show
promoted failure as a form of entertainment.
This book, along with the resource list that it includes, is an excellent example of graphic non-fiction written for an adult audience, but some older teens may enjoy it as well.
--
Nick Smith: Library Technician, Community Services, for the Pasadena Public Library in California.