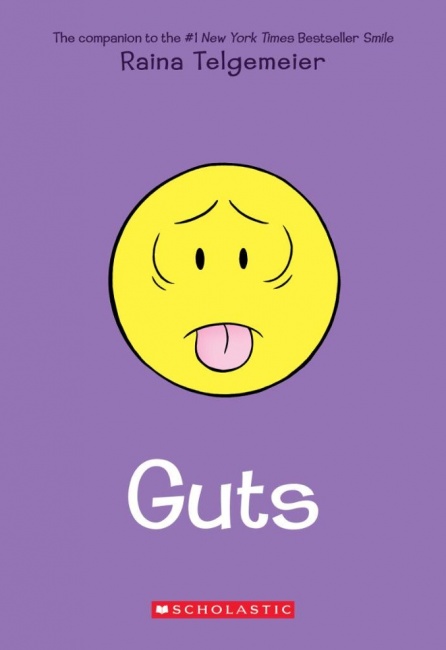 Guts GN
Publisher: Scholastic/Graphix
Release Date: September 2019
Price: $12.99 (TP) / $24.99 (HC)
Creator: Raina Telgemeier
Format: 240 pgs., Full-Color, 5.5"x8", Trade Paperback/Hardcover
ISBN: 978-0-5458-5250-0 (TP) / 978-0-5458-5251-7 (HC)
Age Rating: N/A
ICv2 Rating: 5 Stars out of 5
With the possible exception of readers with very weak stomachs, this is a must-read book, and one that will find itself in the hands of many readers, especially kids.
The story starts off with a simple story about throwing up when sick, but goes on to become a story about anxiety and its physical side-effects. Once again, Raina Telgemeier has created a strong and convincing story that talks about real issues in life in a convincing way, and in a way that readers will find interesting. Segments of this book will appeal more to girls than to boys, but a lot of boys will appreciate both the barf humor and the very real stresses that come up in life. Even if no boys ever read this book, it would become a huge hit, just from Telgemeier's overall appeal to female readers.
The cover is simple and clever, very similar to those of
Smile
and
Sisters
, and like those, it gives a suggestion of the subject matter. Still, the image of a yellow circle looking sick was both odd and very cute.
To add another level to the appeal, this story is based on real events from the author's childhood, so her story has added another level of appeal to her readers.
The book will appeal to kids, but also to readers who have already gone through the period of life described in the book, puberty, middle school, and the parts of life that go with those. Mostly, though, it's just one more excellent Raina Telgemeier glance at life.
--
Nick Smith: Library Technician, Community Services, for the Pasadena Public Library in California.