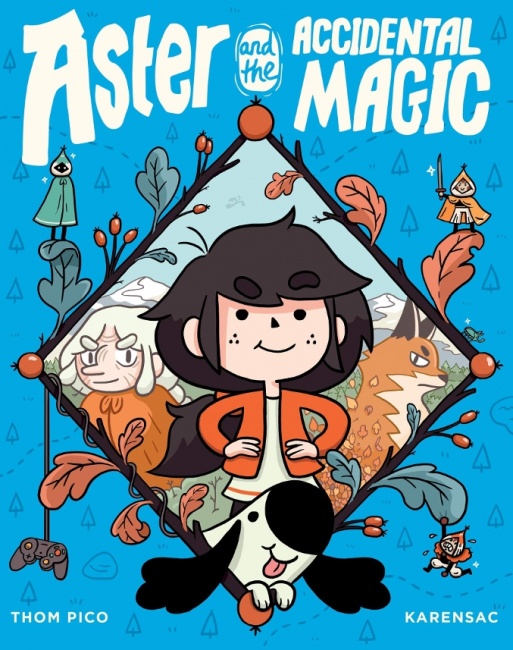 Aster and the Accidental Magic GN
Publisher: Random House Graphic
Release Date: March 3, 2020
Price: $20.99 (HC) / $12.99 (TP)
Creator(s): Thom Pico (story and script); Karensac (story and art)
Format: 224 pgs., Full-Color, 6.4"x7.9", Hardcover/Trade Paperback
ISBN: 978-0-5931-2417-8 (HC) / 978-0-5931-1884-9 (TP)
Age Rating: N/A
ICv2 Rating: 4 Stars out of 5
Intelligent woolly dogs, trickster spirits, personifications of seasons, robot-guided migrations of giant birds… this is one of the strangest stories in a while, and yet, the whole thing grows on the reader very quickly. As the first book of a series, it clearly leaves things open for later development and explanation, but the thing with the wooly dogs may drive readers crazy until whenever it's explained.
Aster's parents have moved the family to a new and unfamiliar location, supposedly only for a short time, but with longer-term intentions they haven't told her about. This, combined with the weird new location, leads to a lot stress, and when she starts to encounter real, working magic, things get strange very quickly. Wishes granted by a trickster spirit are not a good idea, if that ever comes up in your life...
The artwork was perhaps a bit too Cartoon Network for some tastes, but worked for this story in ways that serious artwork would not have done. The writing, and especially the characterizations, were off to a good start, but the follow-up volumes will be needed to flesh those out. There is at least a second volume planned, and based on this one, it will be worth waiting for.
This book is not quite all-ages, as there is violence in a few places, but not beyond a level that older kids could reasonably handle.
--Nick Smith: Library Technician, Community Services, for the Pasadena Public Library in California.