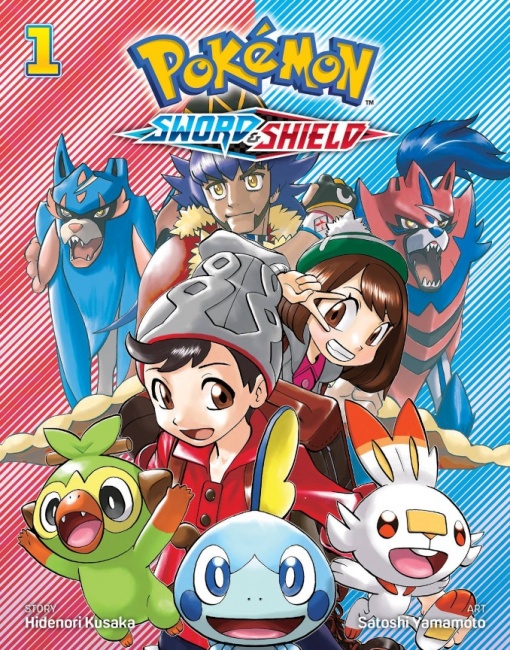 Pokemon: Sword & Shield Vol. 1 TP
Publisher: VIZ Media
Release Date: August 11, 2021
Price: $4.99
Creator(s): Hidenori Kusaka (writer); Satoshi Yamamoto (artist)
Format: 104 pgs., Black & White, 5.5" x 7", Trade Paperback
ISBN: 978-1-9747-2418-5
Age Rating: All Ages
ICv2 Rating: 3.5 Stars out of 5
Part of the appeal of the
Pokemon
manga is that similar stories are told with different characters, from different backgrounds. Each story arc can relate to a different version of the game, or a different time period, so that there can be a lot of different stories to tell. For reasons known only to the publishers, however, some of these are published at a size similar to "normal" manga, and others in a cheaper format with fewer pages [and thus, less story per volume]. This volume is in the latter format.
If this is to make the book more accessible to children, through school book sales and such, that's sort of okay, but in practice it splits up the story quite a bit. This one barely has enough pages to introduce the main characters and set up the story. In fact, Team Yell [think of them as Team Rocket with a punk-rock fashion sense] only comes in for a few pages.
There are some clever bits, seemingly related to the
Sword & Shield
version of the
Pokemon
game, but which might not matter to readers who don't also play the newest version of the game. The central character is given a bit of development, but in this short work, that was tough to fit in.
As the start of a new Pokemon arc, this will attract readers, and the art is good, well up to the quality of earlier volumes. The brief story will possibly confuse some readers, who will be looking for volume 2. That won't be out until December.
--
Nick Smith: Library Technician, Community Services, for the Pasadena Public Library in California.