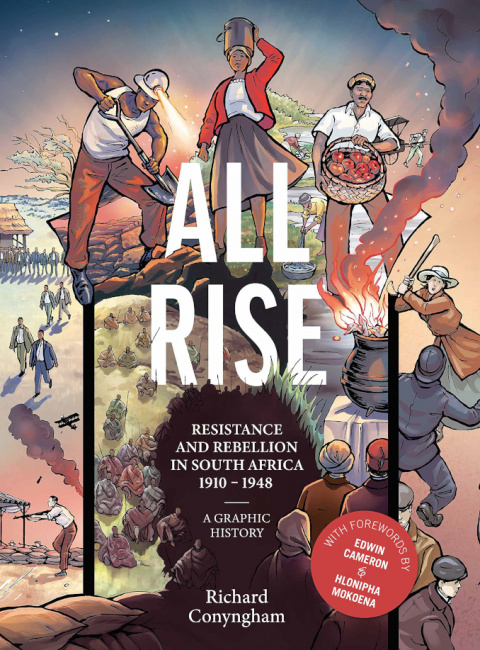 All Rise: Resistance and Rebellion in South Africa TP
Publisher: Catalyst Press
Release Date: May 17, 2022
Price: $23.95
Creator(s): Richard Conyngham (writer); Dada Khanyisa & Various (artists)
Format: 220 pgs., B&W, 7.25"x9.75", Trade Paperback
ISBN: 978-1-9463-9563-4
Age Rating: Grade levels 10-12
ICv2 Rating: 3 Stars out of 5
This is a somewhat dry graphic history book about the pre-Apartheid resistance movements in South Africa, from 1910 to 1948. A lot of people don't realize that the horrific Apartheid system in South Africa was actually very modern, established in the same post-World War II era in which civil rights were coming to the fore in the United States, and the liberation movements in the English and French colonies were gaining momentum.
Before Apartheid, though, there were still problems in South Africa. After the Boer War and the uniting of the two major parts of South Africa, the government and culture became more repressive of the African majority population, even while the economy depended on them as a labor force for everything from agriculture to mining. This led to conflicts in the courtroom and on the street, as attempts to organize the workers into unions were met with brutal responses. In addition, the government found it easier to deal with tribal leaders, rather than with a democratically organized population, which led to odd abuses of what had been a simple system of local leaders.
There are six different stories told in this book of the social and legal fights going on, each one by a different artist or set of artists. In between chapters, there are sections of text, photos, drawings and other supporting material. Because of the structure of the book, there is not really a unifying flow to the stories being told, and in most cases, the results are depressing, since they had no long-term effect. In addition, the varying styles of the artwork from chapter to chapter becomes unfortunate, as it further distances the reader from the story being told.
On the other hand, for anyone wanting to learn more about the pre-Apartheid culture of South Africa, this book provides a starting point, and with enough information that it would be possible to follow any one of these stories to more information.
Because of the book's structure, it is most suited to adults or older teens.
--
Nick Smith: Library Technician, Community Services, for the Pasadena Public Library in California.