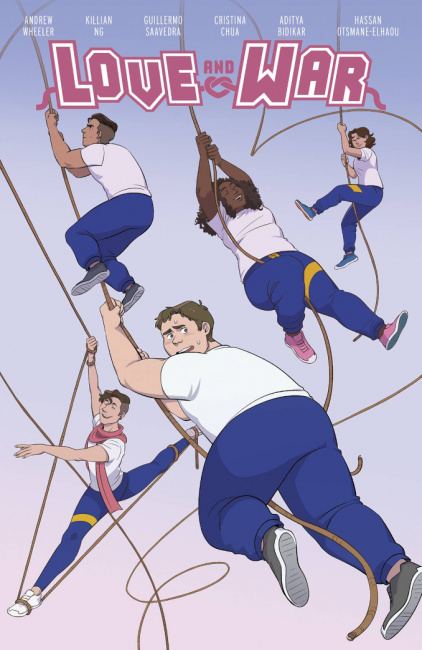 Love and War TP
Publisher: Dark Horse Comics
Release Date: September 14, 2022
Price: $19.99
Creator: Andrew Wheeler (Writer); Guillermo Saavedra & Killian Ng (Artists)
Format: 136 pgs., Full-Color, 7" x 10", Trade Paperback
ISBN: 978-1-5067-2805-6
Age Rating: 12+
ICv2 Rating: 3.5 Stars out of 5
This is the first print edition of material first created for the comiXology digital publications. Killian Ng was the initial artist, but the change to partway through Giullermo Saavedra did not harm the quality of the artwork. There are minor changes in the way characters are drawn, but not enough to distract from the story.
The story itself is odd, and not just because it's described as a "queer sports rom-com." No, the problems with the story come from its unique view of sports. Apparently, the story takes place in some alternate reality where co-ed tug-of-war is a major sport, at least at the collegiate and Olympic level, with going professional apparently an option. Also, two seemingly major competitor colleges in this sport are only walking distance apart. Both schools seem more influenced by Hogwarts than Harvard, but that's just the way things are nowadays…
Then, there is a major set of plot points surrounding the one, and apparently only, romantic moment between two of the characters, and how their barely-existent relationship is altered by one of them moving to the other college [which you may recall was just a short walk distant…]. The one who stays behind is pursued by another student, a new one, who seems far too flaky to be real, but at least their attempt to be a gay couple is interesting in the story. The other "rom-com" aspects of the story are a bit odd, with the tug-of-war coach objecting to any of the team having a dating relationship during the season.
At least some of the forms of tug-of-war in the story really do exist in our world, but seemingly not at the NCAA or Olympic levels.
Teens and some adults will find this to be an interesting read, especially if they're really big tug-of-war fanatics.
--
Nick Smith: Library Technician, Community Services, for the Pasadena Public Library in California.