Sponsored
.
Overboss
is stomping into stores across the U.S. this month. The latest offering from Brotherwise Games, it's set in the world of their best-selling
Boss Monster
game series.
Overboss
takes players out of the dungeon and into the overworld, where they compete to build the deadliest map of terrain tiles and monster tokens. Everything about
Overboss
has been carefully crafted to make it a hit for retailers in 2021 and beyond.
Building an Evergreen
While the board game industry churns through dozens of hot new releases each month, Brotherwise Games has built
Overboss
to have staying power. The first step was connecting it to an existing evergreen property:
Boss Monster
.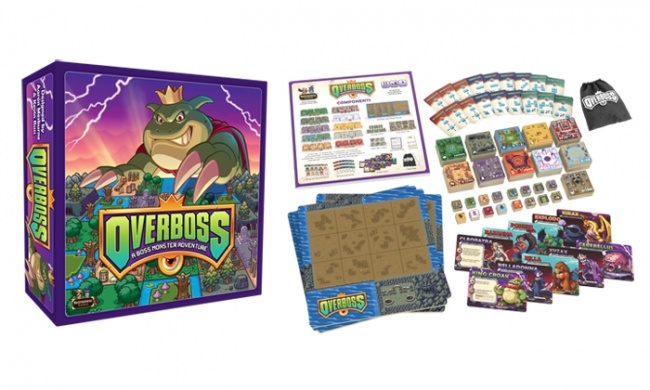 Overboss
was designed by Aaron Mesburne and Kevin Russ (Calico), but their original pitch was for a greenhouse-themed game. The team at Brotherwise loved the gameplay, but saw the chance to reach a broader audience. "We asked ourselves what theme would give retailers a surefire hit," says Johnny O'Neal, President of Brotherwise Games. "That's when we realized that this game would be a perfect match for the hundreds of thousands of people who love
Boss Monster
."
The result is a totally new game that taps into the proven theme of '90s videogame nostalgia. Contrasting with the classic side-scrolling view of
Boss Monster
, terrain tiles in
Overboss
take a top-down perspective. Each tile is unique and shows off a different map location, replete with eye-catching details. Part of the fun for players is assembling pixel maps straight out of their favorite retro video games.
Bringing Everyone to the Table
From the beginning, approachability was a priority for
Overboss
. Every turn begins with a simple action: draft a terrain tile and monster token, then add it to your map. The straightforward rules make it easy to teach a non-gamer roommate, spouse, or child. "This is the kind of game you can set up on your counter and teach a customer in less than five minutes," says O'Neal.
However, experienced gamers will quickly see the game is a puzzly challenge as every terrain type is scored differently. For example, dark Forests give you an increasing number of points as you collect them, while eerie Graveyards reward the player who collects the most. Swamps score more points when placed adjacent to the watery edges of the map, while dragon Caves must be placed next to mountains.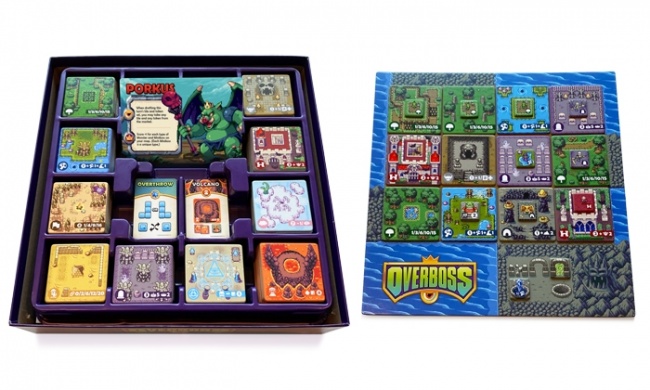 Monster tokens add another dimension to gameplay, as players must optimize their placement to create "bands" of monsters. Portals and crystals provide even more scoring options, and ways to manipulate tokens on your map. Even in Classic mode, the game offers a huge amount of variety and replayability.
Taking It to the Next Level
Overboss
is packed with high-quality components that unlock a wealth of gameplay options and pump up the challenge for experienced gamers. A double-sided map board allows for shorter or longer games. Boss cards provide special abilities and hidden scoring. Command cards introduce highly interactive cross-table play. There's even a complete Solo campaign. Players will be impressed at just how much comes in the box.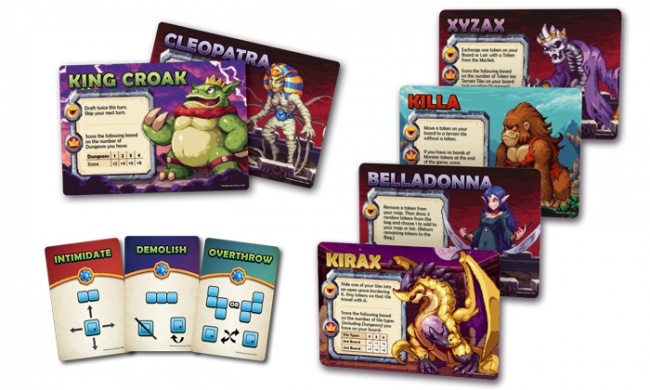 "
Overboss
was a delight to work on," says designer Aaron Mesburne. "Getting to mix
Boss Monster's
classic videogame DNA into our game was a fun opportunity and opened up a welcome degree of freedom in the design space — leading to a veritable 'overworld' of new gameplay possibilities that more than doubled the content of the original game."
The resulting package includes 128 tiles, 123 tokens, 38 cards, and 5 double-sided player boards, all packed in a premium GameTrayz insert. As one player remarked online, "I have never seen such a perfect box organization for a game."
Bringing It All Together
Overboss
has something for everyone.
Boss Monster
fans will find an accessible, engaging game set in a world they love. Casual gamers will delight in the art work and puzzly fun of crafting the deadliest map. Core gamers will find considerable replayability in the built-in variety of components and advanced rules.
Early reviews indicate that
Overboss
is winning over a wide variety of gamers. Richard Ham (Rahdo Runs Through) declares, "I love this game to pieces! It is so engaging, so much fun." Meg Dufault (Professor Meg) says, "Easy to learn, but so addictive! This is a must play for your game group." Ryan Seedorf (
The Meeple Among People
) calls it "an instant classic that will enhance any game night.
Overboss
has become my new go-to gateway game!"
Retailers interested in ordering
Overboss
should contact their distributor now, while the first printing is still in stock. Be sure to inquire about special incentives for brick-and-mortar retailers. Brotherwise Games will continue to support the game with a year-long marketing campaign, running ads not only at launch but also this Fall.
Will
Overboss
be the next evergreen hit? Only time will tell, but Brotherwise Games is committed to making this game a success for years to come.
Click on Gallery below to see full-sized images.