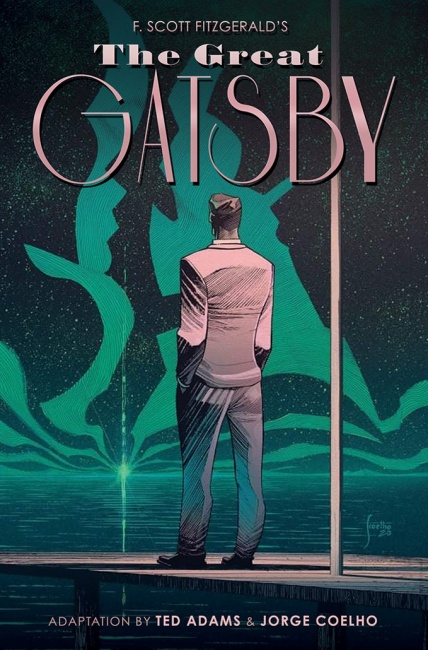 Sponsored
. You may have read F. Scott Fitzgerald's great American novel,
The Great Gatsby
in high school. You may have seen one of the handful of movie adaptations made over the past 90 years. But you have never
read
and
seen
The Great Gatsby
done in the great American art form of comics, as presented in the faithful adaptation by Clover Press.
Two veteran comic creators, Ted Adams and Jorge Coelho, have teamed up to create a colorful visual aesthetic, matched with Fitzgerald's own timeless words in this new comic book adaptation. Adams has retold the stories of
The Island of Doctor Moreau
and
The Shrinking Man
in comic book form and now
Gatsby
is getting his special treatment.
"Every adaptation has a hurdle to be tackled to keep the story true to the original creation." Adams says, "And
Gatsby
was no exception."
"Fitzgerald's use of language is what makes
The Great Gatstby
an American classic. It's a snapshot of the 1920's." Adams went on, "I thought 'I can't improve on
how
Fitzgerald wrote,' so I decided not to try."
Adams left Fitzgerald's words untouched. Working with artist Coelho (
Loki, Rocket Raccoon
), they came up with concepts and art to accompany the story of Nick Carraway, the Buchanans, and Jay Gatsby.
Issue number 1 of
The Great Gatsby
will come out in June 2021 and orders, via
Previews
, are being taken now.
Three covers are offered to all retailers, including a foil-stamped cover and blank-sketch cover where artist can draw their own rendition of the vibrant characters from
The Great Gatsby
.
THE GREAT GATSBY #1
AVAILABLE TO ORDER VIA
PREVIEWS
NOW.
COVER A (REGULAR COVER) - ITEM #MAR211202
COVER B (SKETCH COVER) - ITEM #MAR211203
COVER C (FOIL COVER) - ITEM #MAR211204
Click on Gallery below to see the cover and interior artwork.