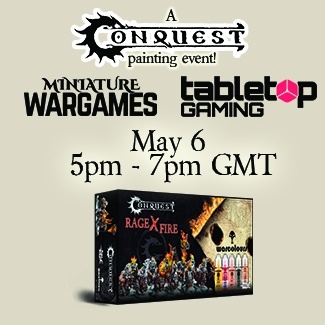 Sponsored
: Para Bellum Wargames, the maker of the
Conquest
tabletop miniatures game is excited to build collaborations within the industry. Our goal is to develop new opportunities for gaming fans to experience our great hobby in new ways. Our newest collaboration involves Warcolours paints, and
Miniature Wargames
magazine. Our three entities are working together to present "a painting night with Dimo!" on May 6th. This online event will bring Dimosthenis,
Conquest's
house artist, into your home via the magic of the inter webs. This 2-hour painting experience will take fans through a range of techniques Dimo uses to paint miniatures. This will be amazing for beginners who want to paint more, and for long-time gamers looking for new ideas!
Miniature Wargames
magazine will host us on their interactive platform. Warcolours paints and
Conquest
created a new project- Rage X Fire. This new collab brings together an entire infantry set of Flame Berserkers and 5 full sized bottles of Warcolours paints. An incredible value of product brought together in one box!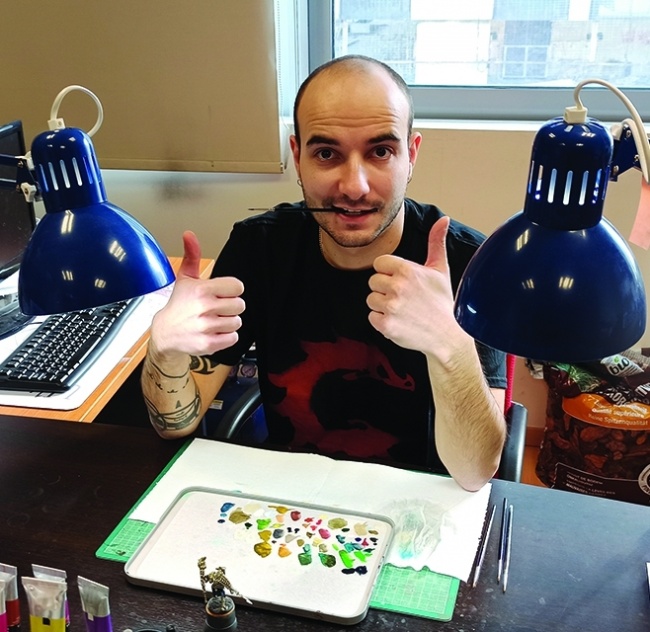 Dimo will walk through this part of this set during the evening so that everyone has a common project to share!
A FREE ticket to the event is included with each purchase of the
Rage X Fire
box for €$49 - a bonus value of £10!
Click here
to purchase a set today.
Each purchase during the month of April qualifies for one online admission ticket.
FLGS stores are welcome to participate by hosting a group painting night in conjunction or by selling our set to your community- ask us how today! Retailers ordering 10 or more sets of our
Rage X Fire
boxes will get 1 bonus demo set for free.
Currently available painting collaborations:
- Inferno X Turbo Shift - Collab with Turbo Dork (5213009012232 / PBW8967)
- Rage X Fire- Collab with Warcolours (5213009012539 / PBW8968)