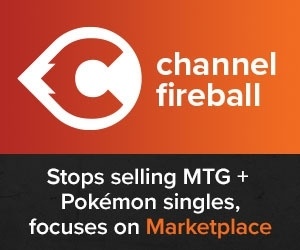 Sponsored
. ChannelFireball is thrilled to announce its partnership with Good Games - the world's largest chain of tabletop gaming stores. As part of this exciting partnership, ChannelFireball has agreed to sell its inventory of
Magic: The Gathering
singles to Good Games and will not be selling
Magic
or
Pokémon
singles at the launch of the
Marketplace
. This move marks a major shift for ChannelFireball as it transitions its brand from a primarily ecommerce
Magic
website to a marketplace brand supporting other ecommerce websites.
"We're taking our business in a new direction with the Marketplace, and this is our biggest step towards that. ChannelFireball is getting out of the business of selling our own singles and into the business of selling the products of the local game stores on our marketplace; we don't want to compete with stores, we are working
for
them and
with
them." - Jon Saso, President of CFB Group
Good Games is also taking over the ChannelFireball buy list, meaning customers submitting cards for sale will still sell them in the same fashion, though the singles will end up with Good Games.
None of the singles inventory will be moved over to Good Games until the
Marketplace launches
, so everyone with ChannelFireball store credit will be able to use it on ChannelFireball up until the marketplace launch, when the store credit will be available for use on ALL of the stores listing on the marketplace.
"Good Games is proud and excited to partner with ChannelFireball. We have worked well together with them on
MTG
Organized Play and we quickly discovered that we share the same business and community values. This partnership will allow Good Games to become a major player in the Singles world while continuing to offer the range and service levels that customers have expected from ChannelFireball. We look forward to a successful ChannelFireball Marketplace launch that brings benefits to local game stores and players alike." - Paul Van Der Werk, Managing Director of Good Games
If you're interested in hearing more about ChannelFireball and their upcoming marketplace,
click here
.