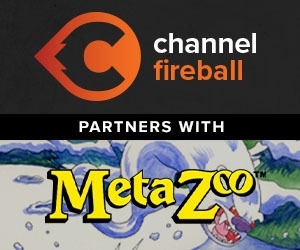 Sponsored
. CFB Group is excited to announce our next partnership - this time with the new cryptid based collectible card game,
MetaZoo
.
MetaZoo
exploded in popularity with its
successful Kickstarter campaign
and has continued gaining momentum in gaming and collectible circles.
CFB Group will be offering exclusive sales of
MetaZoo
products to local game stores on their marketplace upon launch.
"We're always looking for innovative, new games to introduce to local game stores and players.
MetaZoo
is attracting a lot of attention in the gaming space right now and we think it has the potential to grow much, much bigger. We're proud to be offering unique growth opportunities to the local game stores in our network." - Jon Saso, President of CFB Group
In the lead up to the launch of the Marketplace, ChannelFireball.com will feature a full line of
MetaZoo
products and is adding videos and articles about the game to their expanding content portfolio.
"Bringing opportunities like new and emerging games to stores is part of our vision for the marketplace, and connecting developers like Michael with stores throughout our network is an initiative that we are very excited about." - Mashi Scanlan, Chief Marketing Officer of CFB Group
Michael Waddell, founder and CEO of MetaZoo, will also be speaking at CFB Group's industry event LGS Con II on May 22nd about his experience with
MetaZoo
and kickstarting his game. You can sign up for LGS Con II for free by
clicking here
.