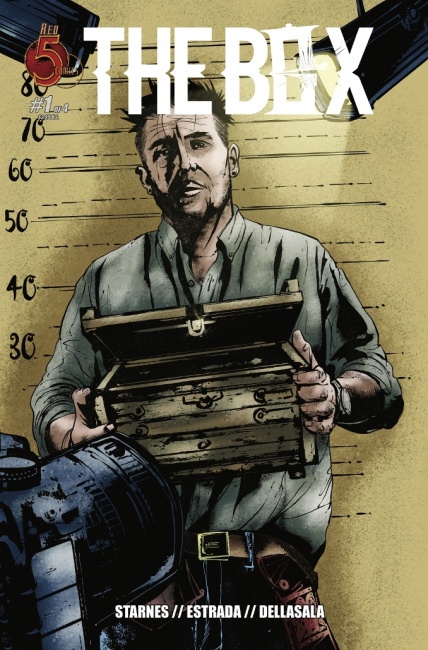 Sponsored
. Delving into the world of magic and mystery, Red 5 Comics introduces the strange world of Leo Bloom this summer in
The Box
#1. Leo is a private detective. His partner is a Box. A Magic Box from which he can take whatever he can imagine… some of the time. But when he's framed for the kidnapping of a prominent scholar Leo suspects a plot to take his prized possession from him. Can he find out before either the police or the Mafia find him?
A classical noir story in the vein of
The Maltese Falcon
and
The Long Goodbye
, but with a magical twist,
The Box
was developed by writer Joshua Starnes (Spook) for several years, looking for just the right mix of the occult and the classic detective story.
"This is a special story that's been in my head for a long time," Starnes said. "I've always wanted to do a private detective story and I've been looking at a new way to approach it and this is exactly that. Whatever you think The Box is, it is something different all together."
A perfect fit for fans of
The Black Monday Murders
or
Black Magic
,
The Box
introduces us to a world of monsters and murder right next door to our everyday lives. Starnes is joined by exciting newcomer Raymond Estrada (
Cult Heroes
) to create a world of tiger headed mobsters, immortal bagmen and crotchety homicide lieutenants.
"I didn't really know what I wanted the world of
The Box
to look like until Raymond showed me his portfolio while he was still at The Kubert School," Stand said. "And then I knew right away. The book was written specifically for him.
The Box
#1 is solicited in Diamond Comic Distributors' June 2021
Previews
catalog and slated for release in August 2021. Comic fans can preorder copies now from their local comic book store.
The Box
#1 will also be available digitally through comiXology, Kindle Unlimted, Global Comix, hoopla and other platforms. Red 5 Comics will release the four-issue series monthly from August to November, 2021. Find out more about
The Box
at
https://www.red5comics.com/
.
Click on Gallery below to see preview pages.