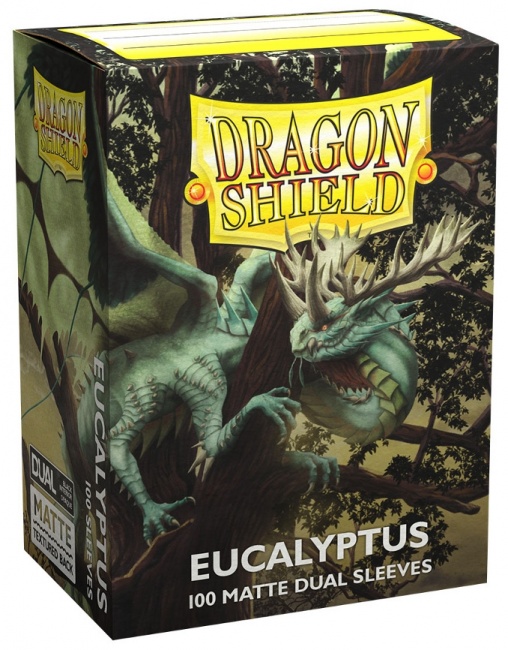 Sponsored
. Card gamers, collectors, and retailers the world over know that Dragon Shield is synonymous with high-quality gaming accessories. We hear from players all the time who still have their first box of
Dragon Shield
sleeves about how well they've held up over the years.
We love hearing from players' and store owners' Dragon Shield stories almost as much as we love cooking up new products in our dragon hatcheries. Dragon Shield was the first to introduce high-quality matte art sleeves to the market with artwork fused to the sleeve itself instead of pasted on top of another layer of plastic.
In the beginning of 2020, we introduced Brushed, a new line of sleeves with a unique shuffle feel and artwork that goes all the way to the edge of the sleeve. And now in 2021, our dragon keepers are ready to hatch something even
more
incredible.
Introducing: DUAL
For years, players, retailers, and distributors have asked us to make a sleeve with a completely opaque back. We have a philosophy that we do not release any product while there is room for improvement. We want each new
Dragon Shield
release to be better than the last in terms of value for your dollar
and
quality. So, we waited, coaxing our dragons, bribing them with fresh meat and scorched veggies, until they produced a truly awesome, fully opaque sleeve, with a pitch-black interior.
That sleeve is here! We call it: DUAL.
Dragon Shield: Dual
sleeves have a matte finish back with a hundred percent black interior that prevents any semblance of a card back from becoming visible. The black frame makes the artwork on your favorite TCG stand out and your cards have never looked this good before.
Rules of the Dual
If you are not one of the folks who have asked for
Dual
sleeves, you may be wondering why we bothered making the inside of the sleeve black instead of the sleeve color. What's the big deal?
For tournament and webcam play, it's actually a huge deal!
Magic: The Gathering
and many other card games have double-sided cards that can be visible in lighter color sleeves like yellow, pink, and white. If a player can see what card is coming up, they could be called out for cheating.
For others, the big attraction to
Dual
will be the wholesome experience of fabulous TCG artwork that stands out even more with when framed in black.
With
Dragon Shield: Dual
, players
never
have to worry about their cardbacks being visible. We are so confident in the sleeve back opacity that our first five colors showcase light, beautiful pastel shades that would usually be too translucent for a traditional kind of sleeve.
Five Kinds of Dual
The first five
Dual
colors are:
Lightning (yellow)
Snow (white)
Lagoon (blue)
Eucalyptus (green)
Orchid (purple)
Each are vibrant with gorgeous artwork on the packaging and interesting stories for each of the dragons.

With the Dual technology, we look forward to trying out all kinds of new colors!

Dragon Shield Matte Duals will be available in standard card size 23 July 2021 and Japanese card size 26 September 2021 wherever Dragon Shield is sold.

Click Gallery below for images of the Dragon Shield: Dual products.