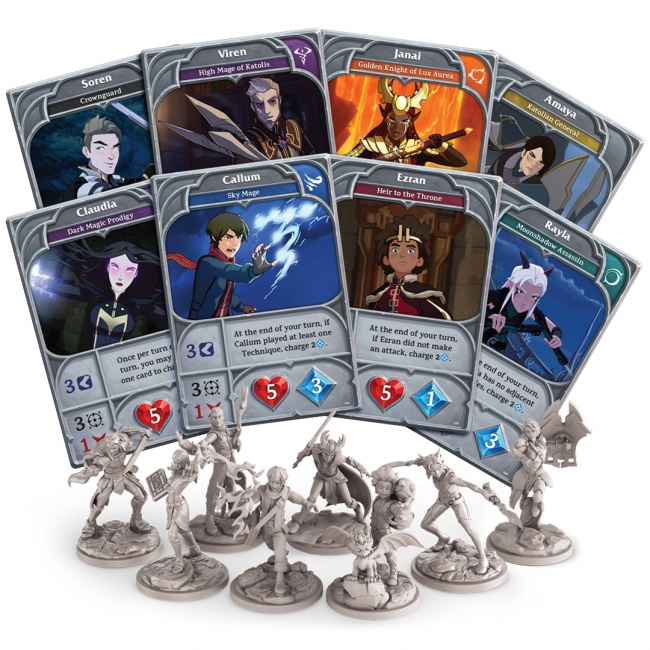 Sponsored
.
The Dragon Prince: Battlecharged
, the first board game set in the world of the Emmy® Award-winning series
The Dragon Prince
, is now shipping to game stores across the U.S. To support this game and their other holiday releases, Brotherwise Games is launching a Featured Retailer program with free rewards for brick-and-mortar store owners.
"Friendly local game stores are vital to this hobby, and they're where we see the vast majority of our sales," said Chris O'Neal, CEO of Brotherwise Games. "So we've created this Featured Retailer program to highlight great stores and provide some fun rewards for their shoppers."
Store owners can sign up for the Brotherwise Games Featured Retailer program for free at the
Brotherwise retailers page
. Participating stores will receive free promotional materials and product giveaways, starting with copies of
The Dragon Prince
Hero Pack for
Boss Monster
. "This is a really fun 8-card pack, and a great way to cross-promote our new
Dragon Prince
miniatures game to the huge Boss Monster fan base," said O'Neal.
The program doesn't require participating retailers to pay any fees or even purchase any Brotherwise products, but the free materials will be designed to support their latest releases. As O'Neal says, "This is just our way to thank independent retailers and keep you aware of our great new titles. If you'd appreciate things like a free demo copy of
Night of the Ninja
, or an early sales window on the next
Call To Adventure
, this program is meant for you."
Program benefits include the chance to direct-order early copies of new Brotherwise releases, so brick-and-mortar retailers have the chance to get new titles ahead of online-focused stores. These opportunities will only apply to initial orders, similar to "retailer pledge level" options for crowdfunding campaigns.
Brotherwise Games will also feature participating retailers on their website and social media. For more information on the Featured Retailer program, visit:
https://brotherwisegames.com/retailers
.
About Brotherwise Games
Brotherwise Games is a leading indie publisher of high-quality board games, founded by Chris and Johnny O'Neal. The company's motto, Games That Bring Everyone to the Table™, reflects their commitment to welcoming new players into the tabletop gaming hobby. Their library includes evergreen best-seller
Boss Monster
and the hit hero-building game
Call To Adventure
. In Spring 2021, Brotherwise Games published the award-winning gateway game
Overboss
. The company's Fall 2021 releases are
Night of the Ninja
, a lightning-fast social deduction game already receiving rave reviews, and
The Dragon Prince: Battlecharged
, a streamlined miniatures game for fans of the record-setting animated series.