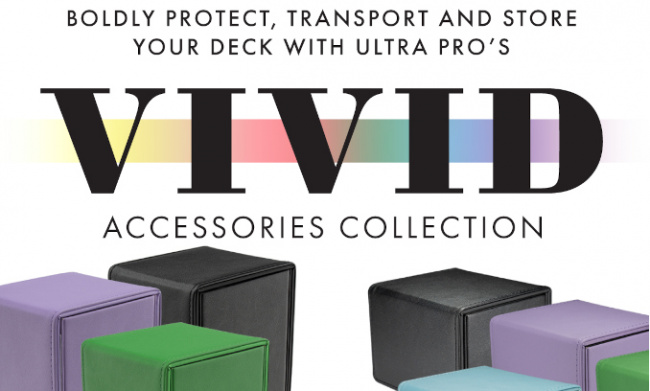 Sponsored
. Ultra PRO's new Vivid Collection of gaming accessories is out now, and it's making quite an impression, with eight new color options to choose from across a variety of products. With bright, bold shades and premium materials, this array of deck boxes, binders, and dice sets has everything you need to show off your true colors! Store and organize your collection of cards, take your double-sleeved decks on the go, or roll for critical hits all night long with friends, all while showing off your unique sense of style. Let's take a look at everything included in the new Vivid line of gaming accessories!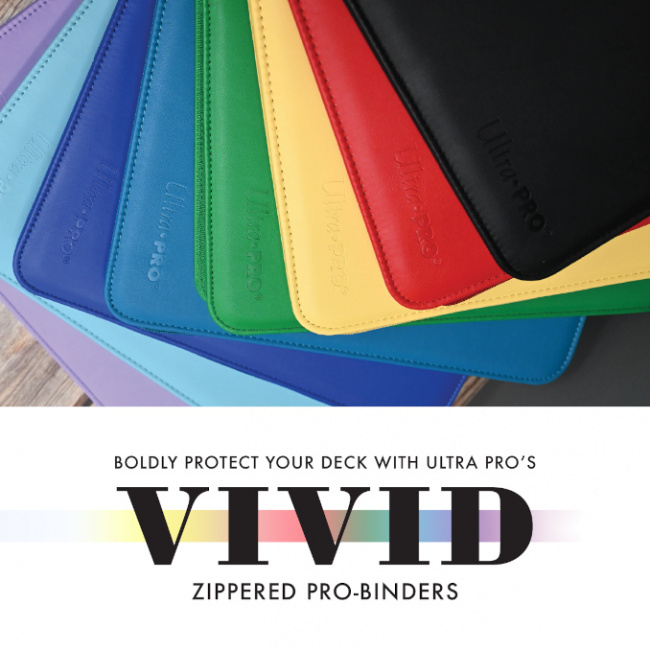 The Vivid Collection includes zippered PRO-Binders in 4-, 9- and 12-pocket options, all made with non-PVC materials and a padded leatherette cover and matching zipper closure. Organize your collection according to card type, rarity, release year, sports team, or any other way you can dream up! With 8 colors and 3 pocket sizes to choose from, there's something for every collector, from those just buying their first boosters to seasoned pros with thousands of cards to keep track of.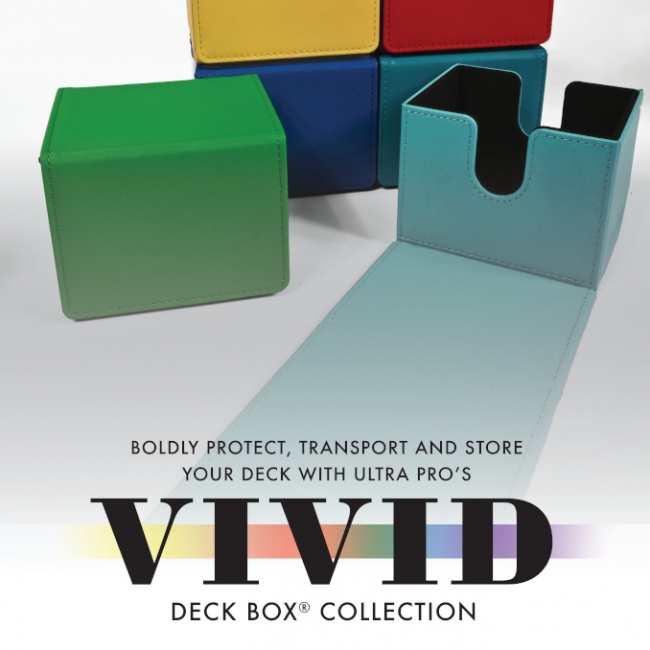 Four new deck boxes are included, in regular and premium versions. No matter how you like to play, there's a deck box option for you. Like to pull from your deck vertically, with the cards stacked on top of one another? The Alcove Flip is your new go-to gaming companion. Are you more of a cards-stacked-horizontally, side-by-side kind of gamer? Then the Alcove Edge was made just for you! Both styles hold up to 100 standard sized cards double-sleeved, and have multiple magnet closures to keep cards securely in place.
The final entry in the Vivid Collection is a great new addition: Heavy Metal dice sets! These sets of two 20-sided polyhedral dice are made with zinc-alloy metal, which creates a great solid, weighted feel when rolling, which will make your 'nat twenties all the more satisfying! The smooth edges and powder coating will keep them looking great through long
D&D
sessions, and the 8 signature colors options make it easy to show off your own personal style. If you love to match your current
D&D
character to your accessories, the Vivid Collection has everything you need to roleplay in style!
With a rainbow of colors and products to choose from, the new Vivid Collection makes expressing your unique gaming style easier than ever! Mix and match to form new combos, show off your one-of-a-kind color-coding system, or coordinate with your unique RPG character to your heart's content. Let your true colors show with the new Vivid Collection of gaming accessories from Ultra PRO, available now!