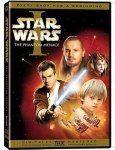 On October 16, Lucasfilm Ltd. and Twentieth Century Fox Home Entertainment will release the DVD edition of Star Wars: Episode 1 -- The Phantom Menace. The Phantom Menace will be the first Star Wars film to be released in the DVD format and can be expected to be one of the top DVD sellers of the year -- it is, after all, the second-highest grossing film of all time, with $431 million in U.S. box office receipts alone. Last year video sales and rentals of the film earned an additional $176 million. Contemplate that number: so far this year, only two films, Shrek and The Mummy Returns, have earned more than $176 million on their initial theatrical release. With the number of DVD players expected to double this year (see 'Number of DVD Players to Double in 2001') and the better sound and picture that the DVD format provides, plus a ton of extra features, The Phantom Menace DVD, which will be priced at a very reasonable $29.98 retail, should easily top the amount of money the film earned on video last year.
The rumor was that when Lucasfilm Ltd. finally did release a Star Wars DVD it would really be 'loaded' with extra features. Well, the rumor turned out to be an understatement. Lucasfilm Ltd. is releasing The Phantom Menace as a two-disc set with over 480 minutes of content (commentary included). The film will be mastered by THX for superior sound and picture quality and will be presented in anamorphic widescreen and Dolby 5.1 Surround EX sound. The DVD will include commentaries by writer/director George Lucas, producer Rick McCallum, sound designer Ben Burtt, animation supervisor Rob Coleman, and visual effects supervisors Scott Squires, John Knoll and Dennis Muren.
Seven scenes that were planned but not included in the film will be on the DVD with full special effects, which were completed just for the DVD release. As if this weren't enough, an all-new one-hour documentary culled from over 600 hours of backstage footage is also included, along with five behind-the-scenes featurettes exploring the Phantom Menace's storyline, designs, costumes, fight scenes and visual effects. Then of course there are galleries of theatrical posters, production photos, and all the trailers and TV spots as well as a unique look at the key action sequences that allows the viewer to flip from storyboard to animatic to finished film.
With the release of Star Wars Episode 2 now less than a year away, momentum for the property is starting to build. The Phantom Menace DVD with all its myriad features will certainly help to rekindle the flame as will Topps' release of its Star Wars Evolution card series (see 'Topps Star Wars Evolution Cards') in late August/early September.
In addition to The Phantom Menace, DVD releases already scheduled for October include The Mummy Returns, The Godfather Collection, Snow White and the Seven Dwarfs, and Dumbo -- while The Simpsons Season 1 DVD Set (see 'Simpsons Season 1 DVD') hits stores on September 25. Paramount is supposedly readying Star Trek: The Motion Picture for its DVD debut during the same time period, and Dreamworks is seriously thinking about putting Shrek out on DVD in October, depending on the film's performance over the next month.
With all these films appearing on DVD in October, the question is, will fans have any money left over to actually go to the movies (or buy comics)? When Crouching Tiger debuted on DVD during the first week of June (see 'Crouching Tiger DVD Boffo'), it garnered some $30 million in retail sales, a figure that dwarfed the box office take of Swordfish, the number one movie in theatrical release that week, which took in just under $20 million. It is highly unlikely that any film that debuts the week of October 16 will earn as much in its first week as will The Phantom Menace DVD.