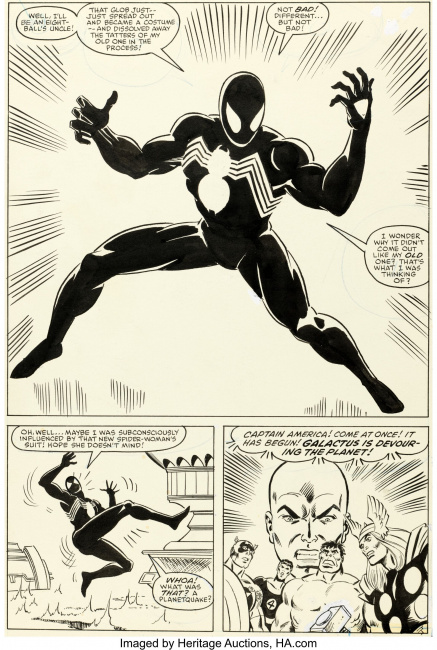 Heritage Auctions announced that the sale of the original black and white comic artwork for page 25 from 1984's
Secret Wars
#8 broke a U.S. comic art sale record. The artwork went for $3.36 million on January 13, 2022 at their Comics and Comic Art Signature Auction.
This particular page from Secret Wars #8 (1984) depicts the origin story of the black Spider-Man costume, which harbored the same symbiote that later attached itself to Eddie Brock to create Venom. The page was rendered by artist Mike Zeck in black and white. This is the highest sale for a black and white piece of interior art from a U.S. comic book. The sale also lands third all-time for an original piece of comic art behind Frank Frazetta's Eerie #23 cover, the Egyptian Queen (see "Comic Art and Comic Book Auction Sales"), and a black and white piece from the Adventures of Tintin albums (1937) that sold for $3.58 million in 2014 (see "Comic Art Sells for $3.5 Million").
"We could not be happier, especially for our consignor, who bought the art in the late 1980s and treasured these pages ever since," says Joe Mannarino, Heritage Auctions' New York Director of Comics & Comic Art. "Today's results prove what we've long been saying: Comic book art is as beloved and valuable as anything put on canvas."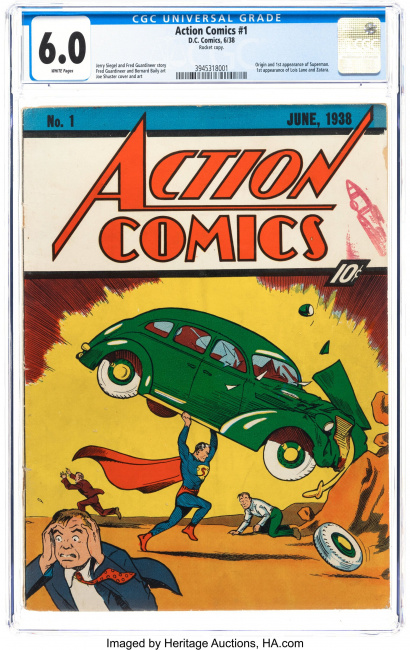 The other major sale at this auction was a CGC 6.0 "Rocket Copy" of
Action Comics
#1 (see "
Pre-Auction Bidding on 'The Rocket Copy'
") that went for $3.18 million when the hammer dropped. This comic now becomes the fourth most expensive comic ever sold, behind a CGC 9.6 copy of
Amazing Fantasy
#15 that sold in September 2021 for $3.6 million (see "
Most Expensive Comic Ever Sold
"), another copy of
Action Comics #1
that sold for $3.25 million on ComicConnect, and another
Action Comics #1
which sold for $3.2 million on eBay in 2014 (see "
The First $3 Million Dollar Comic!
").
On another note, it is unclear whether or not the rocket counterstamp on the book and the stamp offered with the auction had significantly impacted the realized sale price of the book in either direction. It essentially fell in line with the sales prices of similar graded copies of Action Comics #1. However, some of the sales of Action Comics #1 are now five or more years old (see "The First $3 Million Comic?"), and it is likely the CGC 9.0 copies of this comic, if put on the block today, would go for far more as the "Rocket Copy" that was only graded a CGC 6.0.
Click on Gallery below for full-size images!