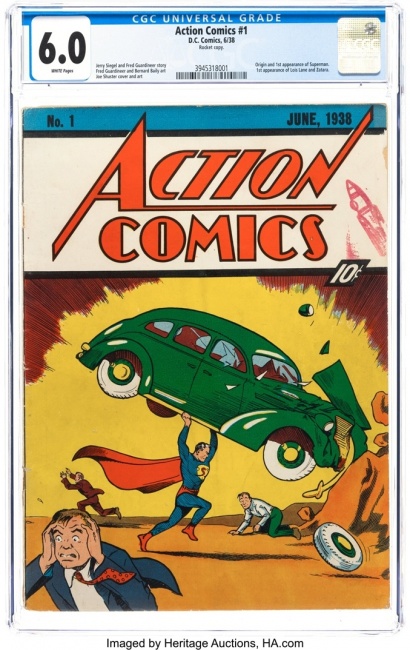 CGC-graded 6.0 "The Rocket Copy" of
Action Comics
#1 with white pages has already passed $1.6 million in pre-auction bidding at Heritage Auctions. The live bidding for this item will occur at the January 13-16 Comics & Comic Art Signature Auction in Dallas, Texas.
"The Rocket Copy" is an original-owner copy of Action Comics #1 that was purchased by a then 13-year old off the newsstand in 1938. It is called "The Rocket Copy" because the 13-year old counterstamped the book with a red-ink rocket ship imprint. Action Comics #1 is, of course, considered one of the holy grails of comic book collecting, and copies of this book routinely break the million dollar threshold at auction (see "'Action Comics' #1 CGC 8.5 Sells for Record Sum").
"Finding any copy of Action Comics #1 is a great day at the office," said Heritage Auctions Senior Vice President Ed Jaster. "From the newsstand to our current auction, this treasure has never left the family of its original purchaser. Which is just one thing that makes this a truly unique find."
Original-owner provenance, in any form of collecting, makes a big difference in value at auction. As a recent example, in 2021, a 9.8 copy of Marvel Spotlight #5 went for an absolutely astronomical number at auction (see "First Appearance of Ghost Rider Sells") partially due to its high grade and original-owner provenance. "The Rocket Copy" not only has an original-owner provenance, but also a unique counterstamp.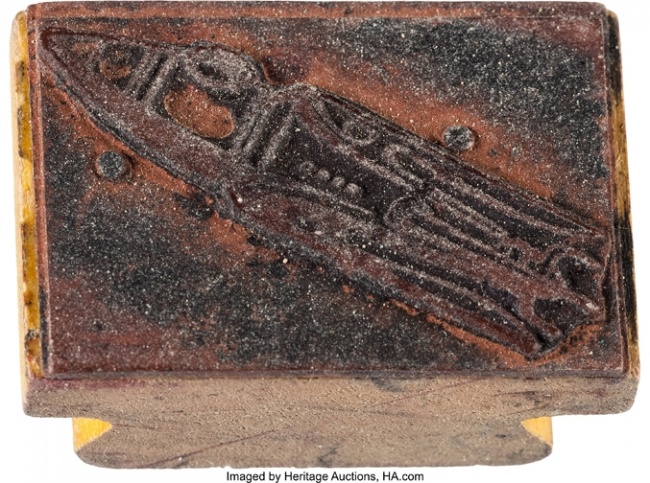 In many collecting genres, such as coins, stamps, and paper money, collecting rare counterstamps is its own sub-specialty category within the genre. As an example from the coin-collecting world, Japanese trade dollars and one yen coins from the late 1800s and early 1900s were countermarked with a "Gin" stamp (which means "silver"), and these coins fetch serious premiums above the unmarked coins from countermark collectors. This particular auction will be of major interest to counterstamp collectors because not only is the book counterstamped, the auction includes the woodblock-rubber stamp that the mark was made with! These factors all but ensure that this copy will reach new heights when the hammer drops.
Click on Gallery below for full-size images!