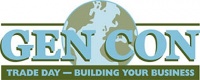 Rolling for Initiative is a weekly column by Scott Thorne, PhD, owner of Castle Perilous Games & Books in Carbondale, Illinois and instructor in marketing at Southeast Missouri State University. This week, Thorne looks at Gen Con Trade Day and the new Wizard/GAMA days.
You might have noticed that GENCON is coming up this week. For retailers, besides the biggest game show in the US, it's also the first of three Trade Day events, one day programs designed to offer seminars to retailers on such topics as building gaming communities, using email more effectively and expanding product lines, as well as presentations from assorted manufacturers. GENCON's Trade Day event appears solely sponsored by the convention, while the next two are a conjoined effort between GAMA and Wizard World, offering trade day sessions the day before the start of the Chicago Comic Con a week after GENCON and the Mid-Ohio Comic Con in Columbus Ohio this October.
From the looks of things, the two Wizard World presentations focus on retailer and manufacturer presentations, while the GENCON event adds a track in for educators and librarians as well. One thing that will hurt the first Wizard World/GAMA collaboration is that it takes place a little over a week after the GENCON one and, while it is free to retailers, it was announced so late that most retailers who would have gone otherwise have already committed to the previous week's GENCON event. The October event has a better chance of attracting more retailers from a larger area, however, it takes place about a week or so after the annual Diamond/Alliance Ft. Wayne Open House, so interested retailers will have to decide which is a better use of their time, maybe doing both, but choosing that option only if their store is located within short driving distance of the Wizard World event.
No indication yet as to what will occur at the Wizard World/GAMA events, aside from programs by WizKids and Cryptozoic and a presentation of Origin Award winning products. Meanwhile the GENCON Trade Day event lists a full slate of programs, with one track, as I mentioned earlier, targeting retailers and the other focusing on educators and librarians, though retailers looking to expand their customer base should take a look at the educator track as well. Topics covered on the retailer track include: "Advanced Lawsuit Protection, Tax Reduction, and Estate Planning Strategies for Gaming Industry Professionals," "Building Profits by Building Community," "Constant Contact Nuts and Bolts," "The Culture of Experience: Take Your Store to New Heights with
Magic: The Gathering
and
Dungeons & Dragons
" (a two hour presentation by WotC), and "Making Board Games Work for You," followed by a session on "Using Games in Large Groups and Educational Settings."
Meanwhile, the educators and librarians will attend sessions on: "Story Building Decks and a "Heroes Journey," "Building Your Game Library on a Shoestring Budget," "Game Lesson Plans and Ideas," "Comic Book 101--Using graphic novels in your classroom or library," "
D&D
for Kids in the Classroom," "Game Design in the Classroom" (also the eponymous title of a book on the topic by the presenter David Niecikowski), "How to Attract Patrons and Sustain a Library Gaming Program," "Game Standards and Assessment Expectations," and "Role-Playing Games as Objects of Study: A Workshop on Ethical Criticism for Educators, Scholars, and Writers." While more of the retailer track presentations do not overlap, several of the one hour educator/librarian tracks overlap with the two hour sessions, so those attending the educator/librarian track will have to plan carefully to attend the sessions they want as none of them repeat. Of course, those attending the retailer track will have to plan ahead as well as none of those sessions repeat either.
During the evening, sixteen retailers can participate in the Mayfair Games Demo to Demo program, while others can preview the new Lair Assault program starting this fall as part of WotC's Organized Play, play in a
Magic: The Gathering Mini Masters
event or demo an assortment of games from other attending manufactures until after midnight. This will make the fifth GEN CON Trade Day our store has attended. We've never been disappointed and look forward to this one as well.
The opinions expressed in this column are solely those of the writer, and do not necessarily reflect th views of the editorial staff of ICv2.com.