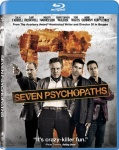 Horror movie fans get to choose between a trio of movies, and geeks who love a good violent "cult" film should definitely check out Seven Pscyhopaths, while for those who like "quality" TV there is the new season of Downton Abbey and a nice collection featuring feature-length TV movies based on the exploits of two of Agatha Christie's most popular sleuths.
Theatrical Movies
There is a variety of offerings for horror movie fans this week including the latest entry in the popular "found footage" franchise Paranormal Activity 4 (Paramount, "Not Rated," $29.99, BD $39.99). Only 26% of the critics gave PA4 a positive rating, and audiences weren't much kinder. Has this series jumped the shark?
Considerably more interesting is The Awakening (Universal, "R," $19.98), a real old school British ghost story with excellent performances from Rebecca Hall and Imelda Staunton. The Awakening got a 60% positive rating from the critics surveyed by Rotten Tomatoes, which is a solid performance for a horror movie.
There is also a horror movie-themed computer-animated feature Hotel Transylvania (Sony, "PG," $30.99, BD $39.99), a fast-paced comedy geared for young viewers that was directed by Genndy Tartakovsky (Samurai Jack). Hotel Transylvania is visually interesting and kind of fun for adults, especially those who are familiar with the visual tropes of classic 1930s horror movies.
Directed by Martin McDonagh (In Bruges) Seven Psychopaths (Sony, "R," $30.99, BD $35.99) has serious "cult film" potential. This film is perhaps a little too complex and self-reflexive for its own good, but it remains a delightful black comedy enlivened by strong, if a bit eccentric performances. But be prepared—this is a "black" comedy with plenty of violence and a body count worthy of a couple of Deadpool comics.
Fans who want to get a look at Superman actor Henry Cavil might want to check out The Cold Light of Day (Summit Entertainment, "PG-13," $19.98), a Taken-like thriller about a man trying to get his family back that is set in Spain. Just don't expect too much—this film only managed to earn a 5% positive rating on Rotten Tomatoes.
TV on DVD
A light week of TV releases is highlighted by some animated offerings and an unusually strong contingent of shows from the UK. The Completely Mental Misadventures of Ed Grimley: The Complete Series (Warner Bros., 286 min., $24.98) collects the entire 13-episode 1988 Hanna Barbera cartoon series based on the "Ed Grimley" character created by comedian Martin Short, who provides the voice for the show's eponymous hero. This series was good enough (and strange enough) that the Cartoon Network aired it in the late 1990s on one of the precursors to Adult Swim.
Also of interest is Hey Arnold!: Season 3 (Shout Factory, 400 min., $19.98), which collects the third season of the Nickelodeon series created by Craig Bartlett that ran from 1996 to 2004 and won lots of praise for its depiction of character development in its stories about a fourth grader growing up in a big city.
The quality of the domestically-produced live-action series due this week is much more problematic. The most interesting might be Pan Am: The Complete Series (Sony, 550 min., $30.99), which collects the ill-fated series that tried to do for stewardesses in the 1950s what Mad Men did for ad agency executives.
Less intriguing, in spite of its title, is the Cinemax anthology series Femme Fatales: The Complete First Season (eOne Entertainment, 382 min., $29.98). Femme Fatales takes its name and attitude from the men's magazine of the same name that inspired it.
The lone vintage American TV release is the quirky 1980s sitcom Night Court: The Complete 8th Season (Warner Bros., 574 min., $29.98).
The most popular U.K. release of the week is not in doubt. Downton Abbey: Season 3 (PBS, 574 min. $49.99, BD $54.98) collects the current season of the glossy period soaper that has completely mesmerized America. Lavishly mounted (the series is the most expensive ever produced in Blighty), Downton Abbey may be predictable, but it never fails to entertain thanks to its ability to make the stories of both the upstairs and the downstairs characters quite compelling.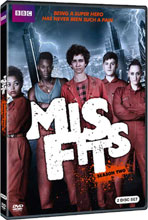 Not nearly as well known, but of equal or more interest to geek viewers is
Misfits: Season 2
(BBC, 278 min., $24.98), which collects the second season of the groundbreaking series that serves up plenty of sex, drugs, and superheroes along with a side dish of sly irreverent humor. Superhero fans should definitely check this series out for a different take on the genre.
Agatha Christie's Poirot & Marple: Fan Favorites
(Acorn Media, 960 min., $99.99) is an excellent choice for anyone who enjoys the traditional English murder mystery and has yet to acquire examples of these two excellent series. The lavishly-produced
Poirot
dramas are set in a meticulously re-created 1930s and this collections includes six feature-length film including such classics as
Murder on the Orient Express, The ABC Mysteries, The Adventure of the Egyptian Tomb
, and
Four and Twenty Blackbirds
. The five equally well-produced
Miss Marple
films (starring Geraldine McEwan and Julia McKenzie) were produced between 2004 and 2010.
Those who enjoy Dame Agatha's mysteries might also want to check out an earlier series based on Christie's fun-loving 1929 collection of short stories, Partners in Crime: The Tommy and Tuppence Mysteries (Acorn Media, 623 min., $49.99). Produced in 1983, this series doesn't look as good as the Poirot and Marple efforts, but it really is a lot fun. James Warwick stars as Tommy and the lovely Francesca Annis as Tommy's wife, the delightful Prudence "Tuppence" Beresford.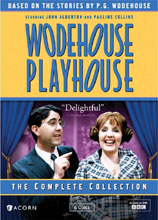 Although they were produced in the 1970s and don't have the luster of more recent TV productions, there is much to recommend the humorous half-hour short story adaptations included in the
Woodhouse Playhouse Complete Collection
(Acorn Media, 620 min., $59.99). This set was previously released, but had been discontinued so those who enjoy classic charcter-driven British humor will have another chance to acquire this collection, which includes adaptations of three different strains of Wodehouse stories including the "George Milliner" stories, which actually make up the bulk of this collection, the "Drones Club" stories, which have links to Wodehouse's immortal
Jeeves & Wooster
stories, and the "Golf" stories, which have considerable resonance to anyone who has ever tried to play that most difficult of games to master.
Anime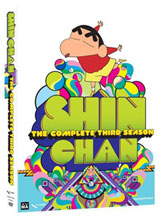 There are some interesting reissues this week including
ShinChan: The Complete Third Season
(Funimation, "17+," 650 min., $49.98), which collects two previously released sets (available for $39.98 each) of the outrageous antics of a character that has been referred to as "Dennis the Menace" on steroids.
More interesting to some will be the new Blu-ray edition of Fate/Stay Night Collection 1 (Sentai Filmworks, "14+," 300 min., $69.98), which collects the first 12 episodes of the 24-episode 2006 anime TV series from Studio Deen that was based on the visual novel by Type-Moon that was originally released as an adult game for Windows.
It's a very busy week on the anime front for Viz Media. Not only is the San Francisco-based company releasing Naruto Shippuden Box Set 13 (Viz Media, "16+," 300 min., $44.82), which contains episodes 154-166 of the popular ninja series, but it is also releasing six seasons of the Inuyasha anime TV series. Each Season Set is rated "13+," and Seasons 2-7 each have a retail price of $24.98.

Tom Flinn

The opinions expressed in this column do not necessarily reflect those of the editorial staff of ICv2.com.