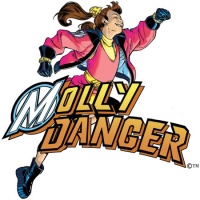 Confessions of a Comic Book Guy is a weekly column by Steve Bennett of Super-Fly Comics and Games in Yellow Springs, Ohio. This week, Bennett talks about

"

our

"

holiday, the upcoming Free Comic Book Day.
Here we are, the new year still new on a technicality, fish season* not even officially begun and I
'
m already getting that painfully familiar being-shot-out-of-a-cannon feeling as I find myself buffeted from one shallow, hollow holiday to another. But I can tolerate any number of lesser days, Valentine
'
s, St. Patrick
'
s (well, more than tolerate; I
'
m a sucker for a Shamrock Shake), President
'
s Day, etc. I can take any lowercase occasion Corporate America wants to throw at me because I can bide my time. In America everyone eventually gets their own holiday and we've had ours since 2002; it
'
s only 73 more shopping days until Free Comic Book Day.
I won
'
t come and flat out say that it
'
s my all-time favorite celebration, but it
'
s definitely made my top five. When I started writing this column I decided to take a look back at a decade
'
s worth of columns that I
'
d written about FCBD and upon reflection I can honestly say that even when I was actively working full time in the retail trenches I
'
ve had nothing but good Free Comic Book Days. I only wish I could say the same thing about my last dozen Christmases, or Birthdays, or... well, you get the idea.
And of course my favorite part of FCBD is the free comics. I suppose that kind of goes without saying; it
'
s why we
'
re here. Just as a reminder, FCBD has, according to Wikipedia, (the lazy writer
'
s best friend) three main purposes:
1. To introduce everyone to the joys of reading comics.
2. To call back former comic book readers.
3. To thank current comic book buyers for their continued support.
Which of course is why it
'
s so important which comics we give away. If you go to the FCBD website this year you
'
ll be able to read and even download partial previews of the upcoming Silver and Gold offerings. Never having exactly been known for my patience, Ive gone and done just that and found that as with most years
'
, there
'
s definitely some good stuff; it
'
s hard to say
'
no
'
to another FCBD Atomic Robo and I had completely forgotten about Gilbert Hernandez
'
s Marble Season.
But so far the jewel in the crown has been Jamal Igle
'
s Molly Danger, the story of a super-powered ten year old that's set to appear in Action Lab Entertainment
'
s
Molly Danger/
Princeless
one-shot. Igle has been one of my favorite artists for a while now and I have been following his progress with Molly Danger on Kickstarter and Facebook and was delighted when I learned it was going to be offered for Free Comic Book Day. I don
'
t want to ruin its chances by labeling it with such hurtful terms as
"
fun
"
and
"
classic
"
but Molly Danger is exactly the kind of creator owned, all-ages comic that I'm always looking for. I can
'
t say that it will be the breakout star of FCBD 2013, but it certainly deserves to be.
For me the most important aspect of Free Comic Book Day has always been
"t
o introduce everyone to the joys of reading comics.
"
It sometimes seems that when we
'
re not complaining about the lack of good comics for kids we're despairing about the lack of them, but just check out this partial list of Silver and Gold titles for FCBD 2013:
Avengers Assemble Hulk Agents of SMASH
#1, Bongo Free-For-All,
It

'

s An Ugly Doll Comic & Other Stuff
, Kaboom Summer Blast, Sesame Street & Strawberry Shortcake, Spongebob Comics Freestyle Funnies, The Smurfs, TMNT The Animated Adventures, World of Archie Digest, Capstone Presents Mr. Puzzle, DC Nation Super Sampler, Disney Fairies, Marble Season, NFL Rush Zone Season O/T Guardians, Rated Free For Everyone Crogan Adv & Mermin, Sonic the Hedgehog Mega Man Flipbook, The Tick, Top Shelf Kids Club, Mouse Guard/Rust, Molly Danger/Princeless.
Given the relatively few kids who are reading comics that
'
s a lot of FCBD titles intended for kids. Which of course is just as it should be given purpose #1, but sometimes I do wonder that retailers are so hard-wired to be obsessed with what Marvel and DC are up to next that we sometimes don
'
t notice just how many kids comics we do sell. But that
'
s a topic for another week.
·
If you ever wondered why this time of year fast food chains devote so much of their advertising and promotional budgets to fish sandwiches, well, originally it had something to do with Catholics practicing Lent, Lent being a 40 day observance where people abstained from eating meat on Fridays. Quite a number still do but I call this period "fish season" since it begins before the start of Lent (February 22nd) and there seems to be an entire generation of Americans who have absolutely no idea why they're supposed to eat fish this time of year. Other than it's generically "healthy" or "good luck" or something.
The opinions expressed in this column are solely those of the writer, and do not necessarily reflect the views of the editorial staff of ICv2.com.