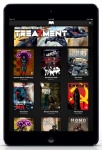 Madefire, the San Francisco-based motion book platform that has been publishing digital-first original works from creators like Dave Gibbons and Liam Sharp through its iOS app , today announced a set of partnerships with IDW Publishing, BOOM! Studios, Top Cow Productions and iTV to distribute motion book versions of fan favorite properties including
Star Trek, Transformers
, and
The Darkness
. The company will also begin charging for select content, including titles from partners, starting very soon.
While most of the titles in the launch are already available as paper and digital comics through other channels, the content has been optimized for the Madefire platform and includes a range of motion effects including depth of field, parallax (2.5-dimensional renditions of environments), limited animation, audio and other features that the company has been using on its proprietary titles such as
Mono, Treatment
and
Captain Stone is Missing
.
Madefire co-founder and CEO Ben Wolstenholme says this means fans can enjoy a reading experience that takes full advantage of the digital medium, with high resolution visuals, punctuated storytelling and discrete effects that paper comics and "flat comics scanned into digital format" can't match.
"We've been in conversations with a number of publishers who are very enthusiastic about bringing their content to the Madefire platform," says Wolstenholme. "This first group represents those who were most aggressive about moving forward." He says to expect additional partnership announcements in coming months.
"A lot of people approached us to create [motion-book versions] of our titles and we've been resistant to that in the past," says Ted Adams, CEO and Publisher of IDW. "One of the reasons I'm excited about working with Madefire is that the people all come from comic backgrounds and understand how comics work. Their approach to storytelling is really clever. The motion comics move quickly. They're not overbearing."
Wolstenholme says each book will be broken into three "episodes," which will be available for purchase at either 99 cents or $1.99 through the Madefire app, the website, or on DeviantArt, which is also partnered with Madefire. The first episodes will start appearing toward the end of summer, as the company is finalizing production of a full inventory ahead of the launch. However, Madefire released a video demo, embedded here, and will have samples to show at Comic-Con (booth 4902-4904) this week.
One small step for digital comics, one giant leap for Madefire
Today's announcement represents a fundamental shift for Madefire with potential implications for the rest of the digital comics market.
Since its launch in 2011, Madefire has occupied a unique niche in the digital ecosystem. Rather than focusing on developing a mass audience by signing up established publishers to its platform right out of the gate, it has honed its technology and focused on extending the possibilities of visual narrative through digital media. The technical capabilities of its platform have always been impressive, but the whole concept of motion books as a viable format for comics begs the question of whether digital effects can be employed to support great storytelling without being meaningless distractions. Previous experiments along these lines frustrated traditional readers without reaching a large new audience.
Over the past year, the company has endeavored to dispel those doubts, pumping out a variety of genre-based series distinguished by their craft, high-end sheen, and restrained use of the tricks at their disposal. Whether these stories grab you or not is a matter of taste, but they indisputably maintain a high standard of professionalism and thoughtful application of new media techniques. Of all the major digital-first publishers, Madefire is the one most clearly competing with the mainstream in terms of production value.
This has garnered Madefire a slew of five-star ratings at the Apple App store and a steadily growing core of readers checking out their wares. The company took a big step forward in community engagement last spring by forging a partnership with
DeviantArt,
the social network built around fantasy art and illustration.
IDW's Adams believes this is a huge selling point. "Madefire's relationship with DeviantArt allows them to get in front of people who aren't even aware that comic books exist [which is particularly helpful] for our big licensed brands. We're always trying to figure out ways to get people who are interested in
Transformers
to read the comic, which will eventually drive them to our print product."
Madefire has so far tread gently in reaching out to the DeviantArt audience, seeing the partnership as a long-term opportunity to build community. Wolstenholme did say that a pilot promotional effort yielded a 10% download rate from a target set numbering in the hundreds of thousands. That's encouraging, considering DeviantArt is the seventh largest, and demographically youngest, social network, representing a vast pool of readers in the sweet spot for what Madefire has to offer.
Show me the money
Of course it's easy to build audience when you have creators of the caliber of Dave Gibbons and Liam Sharp giving away their work for free. That's been Madefire's model so far: free app, free content--even subscriptions that push new issues to your reading list automatically when they're out.
But starting next week, Madefire will begin to introduce payments, charging 99 cents or $1.99 for Bill Sienkiewicz's original
Sherlock Holmes
series and Gibbons' new
Treatment
storyline. Considering the market for digital-first books is growing fast, it seems likely they will manage this transition without too much friction; in fact, charging for content is likely to improve readers' perception of quality and create a more dedicated fan-base.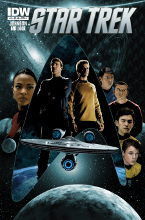 "People are used to paying for entertainment, especially when it comes to big, popular franchises like
Transformers
and
Star Trek
," says Ted Adams. "I don't think it will be a barrier."
The new strategy also answers the question of how publishing partners will be compensated. The $1.99 asking price leaves $1.39 on the table for Madefire and the partners after Apple takes its cut. But remember, that's $1.99 per
episode
, and the plan is to carve each issue up into 2-3 episodes. And these are back-catalog issues, not simultaneous with print.
Madefire and its partners are counting on reaching an audience who will be seeing this material for the first time in the motion book format, but what about the existing audience of tried and true comics readers? Will the unique Madefire motion book experience entice readers to pay two or three times what it would cost to download the book on another platform, or get longtime fans to pay again to have a story they've read before in a new digital format? Existing content is successfully repackaged and re-sold all the time in the physical world, but it has the collectable thing going for it. Will it fly when bits, not atoms, are at stake?
From platform to publisher to distributor
The larger leap for Madefire is becoming a distribution conduit for third parties in addition to being a platform and publisher for its own titles. This move puts them more directly in the line of fire of established players like comiXology and iVerse, not to mention e-commerce behemoths Amazon and Apple, which are showing signs of becoming more aggressive in this market.
It's one thing to establish a chunk of the market by offering a unique reading experience and a roster of appealing original titles. It's another to try to leverage those slender advantages against established, well-resourced competitors who aren't exactly standing still from the technical perspective either. The gap between Madefire's motion books and higher-end digital offerings from Marvel, DC and comiXology is closing fast.
And then there's the complicating issue of a publishing imprint, with their own recognizable brand and stable of creators, serving as the digital distributor for other publishers--an issue raised earlier this year when Dynamite partnered with Dark Horse's digital platform. How will the influx of established titles--and, eventually, self-published work from creators using Madefire's development platform--affect the brand that the company has already established in the market?
These are big challenges for a small company. It is very interesting that savvy mid-line publishers like IDW, BOOM! Studios, Top Cow and iTV consider Madefire's value proposition significant enough to step up as launch-day partners.
Worth watching
Some would say that Madefire is such a marginal player at this point that it's not worth paying attention to just another pre-Comic Con press release. The digital ship has sailed, readers have chosen their platform, motion books are a gimmick reprising old tricks that date back to the days of CD-ROM multimedia comics.
Perhaps. But this is not a random bunch of folks who decided to put on a talent show in the barn. Liam Sharp, Bill Sienkiewicz and Dave Gibbons are creators with formidable talent, sparkling industry credentials and a track record of storytelling innovation. CEO Ben Wolstenholme, an experienced marketing and business executive who moonlights as the artist for the line's most entertaining title, arguably draws a better comic book than certain better-known artists manage a publishing enterprise.
"These are smart people, creative people-- it's a strong combination," says Ted Adams.
And they execute. They put out great-looking titles on time, month after month. They don't leave promising announcements dangling in the air unfulfilled or paint the room brown with "thought leadership." They partner with the right people and aim high. From a business standpoint, Madefire is a credible, professionally-managed startup backed by some serious Valley capital. As Wolstenholme says, they are built for scale. Now we will see.
The Madefire Announcement
Announced partners: IDW, BOOM! Studios, Top Cow, iTV
Announced titles and creative teams:
The Darkness (Top Cow)
W: David Hine
A: Jeremy Haun

2 Guns (BOOM! Studios)
W: Steven Grant
A: Mat Santolouco

Next Testament (BOOM! Studios)
W: Clive Barker and Mark Miller
A: Haemi Jang

Star Trek (IDW)
W: Mike Johnson
A: Stephen Molnar

Transformers (IDW)
W: Chris Metzen & Flint Dille
A: Livio Ramondelli

My Little Pony (IDW)
W: Katie Cook
A: Andy Price

Katie Rogers (iTV)
W/A: Des Taylor
Availability: Late summer
Pricing: $0.99-$1.99 per episode
Devices supported: iOS (iPad, iPad Mini, iPhone), Web. Other devices via mobile web
Distribution: Exclusively through Madefire app or website and DeviantArt