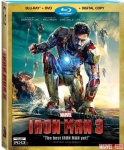 The fall DVD season kicks off with the debut of Shane Black's
Iron Man 3
, which could end up as the #1 home entertainment release of the year, but IM3 is not this week's only geek-friendly release. There is the latest series of the revived
Doctor Who
, a brilliant extension of the historical detective series
Foyle's War
from WWII to the Cold War, and a couple of very interesting takes on the zombie genre, one a madcap anime harem comedy, and the other a high concept BBC series about the problems created by re-integrating those suffering from PDS (Partially Deceased Syndrome) back into society.
Theatrical Movies
This week's top release just happens to be the highest-grossing movie of 2013 so far, Marvel Studio's
Iron Man 3
(Disney, "PG-13," $29.99, BD/Combo $44.99). Directed by Shane Black
, Iron Man 3
is a nice change of pace for Marvel Studios. While the action clearly takes place in the wake of
The Avengers
with Tony Stark still troubled by nightmares, working obsessively on new iterations of his armored suit,
Iron Man 3
, for all of impossibilities, is far more grounded in reality than most previous Marvel efforts—and it is a huge improvement over the abysmal
Iron Man 2
. Comic book fans may grouse over Black's treatment of The Mandarin, but ordinary moviegoers will revel in Ben Kingsley's brilliant tour de force that displays, shall we say, a bit of range. Black keeps the action moving fast and the quips coming even quicker in an action movie that is breezy and fun without being campy or superficial. Robert Downey, Jr.'s performance as Tony Stark appears so effortless that critics tend to take it for granted, but he manages to display a wider range of emotions in
IM3
than in any of his previous Marvel movie efforts and does so without a hint of scenery chewing. Guy Pearce is more than equal to the demanding role of Aldrich Killian, while Don Cheadle, Gwyneth Paltrow, Rebecca Hall, and Jon Favreau are all solid in supporting roles. It is easy to see why
IM3
was so successful. It is thoroughly entertaining without ever taking itself too seriously.
The extras included with
IM3
are fun, though it is a bit tedious to have to download the Jarvis: App in order to access them. The "making of" segment is just 11 minutes long, but interesting nonetheless, and don't forget to check out the cool "Marvel One-Shot, Agent Carter," which stars Hayley Atwell as Steve Rogers' WWII gal pal, is a fast and breezy adventure as Agent Peggy Carter takes on a dangerous assignment to make a point to her chauvinistic boss, who is played by Bradley Whitford. Marvel is reportedly developing
Agent Carter
as a potential TV series, so this one-shot might turn out to be the prologue to a new ABC TV series, if
Agents of S.H.I.E.L.D.
is a hit.
There are no other big movies due out on disc this week, but there are some interesting smaller films including the coming of age drama,
The Kings of Summer
(Sony, "R" $29.99, BD $35.99) about a trio of high school freshman who attempt to get away from their families by spending the summer building their own cabin in the woods. Critics gave
The Kings of Summer
a solid 77% approval rating and many compared it with another stellar 2013 coming of age film
Mud
, though noting that the kids in
The Boys of Summer
are about four years older than those in
Mud
.
While
The Kings of Summer
has a definite YA novel sensibility, another interesting little indie film due out on Tuesday appeals to another demographic entirely.
An Unfinished Song
(Starz, "PG-13, $24.95) is an unabashedly sentimental affair with an all-star cast. Terrence Stamp plays a nasty old curmudgeon who is humanized when his wife, who is beautifully played by Vanessa Redgrave, gets him to join a singing group run by Gemma Atherton. The same viewers who enjoyed
The Best Exotic Marigold Hotel
will likely respond positively to
An Unfinished Song.
TV on DVD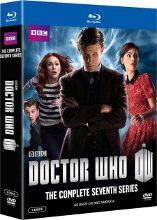 There are lots of geek friendly TV releases this week including
Doctor Who: The Complete 7th Series
(BBC, 645 min., $79.98, BD $89.98), which collects all 14 episodes of the 7th series of the revived science fiction series, which was broadcast in 2012 and 2013. This is the third and final series for Matt Smith, who has played the eleventh incarnation of the Doctor. The revived
Doctor Who
series continues to gain exposure and popularity here in the States. Neil Gaiman penned his second
Doctor Who
episode, "Nightmare in Silver," which included the return of the Cybermen in a sleek new form, for the 7th Series. This deluxe 6-disc set includes a ton of extra features that real Whovians will enjoy.
Other series of interest include the long-in-the-tooth, but still occasionally funny
South Park: The Complete 16th Season
(Paramount, $42.99, BD $59.99), the innovative single-camera sitcom
Modern Family: The Complete 4th Season
(Fox, $49.98, BD $59.99), the serial killer-toadying police procedural
Hannibal: Season 1
(Lionsgate, $39.98, BD $39.97), ABC's sitcom about a family of humans living in a community of extraterrestrials,
The Neighbors: Season 1
(Disney, 506 min., $34.99), the revived
Hawaii Five-O: The Complete 3rd Season
(Paramount, $64.99, BD $72.99), the CBS sitcom
Two Broke Girls: The Complete 2nd Season
(Warner Bros., $44.98), and
Two and a Half Men: The Complete 10th Season
, the first full non-Charlie Sheen season of the venerable 3-camera sitcom.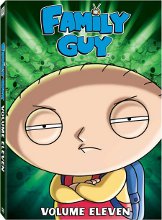 Special mention should be made of two geek-favorite series from creator Seth McFarlane, especially
Family Guy: Volume 11
(Fox, 504 min., $39.98), which includes 23 episodes of the popular Fox animated series with guest vocal appearances by a number of stars including Cate Blanchett, Ricky Gervais, and Ellen Page. Also due on Tuesday is another McFarlane series, the satirical spy spoof,
American Dad: Volume 8
(Fox, 394 min., $39.98).
For superhero fans there is
Superman: The Animated Series—Super Villains: Worlds at War
(Warner Bros., 288 min., $19.95), a random collection of 13 episodes drawn from various seasons, but united by the power of the foes attempting to destroy the Man of Steel.
Vintage series due on Tuesday include the groundbreaking female cop buddy drama
Cagney & Lacey: Season 4 Part 1
(VEI, 586 min., $14.99), and the hip 1960s cop drama,
The Mod Squad: Season 3, Vol. 1
VEI, 1200 min., $24.99).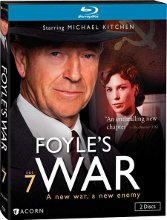 In addition to the latest season of
Doctor Who
, there are several other UK releases of more than passing interest, especially
Foyle's War: Set 7
(Acorn Media, 280 min., $49.98, BD $49.99). A couple of years ago it appeared that Anthony Horowitz's series about World War II had run its chronological course with the "final" episodes taking place in the immediate postwar era. But now Horowitz has revived the series, at least for this trio of films, by having his protagonist, DCS Christopher Foyle (Dennis Kitchen) recruited by British intelligence as the Cold War took shape in the late 1940s. The genius of this series lies in the way in which Horowitz has managed to use real historical events to explicate complex moral issues, and the Cold War with its traitorous idealists and shifting alliances provides plenty of moral gray areas, especially in one telling episode in which the Brits are shielding a Nazi war criminal, who executed captured GIs during the Battle of the Bulge, because of the murderous SS officer's knowledge of Russian espionage networks. This set contains three exciting full length feature films that are currently airing on many PBS stations and which examine the world of early Cold War espionage with the sophistication of a John Le Carre novel. Extras include introductions by series creator Horowitz are well worth watching, though I think they are better viewed after watching the episode, because in explaining the historical roots of the various episodes, the author occasionally has to come out with some spoilers. Since the price of the Blu-ray and the DVD is identical by all means get the Blu-ray since this superbly-produced series, with its brilliantly rendered period setting has the kind of attention to detail that really shows up in hi-def.
Unlike the new Foyle's War set above, all 38 of the episodes included in the
New Tricks: Series 1-5
(Acorn Media, 2295 min., $124.99) collection have been released in individual series sets. But for those who haven't purchased any of the individual series, this collection is a great buy because
New Tricks
is a superb series about a group of retired London cops who return as a team of consultants to solve difficult cold cases. The personalities of the team members are sharply drawn and the mysteries they solve are truly ingenious, but this show has plenty of character-driven humor as well—and the mixture is always highly entertaining.
Also of interest is the BBC zombie series
In the Flesh
(BBC, 180 min., $19.98). This show's clever premise posits that some zombies have been "rehabilitated"—given contact lenses, cosmetics, and drugs in an effort to reintegrate them into society. But there is plenty of prejudice against those suffering from PDS (Partially Deceased Syndrome), as the teen protagonist of this 3-part series discovers when he returns to his home village.
Anime
The top release this week is
Is This a Zombie of the Dead Complete Second Series
(Funimation, "17+," 300 min., $59.99, Ltd. $64.98). Based on a light novel series by Shinichi Kimura about a teenage zombie boy who lives with three girls, this is a madcap series that combines a harem comedy with chainsaw-wielding anime horror and the result is a surprisingly effective entertainment. Studio Deen produced a 12 episode series (plus an OVA) in 2011 and followed up with a 10-episode run (plus 2 OVAs) in 2012.
The Limited Edition of Season 2
comes with an artbox with foil highlights.
Also new is
Queen's Blade 3: Rebellion Complete Colletion & CDs
(Sentai Filmworks, "17+," 300 min., $59.98, BD $69.98), a 12-episode 2012 series produced by Arms and based on a series of visual combat books published by Hobby Japan. Both the DVD and Blu-ray editions come with two audio CDs based on the series' soundtrack.
One of the best things about anime is the wide range of subjects it tackles, as for example in the
Rio—Rainbow Gate Complete Series
(Media Blasters, "16+, 325 min. $29.98), a gambling comedy anime series produced by Xebec in 2011.
Re-priced re-releases due this week include
Pokemon Movie 8: Lucario and the Mystery of Mew
(Viz Media, "6+," 101 min., $9.98), which was originally released here in 2006,
Blue Submarine No. 6 Complete Collection
(Eastern Star, 120 min., $24.95), which collects the 4 Gonzo-produced OVAs from 1998 that were based on the classic 1960s manga by Satoru Ozawa, and
GTO: Great Teacher Onizuka the Animation: The Complete Series
(Eastern Star, 1000 min., $79.98), which collects the entire 43-episode anime series produced by Studio Pierrot from 1999-2000.
Tom Flinn
The opinions expressed in this column do not necessarily reflect those of the editorial staff of ICv2.com..