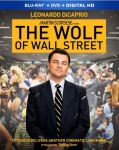 Martin Scorsese's paean to American excess and vulgarity,
The Wolf of Wall Street
leads this week's home entertainment offerings, which also include the politically-savvy sci-fi series
Continuum
, the pop culture-infused "bad-movie-takedowns" of
Mystery Science Theater 3000
, and the sophisticated satire of E.F. Benson's
Mapp & Lucia
.
Theatrical Movies
This week's top release is Martin Scorsese's
The Wolf of Wall Street
(Paramount, "R," 179 min., $29.98, BD $39.99), a vicious black comedy about American excess based on the life of Wall Street swindler Jordan Belfort. Don't expect to find any likable characters here—and this movie about vulgarity is definitely not for prudes. How The
Wolf of Wall Street
avoided an "NC-17" is one of the biggest mysteries in contemporary Hollywood. Leonardo di Caprio leads an exemplary cast and Martin Scorsese always knows what to do with the camera-- the worst thing about this movie about excess is its excessive length, nearly three hours long.
Vince Vaughn stars in
Delivery Man
(Disney, "PG-13" 104 min., $29.99, BD $32.99), a remake of the French Canadian film
Starbuck
about a slacker, who suddenly discovers that he has fathered 533 children via a sperm bank.
Delivery Man
doesn't necessarily deliver big laughs—it actually has about as much sentiment as it does laughter—but it is enjoyable nonetheless.
Given the ability of modern movie special effects it is too bad that
Walking With Dinosaurs
(Fox, "PG," 88 min., $29.98, BD $39.99) doesn't make better use of its, at times, amazing visuals. Unfortunately the "plot" of this kid-targeted dog's breakfast is wafer-thin, having the dinosaurs talk was a major mistake, and the poop jokes are a ridiculous example of pandering to the film's target audience.
TV on DVD
This week's top geekcentric offerings include
Continuum: Season 2
(Universal 574 min., $44.98, BD $49.98), the Canadian-produced science fiction series that airs on SyFy. A policewoman inadvertently accompanies a group of rebels from 2077 who travel back to the present in attempt to disrupt the corporation-dominated oligarchic government of the future.
The hot HBO Series
Veep: The Complete Second Season
(HBO, $39.98, BD $44.98), which features
Seinfeld
alum Julia Louis-Dreyfus as an ambitious, but incompetent vice president, is one of only four comedy series since 2000 to win both the Screen Actors Guild and Writers Guild awards in the same year. The show was created by Armando Iannucci and inspired by his previous political satires, which were produced in England and include the TV show
The Thick of It
, as well as the movie
In the Loop
, which remains the best film made yet about the run-up to the Iraq War.
Also of interest are the Comedy Central comedy duo
Key and Peele: Seasons 1 & 2
(Comedy Central, 396 min., $22.98, BD $24.99); the always hip
Mystery Science Theater 3000: XXIX
(Shout Factory, 480 min., $59.97), which contains the
MST3K
crew making merciless fun of films like
Untamed Youth
,
Hercules and the Captive Women
,
The Thing That Couldn't Die
, and
PumaMan;
and the penultimate season of the Showtime comedy-drama series starring David Duchovny,
Californication: Season 6
(Paramount, $45.99).
Animated series out this week include the single-disc
Dragons: Defenders of Berk, Season 2
(Fox, 242 min., $19.98), which includes 10 episodes of the TV cartoon series spun off from the
How to Train Your Dragon
movie, and
My Little Pony : Friendship Is Magic—A Dash of Awesome
(Shout Factory, 120 min., $14.93), which includes five episodes of the popular kids' cartoon as well as a sing-along bonus feature. The My Little Pony franchise has had some surprising successes in the past year, including the launching of a very popular direct market comic book series from IDW.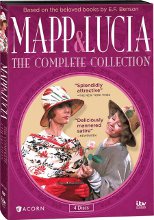 This week's U.K. imports are very different as well as very interesting.
Mapp & Lucia: The Complete Collection
(Acorn Media, 502 min., $59.98) is a four-disc set that collects all ten episodes of the series based on the novels of E.F. Benson, which gently satirize the pretentions and strivings of the upper middle class British in the 1920s and 30s. The eccentric characters bring to mind P.G. Wodehouse, but
Mapp & Lucia
is set several rungs down the social ladder from the domain of Bertie Wooster. Of course that doesn't mean the humor is any less arch and sophisticated, and the proceedings in
Mapp & Lucia
are definitely more dramatic, since it revolves around the relentless struggle between Elizabeth Mapp (Prunella Scales of
Fawlty Towers
) and Emmeline "Lucia" Lucas (Geraldine McEwan familiar to American viewers as
Agatha Christie's Miss Marple
) for social pre-eminence in the picturesque seaside village of Tilling. The humor in this series may be too brittle for some, but most anglophiles will find it a deliciously comic period piece. The series was originally broadcast in 1984 and 1985, but it definitely looks and sounds good in Acorn's new release—my only major quibble was a lack of subtitles.
American viewers are most familiar with Martin Clunes as
Doc Martin
, but that is far from Clunes' only major comedy/drama series.
William and Mary: The Complete Collection
(Acorn Media, 872 min., $59.99) collects all 18 episodes of the odd couple comedy/drama starring Clunes and Julie Graham as single parents with wildly disparate occupations (she's a midwife and he's an undertaker). Like
Doc Martin
,
William and Mary
combines character-driven comedy with a considerable drama component. Those who enjoy
Doc Martin
should check out this series, which originally aired from 2003-2005, though because of its protagonists' beginning of life and end of life occupations, there is perhaps a little more drama in
William and Mary
.
Anime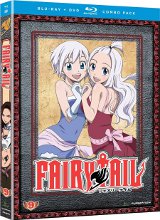 Lots releases this week including
Fairy Tail: Part 9
(Funimation, "14+," 300 min., BD/DVD Combo $54.98), which contains episodes 97-108 of the long-running (175 episodes) anime series based on the popular manga by Hiro Mashima, as well as
Robotics: Notes: Part 2
(Funimation, "14+," 275 min. BD/DVD $64.98), which includes the final 11 episodes of the 2013 anime series based on the visual novel that was the third game in the Science Adventure series that also included
Chaos: Head
and
Steins: Gate
, each of which spawned its own anime.
Also new this week is
Mardock Scramble: The Third Exhaust
(Sentai Filmworks, "17+," 69 min., $29.98, BD $39.98), the third anime film based on the cyberpunk science fiction novels of Tow Ubukata.
New on Blu-ray is the
Maria Holic Alive Complete Collection
(Sentai Filmworks, "14+," 300 min.,$59.98, BD $69.98). For younger viewers there is
Pokemon Black and White: Rival Destinies Set 2
(Viz Media, "13+," 240 min., $19.99), which includes episodes 13-24 of the
Rival Destinies
saga.
Re-priced reissues include
Yu-G-Oh! Season 4 Complete Collection
(New Video, "10+," 920 min., $44.95), the anime movie
Lupin the Third: Bye Bye Lady Liberty
(Eastern Star, 90 min., $24.95),
Ghost Stories Complete Collection
(Eastern Star, "13+," 550 min., $44.95), and
Fist of the North Star Complete Series
(Eastern Star, 3,500 min., $149.95), which contains all 152 episodes of the 1980s anime series from Toei.
--
Tom Flinn
The opinions expressed in this column do not necessarily reflect those of the editorial staff of ICv2.com.