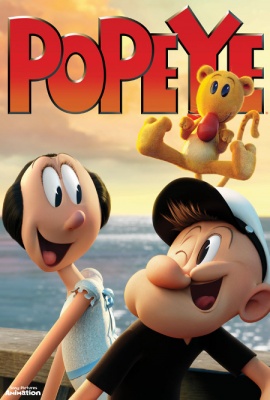 Confessions of a Comic Book Guy is a weekly column by Steve Bennett of Super-Fly Comics and Games in Yellow Springs, Ohio. This week, Bennett looks at cartoon characters with tattoos.

A while ago a friend told me about some LiveJournal posts by a Lola Raincoat concerning the things which would most surprise a recently revived Captain America about life today. It's a subject I've thought about myself, so after several long conversations and some obsessive -compulsive rumination I came up with a short list of what I think would unnerve the Sentinel of Liberty about our modern world:

- Cats can't drink milk.
- Mice don't like cheese.
- Tattoos.

When Steve Rogers went into the ice, only servicemen and circus performers had tattoos. But according a 2012 Harris poll, one in five Americans have at least one tattoo, and women are slightly more likely to have them than men.

I know it's only anecdotal evidence, but given what I see every day at work (and in the changing room of my gym), that statistic seems just about right. Being of a certain age, I missed my window of opportunity for getting ink done, but have learned to accept them as a given, a lifestyle choice no more deviant or exotic than putting pineapple on your pizza.

In spite of the fact that tattoos are now normative, you don't see that reality reflected in movies or TV (Abby, NCIS's adorable goth forensic scientist, being a notable exception). Or in comics, for that matter. A lot of actors and performers have them, but usually they get covered up, perhaps because, according to that same poll, two out of five Americans say people with tattoos are "less attractive or sexy."

I told you that so I could tell you this: as we know I can be pretty oblivious. So when Sony released an "animation test" for the Genndy Tartakovsky Popeye movie (see "Test Video for Popeye"), I didn't notice the Sailor Man appeared sans signature tattoo and pipe. I certainly didn't catch the "significance" of it, but they did on last Sunday's episode of Fox and Friends, where co-hosts Tucker Carlson, Anna Kooiman and Clayton Morris kicked around the subject. Most internet stories focused on their comments on the female Thor and Wonder Woman, but I was more intrigued by Morris' question, "Without the iconic anchor tattoo... are they wussifying Popeye?" Their consensus was yes, though they seemed more obsessed with his pipe.

Of course, it was just a test; there's no official word as to whether he'll appear without those items in the actual film. I suppose you could make the case that Sony's afraid a tattooed, pipe-clenching (he hasn't actually smoked it for decades) Popeye would be a bad influence on kids. Me, I'm OK with The Sailor either way. But it should be noted that even in 1987's Hanna-Barbera abomination Popeye and Son he had both pipe and tat, and that didn't seem to compromise the morals of a generation of kids. And if we're talking about influencing kids to tat up, they've been selling temporary tattoos for kids since 1890 and that doesn't seem to bother anyone.

It seems like we live in a world where every little detail of every news "story" is ruthlessly and relentlessly dissected and sifted for "meaning," and when there is none it's invented. But there is an upside. I've recently written about the unexpected level of enthusiasm I found on Tumblr for Big Hero 6, a movie that hasn't even come out yet (see "Confessions of a Comic Book Guy--A Nuclear Powered Car! A Ray Gun! He's Awesome!"). There every new inch of footage or released image is instantly parsed and probed, not to score points but to have fun.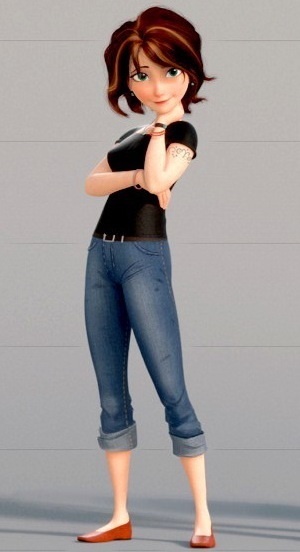 So I was on Tumblr, looking at an image of the female characters from the movie and something about Aunt Cass seemed… odd. The image isn't as large as I would like, but there's definitely a... squiggle on her upper arm. I've checked every other image of her available online and I can't confirm this so, maybe it's just some kind of glitch, or it won't be in the finished film. But I showed it to a female friend and she confirmed my suspicions. She also commented she thought Cass looked pretty contemporary ("it's shaggy, it's sexy, it's bed hair… she's wearing jeans and a black tee shirt… that's 'I still have an edge' clothing").
So I am at this time, tentatively, prepared to say a character in a Disney movie has gotten herself some ink! Aunt Cass appears to be the first character in Disney history to have a tattoo--even the pirates in Peter Pan didn't have tattoos. And wouldn't it be interesting if we lived in a world where Popeye couldn't have one, but a Disney character could?
In last week's column I once more was an advocate for the notion that Marvel and DC should get their parent companies to crack open their change purses and commit to doing proper market research to see who actually reads their comics. However due diligence compels me to admit market research is not infallible; case in point, I was reading a piece by Jim Hill on the Jim Hill Media site titled "Disney looks to avoid the mistakes that it made with 'The Little Mermaid' as it expands its 'Frozen' empire." There I learned that when the movie first came out toy company Tycho released an Ariel doll with blonde hair because their research showed "little girls don't like to play with red-haired dolls."
Proving I'm frequently the dumbest boy in school, the answer to the market-research-requires money conundrum only occurred to me while watching last Wednesday's
Colbert Report
. Colbert showed a filmed segment that revealed he had attended Comic-Con to test market a movie version of his hypothetical comic Prince Hawkcat (Half hawk. Half cat. Whole Prince"). This is when it occurred to me there are kids, girls, women at Comic-Con, walking right past the publishers' booths. Would it hurt to ask some of them what kind of comics they want to read?
Confessions of a Comic Book Guy
is a weekly column by Steve Bennett of Super-Fly Comics and Games in Yellow Springs, Ohio. This week, Bennett looks at cartoon characters with tattoos.
The opinions expressed in this column are solely those of the writer, and do not necessarily reflect the views of the editorial staff of ICv2.com.