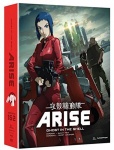 It's a rare week that anime takes centerstage in this column, but a lack of potent releases in the other category and the first half a stylish reboot/re-imagining of Masamune Shirow's seminal cyberpunk saga
Ghost in the Shell
, and the delirious finale of the
Hellsing Ultimate
OVA series top this week's offerings along with the first release of the complete
WKRP
TV series (with most of its music intact), and the delightful indie musical romance
Begin Again
.
Anime
It's a great week for anime releases starting with
Ghost in the Shell: Arise—Borders 1&2
(Funimation, "16+," 114 min., BD/DVD Combo $39.98), half of a new reboot/re-imaging of Masamune Shirow's
Ghost in the Shell
cyberpunk classic. Some fans have complained that the original Japanese
GIS
voice cast has been replaced, but that has to be balanced against superb animation from Production I.G. (the same studio that produced the original
GIS
movies & anime TV series). The new
GIS: Arise
adds new characters and massages the basic
GIS
plot, which remains compelling—this is not a mindless mecha action series (though it has a mecha component), but a thoughtful narrative that most fans of anime science fiction will appreciate.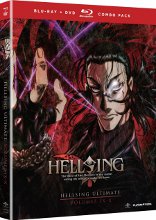 Fans of horror anime will cheer the release of
Hellsing Ultimate, Vol. 9 & 10
(Funimation, 112 min., BD/DVD Combo $44.98), which includes the final two blood-drenched episodes of the
Hellsing Ultimate
OVA series, which has been airing on Adult Swim. This may be a steep price to pay for a couple of 56-minute episodes, but anime horror fans will not be disappointed with this series of OVAs that have been extremely popular in Japan.
Also out on Tuesday is
Fairy Tale: Part 13
(Funimation, 275 min., BD/DVD Combo $54.98), which includes the end of "Key of the Starry Skies" arc and the start of the fight-filled "Grand Magic Games," a nearly pure fighting arc in which all of Fiore's strongest guilds put forth their champions.
The release of the high-def version of the original complete (filler-episodes included)
Dragon Ball Z
series continues with
Dragon Ball Z: Season 8
(Funimation, 775 min., BD $44.98), which contains episodes 140-165 of the classic series based on Akira Toriyama's manga. Purists may object to the expansion of the screen ratio to the modern 16x9, but there is no denying how good the series looks now.
Also new on Tuesday is
Hakkenden—Eight Dogs of the East: Season 2
(Sentai Filmworks, 325 min., $59.98, BD $69.98), which includes all 13 episodes of the 2013 anime from Studio Deen based on supernatural fantasy manga by Miyuki Abe, which is itself based on 106-volume epic 19th Century novel by Kyokutei Bakin.
The long-running
Pokemon
property continues to be a hit with younger viewers (and gamers).
Pokemon: Season 1 Indigo League-The Complete Collection
(Viz Media, "6+," 1850 min., $54.98) includes episodes 1-78 of the first season of the classic kids' anime produced by Oriental Light & Magic. One banned episode (that includes a character in blackface) does not appear to be included in the set, but it's not a major loss.
Theatrical Movies
It's another lean week in this category. The highest-grossing film due out on Tuesday is the exorcism-themed horror film
Deliver Us From Evil
(Sony, "R," 118 min., $30.99, BD $40.99), a saga that is supposedly based on "actual accounts of a NYPD Sergeant." Bogus claims of reality aside, this saga of a cop who teams up with a very unconventional priest to combat a plague of demonic possessions should please those who enjoy the exorcism subgenre of horror movies, even though critics only gave this well-acted saga (by Eric Bana and Edgar Ramirez) a woeful 28% positive rating on review aggregator Rotten Tomatoes.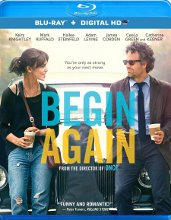 For those who enjoy contemporary music films like
Once
there is
Begin Again
(Anchor Bay, "R," 104 min., $29.98, BD $34.99), which stars Keira Knightly and Mark Ruffalo (Bruce Banner/The Hulk in
The Avengers
) in this delightful indie film set in New York City. Knightly plays a singer/songwriter, who finds herself alone in New York after her rock star boyfriend (Adam Levine) gives her the air. Enter a down-on-his-luck music producer and the result is a feel-good movie that is one of very best romantic films of 2014, largely because it isn't just about romance. It is easy to see how this film earned a sterling 82% positive rating on Rotten Tomatoes.
Another indie effort that many will enjoy is Zack Braff's
Wish I Was Here
(Universal, "R," 107 min., $29.98, BD $34.98), the Kickstarter-funded sequel of sorts to his Garden State.
Wish I Was Here
finds the protagonist played by writer/director Braff lurching towards middle-age, dealing with his kids, his ailing father, and his last fleeting chances at a career as an actor. Some will find this character study slow and boring, but many others will recognize points of similarity with their own lives in a film that depends more on relationships and the arc of a life than on any sort of ingenious plot or narrative devices.
Also due this week is
Dinesh D'Souza's America: Imagine the World Without Her
(Lionsgate, "Not Rated," 103 min., $19.95, BD $24.98), a very disturbing documentary in which D'Souza sets up a number of "straw men" ideas that he says "liberals" believe and then proceeds to demolish them. Yes, attacking opponents by distorting what they say is a popular, though intellectually dishonest, practice across the political spectrum, but what is disturbing about this film is the idea that any critical thinking about America's past is somehow unpatriotic. This kind of ridiculous posturing puts D'Souza in the untenable position of arguing that slavery wasn't so bad because it was practiced in so many societies throughout history. What about a vision of America as a country that has been attempting (by fits and starts, but surging ahead nonetheless) to live up to the ideals upon which it was founded and extend the full freedoms the founders sought to all of its citizens? It's only by admitting your mistakes and failings that a person or a country can move ahead. Self-criticism is not a vice, it is a virtue.
TV on DVD
This week's top contemporary release is specifically designed for collectors—
Breaking Bad: The Complete Series 2014 Barrel
(Sony, BD $299.99), a new 2014 version of the set that was originally offered a year ago (see "
DVD Round-Up: Red 2, Jobs, & Breaking Bad
"). The 2014 version comes packed in a replica money barrel and includes over 55 hours of special features plus a new 2-hour documentary, a Los Pollos Hermanos apron, and a 4GB "Better Call Saul" flash drive.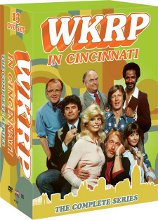 But this week's top TV on DVD offering is actually a vintage release,
WKRP in Cincinnati: The Complete Series
(Shout Factory, $139.99), which includes all 88 episodes of the 1978-1982 character-driven workplace comedy created by Hugh Wilson and based on his experiences selling ads for a Top 40 station in Atlanta. This 13-disc collection is certain to please sitcom lovers—
WKRP
has proven to be the most popular of all the MTM sitcoms in syndication. As always is the case with classic shows like
WKRP
(and
The Wonder Years
) that used contemporary songs on their soundtracks, getting the musical rights cheaply enough to release the material on DVD is a challenge. Shout Factory notes that it "has done its best to include every scene uncut with as much original music as possible," but some of the music that gave
WKRP
its air of verisimilitude as a Top 40 station won't be included, though songs by The Rolling Stones, Bruce Springsteen, AC/DC, Eric Clapton, Bob Marley, The Doors, the Grateful Dead, Blondie, Tom Petty, The Cars, Elvis Costello, Marvin Gaye, Paul McCartney, Van Morrison, The Police, and Otis Redding will be there, so it's apparent that Shout Factory was able to retain much of the original music.
For lovers of classic English mysteries and the novels of Jane Austen there is
Death Comes to Pemberly: The Complete Series
(PBS, 180 min., $24.99, BD $29.99), a mystery saga written by P.D. James, which is currently airing on PBS stations and features characters from Austen's most famous novel
Pride and Prejudice
. While James' original novel is a cut above fan fiction, the well-produced TV adaptation gives the material a further boost as Matthew Rhys and Anna Maxwell Smith bring Austen's Mr. Darcy and Elizabeth to life in what turns out to be a pretty interesting murder saga.
The only other TV release this week is
The Big Valley: The Final Season
(Timeless Media, 1140 min., $34.93), a 6-disc collection that include the final 26 episodes of the western saga that stars the always watchable Barbara Stanwyck as the formidable leader of a powerful western family.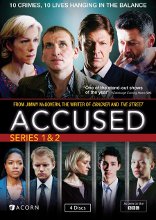 Also due on Tuesday is a trio of excellent offerings from the UK including
Lovejoy: Series 3
(Acorn Media, 693 min., $49.99), the wonderfully inventive series that stars Ian McShane as a somewhat dodgy, but altogether likeable antiques dealer with an unfailing eye for the genuine article. Think of
Lovejoy
as sort of the UK equivalent of
The Rockford Files
and you can get some idea of how enjoyable this series really is.
Mystery buffs have long enjoyed many of the very different sort of detective and police dramas produced in the UK. One of the most interesting stars Brenda Blethyn (
Atonement
) as Vera, a cantankerous police inspector who solves crime in the northeast of England. Based on the novels of Ann Cleeves, Vera is a sort of a female Columbo, kind of frumpy, but nobody's fool and a damn good detective.
Vera: Set 4
(Acorn Media, 370 min., $59.99) includes four feature-length episodes set against the bleak landscape of Norththumberland.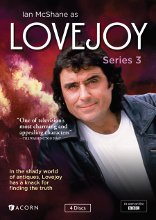 One of the most interesting recent UK crime dramas is
Accused: Series 1& 2
(Acorn Media, 620 min., $59.99), an anthology series that follows a different character in every episode—tracing the history of each crime from the point of view of the perpetrators showing how they lost control of their lives and why they resorted to crime. As the French say, "everybody has his reasons," and this series certainly indicates that there is a spectrum of guilt and innocence, which could entrap nearly anyone given the right circumstances.
--
Tom Flinn
The opinions expressed in this column do not necessarily reflect those of the editorial staff of ICv2.com.