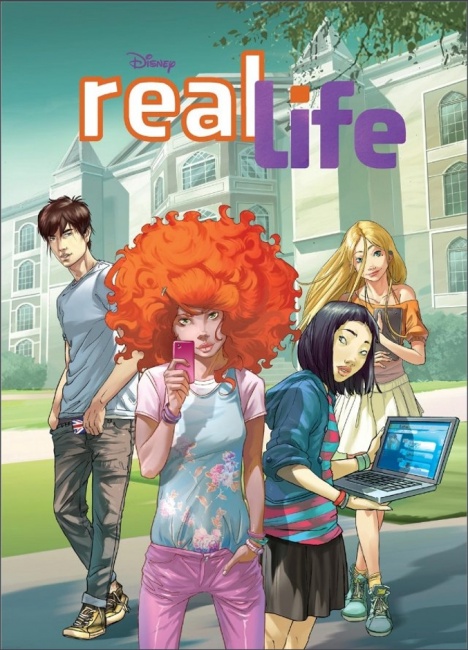 Confessions of a Comic Book Guy is a weekly column by Steve Bennett of Super-Fly Comics and Games in Yellow Springs, Ohio. This week, Bennett discusses how digital comics didn't destroy print, and talks about how Hoopla has helped him discover a new series.
As previously established, I am an older guy. And while I keep going on about how I'm always on the lookout for what's new and next, it does frequently take me a little longer to pick things up than it does kids today. I am regularly neither an early adopter or adapter, which is why I surprised myself by how quickly I was able to break a habit of over 40 years and take to digital comics. Now, I still like and appreciate paper comics, but when it comes right down to it, for me digital offers the superior reading experience, and that's what matters.
But I'm well aware "Comic Book Readers Still Prefer Print Over Digital," the title of a piece by Jeff Mordock which first appeared on the Delaware Online website but since has popped up various places. It's hard to argue with the numbers they've laid out, especially since the numbers quoted come from ICv2 (see "Comics and Graphic Novel Sales Top $1 Billion"):
"After six straight years of staggering growth, digital comic sales dropped last year, according to data from ICv2, a website that tracks pop culture business trends. Digital comics sales totaled $70 million in 2012 and jumped to $100 million in 2014, but fell to $90 million last year. During the same period, print sales increased from $805 million in 2012 to $1 billion in 2015. That marks the first time the industry has exceeded $1 billion in print sales"
The story also suggests there's a reason digital downloads didn't devastate the comic book industry the way it did the music business; the Comic Book Shop Experience. Comic book shops helped facilitate contact between fans and in the process help create a social component to reading and collecting that had previously been a fairly lonely hobby. While it's certainly more practical to download comics and read about them online, it's also an inherently isolating experience. It's not merely habit or nostalgia that keeps our customers coming back to our stores week after week; it's the comics, sure. But it's also human contact and a feeling of community, and that trumps practicality.
Last week, Rob Salkowitz wrote about the implications for comics found in the recently released Pew's Reader Survey (see "Reading Between The Lines of Pew's Reader Survey--Favorable Trends For Comics.") He made a series of good points, but here's the one I'm going to focus on:
"Young people read more. One of the more optimistic findings in the Pew data is that young adults are somehow more likely to have read a book in the past year than their elders. 80% of 18 - 29-year-old respondents cracked the cover of a book in 2015, compared to 67% of those 65 and older. Younger readers were also more likely to have read books in digital formats, but also more likely to have read a book in print."
Now of course we all want young people to read more -- more comics. It's vital to not just the survival of the industry, but the medium. The only problem with this is getting young people into our stores, and getting the comics to the young people. Which is where Hoopla hopefully comes in.
I've written repeatedly about Hoopla, which partners with local library systems to allow cardholders to instantly borrow ebooks, audio books, actual books, music, movies, and TV shows. It's a wonderful resource and the only drawback to it that I've been able to find is that not every library in America has partnered with them; you'll have to check and see if your library system is a participant. Hoopla also has comics, which I haven't written about, mostly because I wasn't initially impressed with their catalog of individual issues and graphic novels. However, I recently gave its contents a second look and was most impressed by their recent additions.
Their comic categories include Action & Adventure, Alternative, Anthologies, Children's, Crime, Dystopian, Fantasy, Historical, Horror, LGBT, Literary, Manga, Media Tie-In, Mystery, Non-Fiction, Political, Religious, Romance, Sports, Superhero, Sci-Fi, Teen, War, and Westerns. The participating publishers include IDW, Boom! Studios, DC, Dynamite, and Archie, among others. Conspicuous in its absence is Marvel.
Its children and teen's sections are particularly strong, dominated by two publishers, Archie and Disney. There are a lot of Archie collections and the long-running PEP Digital series that has appeared on both comiXology and Archie's own website. But Disney has them beat with titles that include their classic characters: Roger Langridge's Muppets, Tinkerbell, Disney Princesses, Phineas and Ferb, Frozen, and Minnie & Daisy, Best Friends Forever.
There's also a Disney series I didn't know existed: Disney's Real Life by Alessandro Ferrari and "various illustrators" (including Alberto Zanon and Giada Perissinotto). It's the story of a trio of female students attending the London International High School: professional Mean Girl Amber Lee Thompson, awkward, accident-prone athlete Alice Keats, and study nerd Andrea Tanaka. Each gets into trouble over a boy and is sentenced to shelving books in the library. Instead of bonding, Breakfast Club-style they take an instant dislike to each other, though Amber does the bulk of the hating. But one thing leads to another and soon they're collaborating to create a profile for their perfect boy for the social media app Real Life whom they name "Thomas Anderson." Then a Thomas Anderson actually enrolls in their school...
There's no immediate explanation for Thomas' existence but the series is so stylishly done I wouldn't mind reading the next volume (it's up to Volume 5 in France). Hopefully one of the American publishers doing Disney Comics will be doing a print version.
The opinions expressed in this column are solely those of the writer, and do not necessarily reflect the views of the editorial staff of ICv2.com.