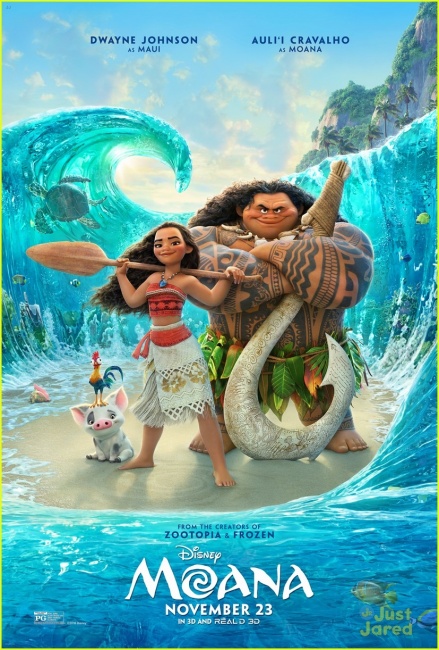 Disney's
Moana
topped the box office for the third weekend in a row, narrowly topping the R-rated comedy
Office Christmas Party
, which debuted with $17.5 million. This is traditionally one of the weaker sessions of the year, and the total box office was only $86.6 million, but that was up 8% the same frame last year when
The Hunger Games Mockingjay, Part 2
topped the charts for the fourth weekend in a row with $11.4 million. Next weekend the holiday movie season begins in earnest with the launch of Disney's
Rogue One: A Star Wars Story
with expectations now rising to something resembling a $140-150 million bow.
Moana
only slipped 33.4% in its third weekend as it earned an estimated $18.8 million to bring its domestic total to $145 million. So far
Moana
is performing much like
Toy Story 2
, which earned $245 million domestic back in 1999. For
Moana
to end up with similar numbers (not adjusted for inflation of course), it will have to survive competition for its target family audience from Disney's
Rogue One
and Illumination Entertainment's animated musical
Sing,
which opened in 12 overseas territories and earned $9.6 million (it opens here on December. 21).
The bawdy, R-rated
Office Christmas Party
opened about as expected, earning $17.5 million and bringing in an additional $16.3 million from overseas. The film only received a "B" CinemaScore, but like ratings from the critics, the effect of the audience CinemaScore varies quite a bit by genre—a serious drama with a "B" score could be in trouble, but plenty of R-rated comedies with "B" scores like last year's R-rated
Sisters
managed a strong "5.7" multiple (meaning that its final domestic total was 5.7 times its debut weekend number). The audiences for
Office Christmas Party
skewed heavily male (56%), and a bit older, even for an R-rated film, with 83% over 25.
Third place went to Warner Bros.
' Harry Potter
spin-off
Fantastic Beasts and Where to Find Them
, which continues to demonstrate good "legs," dropping 40.5% in its fourth frame as it earned $10.8 million to bring its domestic total to $199.3 million. Tomorrow
Fantastic Beasts
will become the tenth film of 2016 to earn over $200 million at the domestic box office. The film has already earned $480 million overseas for a global tally of $680 million.
Fantastic Beasts
is now the #10 movie of 2016 domestically and #9 globally.
Weekend Box Office (Studio Estimates): December 9-11, 2016

Film

Weekend Gross

Screens

Avg./Screen

Total Gross

Wk#

1

Moana

$18,842,000

3,875

$4,862

$145,008,593

3

2

Office Christmas Party

$17,500,000

3,210

$5,452

$17,500,000

1

3

Fantastic Beasts and Where To Find Them

$10,785,000

3,626

$2,974

$199,310,903

4

4

Arrival

$5,600,000

3,115

$1,798

$81,451,708

5

5

Doctor Strange

$4,631,000

2,763

$1,676

$222,362,446

6

6

Allied

$4,000,000

3,018

$1,325

$35,633,452

3

7

Nocturnal Animals

$3,193,685

1,262

$2,531

$6,219,813

4

8

Manchester by the Sea

$3,155,330

366

$8,621

$8,325,531

4

9

Trolls

$3,110,000

2,786

$1,116

$145,490,004

6

10

Hacksaw Ridge

$2,300,000

2,277

$1,010

$60,862,448

6
Fourth place went to Denis Villeneuve's cerebral science fiction offering Arrival. This stealth hit dropped just 22.9% in its fifth weekend as it earned $5.6 million to bring its domestic total to $81.5 million. Close behind was Marvel Studios' Doctor Strange, which garnered $4.6 million to bring its domestic total to $222.4 million. Overseas Doctor Strange brought its total to $423.4 million, surpassing Suicide Squad's total outside North America (though Doctor Strange is unlikely to get close to Suicide Squad's $325 million domestic number).

The rest of the top ten suffered modest declines from modest totals, but two new players came from expansions of films already in limited release, Tom Ford's Nocturnal Animals added 1100 theaters and came in at #7 with $3.193 million, just ahead of the Amazon-financed downbeat drama Manchester By the Sea, which earned $3.155 million from just 366 venues, posting the best per-theater average in the top 10 ($8, 621). Written and directed by Kenneth Longergan and starring Casey Affleck, Manchester By the Sea appears right now to have a great shot at multiple Oscars.

Another film that will bear watching is the musical La La Land, which stars Emma Stone and Ryan Gosling, and which did very well in an extremely limited release, earning $855,000 from just five locations.

Be sure to check back here next week when the #1 film will likely be Disney's Rogue One: A Star Wars Story, with new competition coming from the opening of Will Smith's Collateral Beauty, and the expansion of La La Land.