With Tuesday just twelve days from Christmas there is one last major wave of home entertainment releases for 2016 led by David Ayers' Suicide Squad, a box office hit that somehow, in spite of its success, didn't manage to dispel the lingering gloom that hangs over the DC Cinematic Universe, plus one of Tim Burton's best films in years, the second season of Fear the Walking Dead, a sumptuous Blu-ray edition of The Legend of Korra, and footage from the cutting room floor of the original Star Trek series.
Theatrical Movies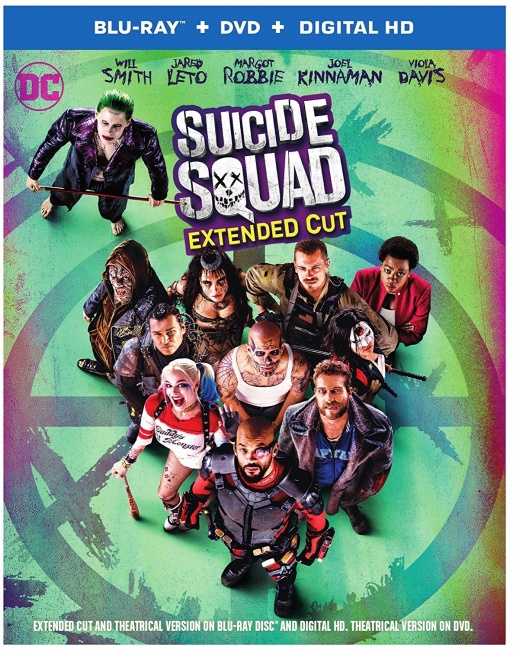 This week's highest-grossing release by far is David Ayers'
Suicide Squad
(Warner Bros., "PG-13", a DC Comics-based supervillain team-up that earned $325 million in North America, making it the #8 movie of 2016 so far. While the critics hated
Suicide Squad
, which received only a 26% positive rating on review aggregator Rotten Tomatoes, audiences responded to often juvenile antics of the supervillain team, and to strong performances from a topflight casted headed by Will Smith, Margot Robbie, Jared Leto and Joel Kinnaman. Superhero movies now have such a cachet in Hollywood that attracting top actors is no problem, witness the Oscar-nominated actress Viola Davis, who is great in a supporting role as the clever, and sometimes devious government agent who puts the team together. Though it pleased audiences, and has undoubted entertainment value,
Suicide Squad
lacks coherence, perhaps because Warner Bros. insisted on extensive reshoots (see "
Suicide Squad Sent Up for Reshoots
"), so more humor could be added in the wake of criticism of
Batman vs. Superman
for its dark super serious tone. While the added bits of humor might have interrupted the film's narrative flow, audiences did respond, so it's hard to make judgments even with the "extended cut" version of the film available on disc. Villains are typically more colorful than "heroes," and turning "villains" into heroes (a la
The Dirty Dozen
) is a winning strategy, though it's kind of like living on candy bars—it's fun for awhile, but there is an obvious feeling that you are missing something important.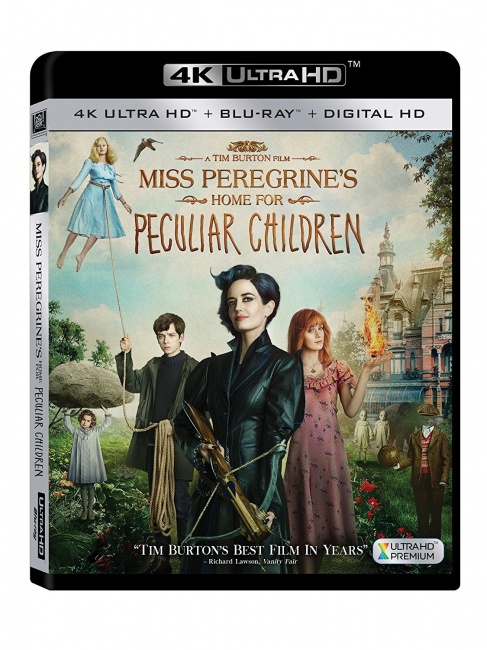 Also of great interest to geek film aficionados is Tim Burton's
Miss Peregrine's Home for Peculiar Children
(Fox, "PG-13," 127 min., $28.98, BD $39.98), a dark fantasy based on the 2011 young adult novel by Ransom Riggs about individuals with paranormal abilities who are called "peculiars." Riggs' novel, which was based on old photograhs, is a perfect match for Burton's sensibility, and his distinctive visual style is on full display. Burton fans should be sure and check out
Miss Pergrine's
, the auteur's best effort since
Alice in Wonderland
.
Another bizarre saga, though one rooted in real life rather than dark fantasy is the Meryl Streep-starring Florence Foster Jenkins (Paramount, "PG-13," 110 min., $29.98, BD $39.99), which presents the real story of the eponymous 1940s New York socialite who bought herself a career as a singer, even though she had a voice like Susan Alexander Kane. Streep of course is excellent in this "dramedy," though many will find the entire film a little "arch."
American fans of the Bridget Jones series didn't turn out in force for the third film in the series, Bridget Jones's Baby (Universal, "R," 246 min., $29.98, BD $34.98), which only earned $24.1 million here in North America (just 1 seventh of what it earned outside the U.S.), but maybe they should have—the film earned a 77% rating from the critics on Rotten Tomatoes, and those who did see they film liked it. I expect Bridget Jones's Baby will do well streaming and on disc.
Another film that didn't do much business in the theaters (just $6.2 million), the indie romantic comedy Southside With You (Lionsgate, "PG-13," $19.98, BD $24.98), which recreates the first date of the young Barack Obama and Michelle Robinson, might also do well in the future as nostalgia for the Obama years blossoms (in some quarters at least).
This week's lone science fiction release is Morgan (Fox, "R," 92 min., $29.98, BD $39.99), a film that melds sci-fi and slasher film horror in its tale of the creation of human "replicant," who has decidedly homicidal intentions. Ridley Scott's son Luke, directed Morgan, which owes obvious debts to both Blade Runner and Alien. Genre buffs will find some good moments in Morgan, though the film's big "twist" is predictable and lame.
TV on DVD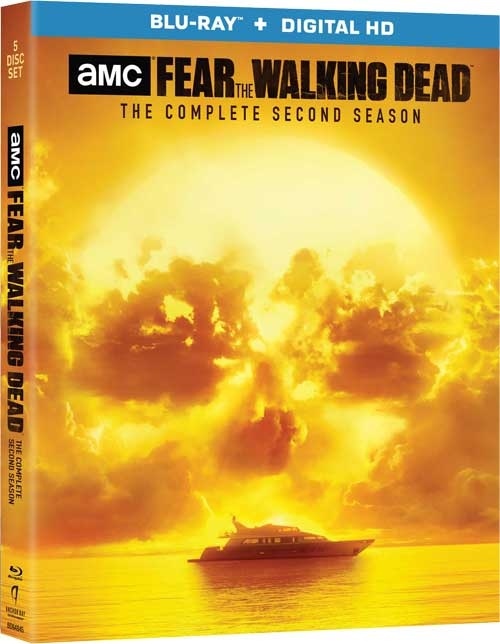 There are two releases of particular interest to geek viewers this week including
Fear the Walking Dead: The Complete 2nd Season
(Starz, $69.98, BD $79.99), which contains all 15 episodes of the SoCal-set spin-off from the mega-popular AMC series. This set has lots of cool extras include audio commentaries, the "Flight 462 Webisodes," two documentaries about the making of the show, plus an interview with show's creators at Paleyfest.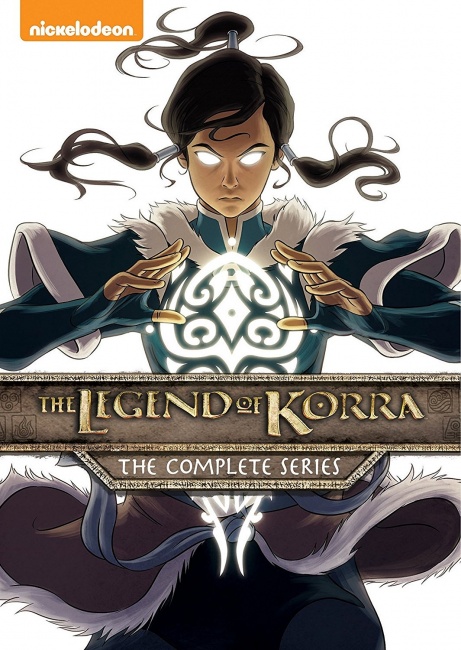 Also of great interest is
The Legend of Korra: The Complete Series
(Paramount, 1210 min., $39.98, BD $49.98), which contains all 52 episodes of the popular Nickelodeon series from the creators of
Avatar: The Last Airbender
. Unlike
The Last Airbender
, which aired from 2005-2008,
The Legend of Korra
was made for a high-definition world, so Blu-ray is definitely the preferred format.
Other offerings this week include the one-and-done thriller series American Gothic: Season 1 (Paramount, 542 min., $55.98), a family saga steeped in blood that CBS cancelled after one season; the single-disc, 7-episode Teenage Mutant Ninja Turtles: Season 4, Vol. 2: Earth's Last Stand (Paramount, 153 min., $14.98); and the single-disc Pound Puppies: Puppy Party (Shout Factory, 154 min., $12.99).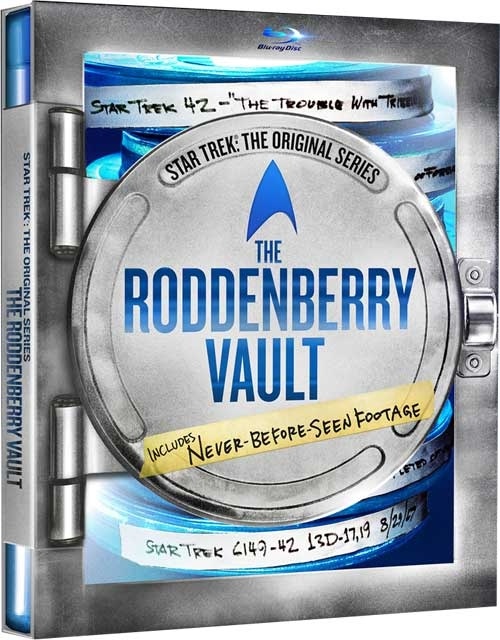 With the holidays right around the corner, this week provides us with the last wave of "gift" offerings that include
Star Trek The Original Series: The Roddenberry Vault
(Paramount, 605 min.,BD $76.99). Yes this is more exploitation of the
Star Trek
fan base by Paramount—the studio should have included these outtakes and deleted scenes that Roddenberry kept as extras with previous editions of
The Original Series
—but there is no denying that
Star Trek
completists will go for these sweepings from the cutting room floor that are included with this collection of 12 episodes from the original
Star Trek
series.
Other obvious gift offerings include The Twilight Zone: The Complete Series (Paramount, 3,500 min., BD $126.99), which contains all 156 episodes of the original B&W science fiction anthology series, and the Degrassi Junior High—Degrassi High: The Complete Series (PBS, 840 min., 34.99).
Overseas offerings include two fine BBC myeteries, Death in Paradise: Season Five (BBC, 466 min., $34.98) with its picturesque Caribbean settings and ingenious mysteries, and Father Brown: Season 4 (BCI, 360 min., $39.99), a faithful adaptation of the detective stories of G.K. Chesterton.
Also of interest is the French-Canadian police drama 19-2: Season 3 (Acorn Media, 441 min., $49.99) set on the mean streets of Montreal. In Season 3 the officers of Station 19 have to deal with the aftermath of the discovery of a mole in their stationhouse.
And for those who like heartwarming dramas there is the Australian drama/comedy
800 Words
(Acorn Media, 363 min., $49.99) about a widower with two teenage children who moves from metropolitan Sydney to a small village on the coast of New Zealand and has to deal with the resulting culture shock.
Anime
This week's anime offerings are led by the Ranpo Kitan: Game of Laplace Complete Collection (Funimation, 275 min., BD/DVD Combo $64.98), which includes the 11-episode 2015 anime series produced by Lerche and inspired by the stories of Japan's legendary mystery writer Edogawa Ranpo. Anime fans who loved the excellent Detective Conan series (also inspired by Ranpo) will likely enjoy this tale of a 17-year-old genius detective.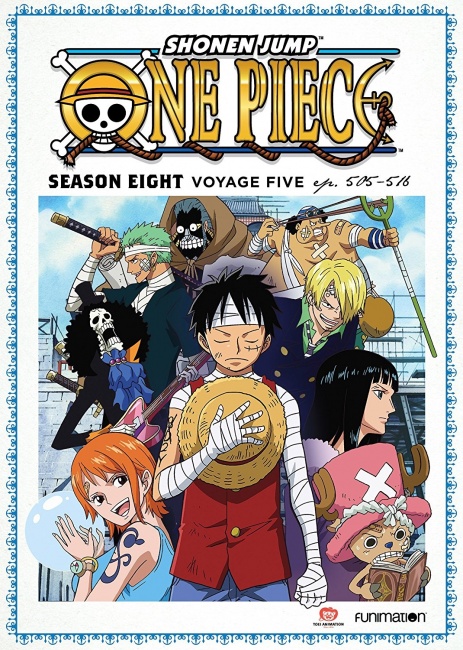 Fans of the rollicking pirate adventure One Piece will want to check out
One Piece, Season 8, Voyage 5
(Funimation, 300 min., $39.98), which includes episodes 505 to 516 of the long-running anime that remains one of the most popular anime series in Japan. In the final episodes of
Season 8
, Luffy revisits most of the characters from the series so far as he prepares to go on hiatus and learn how to use his "haki" in preparation for the start of the "new world arc" that begins in
Season 9
.
A number of previously released anime DVDs are now coming out on Blu-ray including the 1997 anime movie Jungle Emperor Leo (Discotek, 100 min., BD $24.98) that is based on Osamu Tezuka's Jungle Taitai (known here as Kimba the White Lion), which had a major influence on Disney's The Lion King.
Also new on BD are the Angelic Layer Complete Collection (Sentai Filmworks, 650 min., BD $59.98), one of the most successful anime series ever made from a manga by Clamp, and Hakukoi—Demon of the Fleeting Blossom—Record of the Blood Complete Collection (Sentai Filmworks, BD $69.98), which was first release on DVD in 2012.
This week's re—priced re-release is the S.A.V.E. edition of The Legend of Legendary Heroes Complete Collection (Funimation, BD/DVD Combo $34.98).
For young viewers who enjoy "dubbed only" TV anime this week there is Pokemon the Series: XY Kalos Quest, Set 2 (Viz Media, $24.98).
The opinions expressed in this column are solely those of the writer, and do not necessarily reflect the views of the editorial staff of ICv2.com.