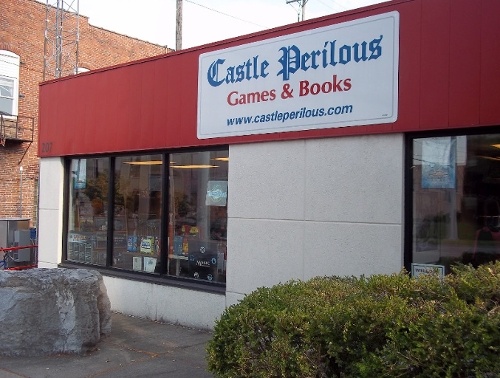 Rolling for Initiative is a weekly column by Scott Thorne, PhD, owner of Castle Perilous Games & Books in Carbondale, Illinois and instructor in marketing at Southeast Missouri State University. This week, Thorne shares his choices for the most interesting sessions at the upcoming GAMA Trade Show.
Given that it is March, that means time for the
GAMA Trade Show
, the premier trade show focused on the hobby game industry. (Lord, I wish we could find a better name to describe the games that we sell than "hobby games," but then I wish the GAMA Retail Division could find a better name for its set of awards than the Power Retailer Awards. I always expect their presentation accompanied with puffs of colored smoke, ala the Mighty Morphin Power Rangers.) Pre-registration for the event closed last week but walk-ins are still welcome.
Although there are a number of manufacturer seminars to tell retailers about upcoming products and programs, most retailers find they get the greatest use out of the retailer-focused presentations from other retailers. Looking over the very thick (116 pages) GTS schedule book, I found a few I plan to catch as they look pretty useful to both a new store and one that has a number of years under its belt (Unfortunately, no Dave Wheeler from St. Louis' Fantasy Shop this year but you should be able to pick up a copy of his Store Operations Manual by contacting the Fantasy Shop):
Cafe Model
-- Opening a cafe in your store is much the same as opening a second business. Gary Sproul opened The Haunted Game Cafe in 2009 as one of the first game cafes in North America. In this detailed talk, he will walk you through the details of design, equipment, and operations needed to add a cafe to an existing store. Sproul has successfully used the cafe model in his store operation for almost a decade now and I keep seeing stores opening using this format, especially now with a
brewery incorporated
in the operation, so why not find out how to run one from an expert?
Contingency Planning
-- Small and Medium-sized businesses are not only the lifeblood of our industry, but the national economy as well. Chris Powell, a Vice President at Diamond Comic Distributors following more than 20 years as a retailer at Lone Star Comics, discusses contingency and succession planning for stores and chains. I have talked about the "
Perfection Fallacy
" in other columns and the best way I know to prepare to deal with it is to have some contingency planning in place. Most stores run on minimal staffing or are entirely owner operated, so what do you do when you, the owner, come down sick? What do you do if you suffer a fire or flood? Contingency planning helps you by putting a plan into place before such a problem arises. Far too few stores have any sort of contingency plan in place if such a situation happens.
Monetizing Your Game Room --
Should you charge for your game room? What's a reasonable amount? Will it be a barren wasteland if it's not free? We'll take a look at the pros and cons as well as programs that retailers are currently using. These include being free, having a flat fee, or integrating a membership program. With most stores offering some form of table space for in-store gaming (making game stores pretty unique in the retail industry), a store has to decide if it provides space for its customers to play, much as a restaurant provides space for its customers to eat, or if you can sell access to your space, much as theaters sell access to their seats. How do you deal with the customer that purchases a game elsewhere and wants to play it in your store, or the customer who occupies table space but never buys anything (and despite what some companies think, stores cannot operate profitably on snacks and sodas).
By my count, these are only three of the over two dozen seminars offered. The difficulty will be deciding which ones to attend. See you at the show!
The opinions expressed in this column are solely those of the writer, and do not necessarily reflect the views of the editorial staff of ICv2.com.