Confessions of a Comic Book Guy is a weekly column by Steve Bennett of Super-Fly Comics and Games in Yellow Springs, Ohio. This week, Bennett offers thoughts on Marvel's Generations, America, the first comic book convention in Saudi Arabia, World Book Day, and Officer Downe.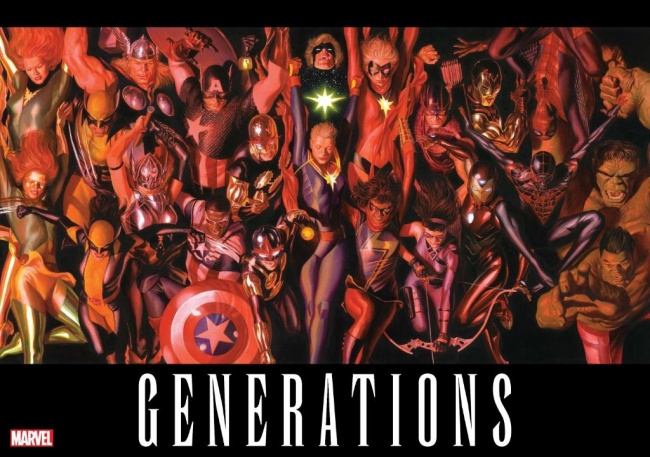 Anyone actively hoping when Marvel reset their core characters (Captain America, Tony Stark, Hulk, Thor, etc.) to their original factory settings in this summer's
Generations
they'd get rid of their so-called "Legacy" heroes (Ms. Marvel, Moon Girl, Miles Morales/Spider-Man, Jane Foster/Thor, etc.) is in for a disappointment. As you might expect from a comic called "Generations," according to "Make Mine Marvel Just Like It Used To Be - And How It Is Now" on
Bleeding Cool
, both generations of heroes will both be around for the foreseeable future.
Another solid indicator Marvel will be sticking with their diverse new generation of heroes came with last week's launch of America, Marvel's first "badass queer Latina" superhero.* Written by a young adult novelist Gabby Rivera, you can read an Entertainment Weekly interview with her, "Why Marvel's America is the superhero people need right now." The first issue is a little rough in places, but you can definitely see the potential. Plus, it's hard to not appreciate a comic that gives us another character named "America" punching Hitler in the face.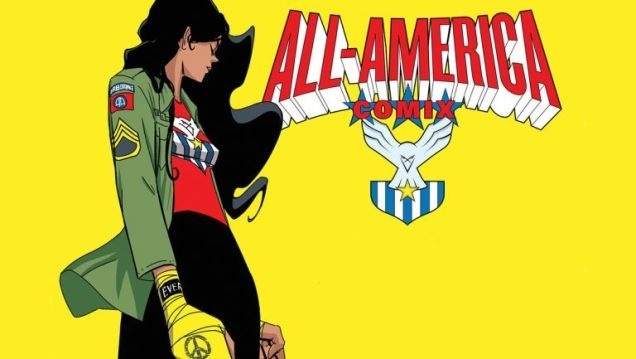 Of course, Marvel could always cancel the comic after six months and write the whole thing off as a well-intentioned experiment. It would be hard, given the amount of publicity the title has been garnering, but they could still do it. Maybe a better indicator Marvel is financially invested in staying their current course came at last month's gathering of video game executives at the D.I.C.E. (Design, Innovate, Communicate, Entertain) Summit in Las Vegas. In "Marvel Games declares war on homogeneity" by Colin Campbell on
Polygon
, Marvel Games' creative director Bill Rosemann urged game companies to focus on inclusiveness and diversity, and said "Inclusivity and representation reaches out to the world."
Comic book conventions are springing up all over the world, sometimes in the least likely of places. You can find them in locations as varied as London, Moscow, Delhi, Sydney, Dubai, and now Jeddah in Saudi Arabia. Last month, not only did the Kingdom of Saudi Arabia hold its first comic book convention, the three-day event was officially sanctioned by the Saudi General Entertainment Authority. And if a comic con doesn't seem like a good fit with the austere form of Islam practiced there, it helps to know it's part of "Vision 2030", a collection of social and economic reforms which has included public festivals, comedy shows and concerts.
Given the strict gender segregation the kingdom observes, you might wonder exactly how a comic book convention would work there. There were separate entrances for men and women, and women wore abayas, the traditional full-length sleeveless outer garment, over their costumes (a woman's-only tent was available for those who wanted to cosplay). But, surprisingly, the sexes weren't kept separate at the con. Naturally, there were "Those Who Opposed" it, with some Imams declaring on Twitter the convention "violates human nature." As a regular convention-goer, I'm qualified to put that on my resume under "special skills." But 20,000 Saudis attended, and from the photographic evidence online, they seemed to have had a good time.
For those who didn't know (the way I somehow didn't), April 23 is World Book Day, organized by UNESCO (United Nations Education, Scientific, and Cultural Organization) to celebrate and promote reading, publishing and copyright. In the UK, it's held on the first Thursday in March which is when The Guardian posted a piece by JA Micheline titled "Is it a bird, is it a plane? No, it's Classroom Hero; why World Comic Book Day is next". It asks "does a comic book even count?" and answers that "World Book Day is meant to inspire reading of all kinds to all sorts, and comics certainly qualify."
Micheline makes an eloquent case for why comic books should be included in this celebration, writing: "For children especially, they can provide concrete glimpses into realities otherwise seen in daydreams. In an increasingly difficult world, a medium that can bend and break all the universe's limits and rules serves as a much-needed balm in some cases, and a push for justice in others".
"All in all, the strengths of a comic and the strengths of World Book Day exist in their celebrations of potential. A great many things exist in a comic or exist in prose that cannot exist elsewhere. They cultivate imagination, creating things and spaces that can't or don't exist in the real world."
I hope someone from Marvel and DC (and Dark Horse, Image, IDW, Dynamite, Papercutz, etc.) will see this, as well as see that participation in World Book Day wouldn't just be good for their corporate brands, but good for the medium, and spreading the joy of reading. Or maybe what we really need is a World Comic Book Day of our own...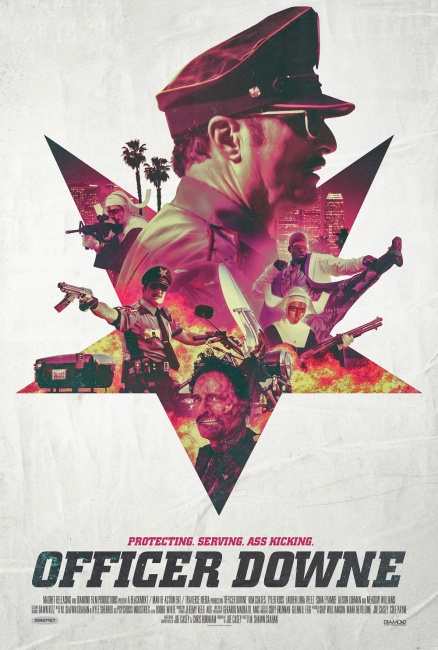 Anybody remember the Image graphic novel
Officer Downe
by Joe Casey and Chris Burnham from 2010? I do. I also vaguely recall it was being turned into a movie, then heard nothing else after that [
Ed. Note, ICv2 covered the whole process from option to release. The trailer can be seen here: "First Trailer for 'Officer Downe.'
"] Well, they actually made the movie, and according to a piece by Ricardo Du Toit on
Moviepilot,
"'Officer Downe' Is The Comic Movie You Didn't Know You Needed." As it's not currently available for instant streaming via Netflix, I haven't seen it myself yet, but for those who are a part of their DVD plan, you can see it that way.
*This version of Miss America was created by Joe Casey and Nick Dragotta and first appeared in the 2011 series Vengeance. Last August, it was announced in 2017 the team would be working on a very similar character, America Vasquez, in the Image title All-America Comix. But since then there's been no further word about it.
The opinions expressed in this column are solely those of the writer, and do not necessarily reflect the views of the editorial staff of ICv2.com.