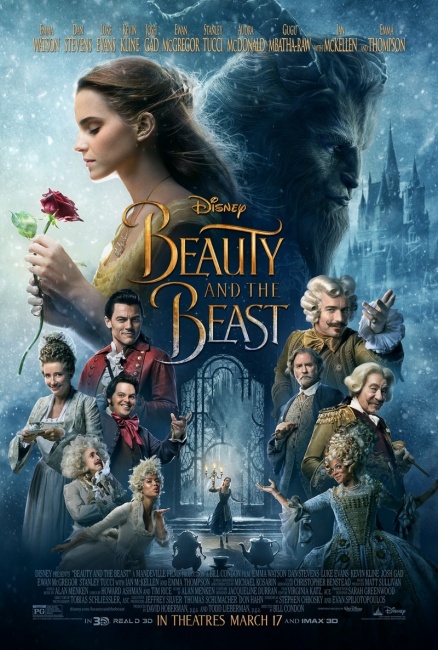 Disney's live-action
Beauty and the Beast
continued its box office domination with an $88.3 million dollar second frame, the fourth best second weekend in history, trailing only
The Avengers
($103 million),
Jurassic World
($106 million), and
The Force Awakens
($139 million). Meanwhile Lionsgate's attempt to ignite a new franchise with a
Power Rangers
movie got off to a solid $40.5 million start, while Sony's science fiction horror film
Life
, and Warner Bros. R-rated comedy
CHiPs
both stumbled out of the gate. Still the box office total for the top twelve films was up a whopping 63% from the same frame last year when
Zootopia
topped the charts for the third straight weekend with $37.2 million.
In limited release
Wilson,
the slice-of-life comedy drama starring Woody Harrelson based on the graphic novel by Daniel Clowes, earned just $300,000 from 310 theaters for a lowly $1,065 per screen average. This weak showing in limited release, plus lackluster reviews (just 39% positive on review aggregator Rotten Tomatoes) makes a wider release unlikely, which means that most of us will have to catch the film on video.
Dropping just 49.4% in its second weekend
Beauty and the Beast
drove its domestic cumulative to nearly $317 million, surpassing
Logan
to become the highest-grossing film of 2017 so far. At this point there is little doubt that the film will surpass $400 million here in North America, and it continues to do well overseas where it has earned $373.3 million for a global total of $690.3 million, making
Beauty and the Beast
the fourth straight Disney release to surpass $600 million worldwide.
Coming in second was Lionsgate's
Power Rangers
, a $110 million production that is as lavish as the
Power Rangers
TV franchise was chintzy. It is too early to tell if the
Power Rangers
movie will be able to maintain its momentum and establish the franchise, but, in the face of heavy competition, this collective teen superhero saga, which has an inclusive cast that contains an LGBT superhero as well as an autistic one, is off to a strong start.
Unlike the squeaky clean TV series, the
Power Rangers
movie sports a "PG-13" rating and violence that could be too much for young children. But "rugrats" are not this film's target audience. The
Power Rangers
movie attracted an opening weekend audience that was 60% male and 50% over 25. Thirty percent of moviegoers were under 18 and they gave the film an excellent "A+" CinemaScore (the overall score from all demographics was a solid "A"). With a score like that it would appear that the
Power Rangers
film will be around for some time, though competition will remain strong with
The Boss Baby
and
Smurfs: The Lost Village
opening in the next two weeks.
Third place went to
Kong: Skull Island
, which dropped just 48% as it earned an estimated $14.4 million to bring its domestic total to $133.5 million.
Skull Island
also opened in China where it brought in $72.1 million to bring its worldwide total to $392.1 million. While these numbers are impressive, because of its enormous $185 million production cost,
Skull Island
will have to continue its strong showing for a few more weeks to make it into the black.
Weekend Box Office (Studio Estimates): March 24-26, 2017

Film

Weekend Gross

Screens

Avg./Screen

Total Gross

Wk#

1

Beauty and the Beast

$88,347,000

4,210

$20,985

$316,952,887

2

2

Power Rangers

$40,500,000

3,693

$10,967

$40,500,000

1

3

Kong: Skull Island

$14,425,000

3,666

$3,935

$133,502,238

3

4

Life

$12,600,000

3,146

$4,005

$12,600,000

1

5

Logan

$10,145,000

3,163

$3,207

$201,455,596

4

6

Get Out

$8,681,010

2,474

$3,509

$147,499,045

5

7

CHiPs

$7,600,000

2,464

$3,084

$7,600,000

1

8

The Shack

$3,785,000

2,330

$1,624

$49,072,044

4

9

The LEGO Batman Movie

$1,970,000

1,638

$1,203

$170,841,252

7

10

The Belko Experiment

$1,807,025

1,341

$1,348

$7,577,590

2
Sony's well-made science fiction horror film Life deserved a better fate. It was originally scheduled to debut during the Memorial Day weekend, where it might have functioned as effective counter-programming, but was moved up to March when Fox decided to debut Alien: Covenant in mid-May. Even a strong cast that includes Jake Gyllenhaal, Ryan Reynolds, and Rebecca Ferguson, a solid story with plenty of suspense, and a false rumor that it was a "prequel" to Sony's Venom movie couldn't seem to help Life, which earned just $12.6 million from over 3,100 theaters.

Life attracted an audience that was 55% male and 57% over 25—and they gave the film a poor "C+" CinemaScore, which does not bode well for its future prospects, (and which contrasts with the opinions of the critics who gave the film generally positive reviews—67% positive on Rotten Tomatoes).

Sony did what they could for Life (including a Super Bowl spot), but selling original science fiction movies with generic-sounding titles is a difficult task. It appears that Life will have to do its damage overseas or on video—and it is perfectly clear that, outside of Deadpool movies, Ryan Reynolds isn't much of a draw.

The fifth spot went to Logan, Fox's final Wolverine film with Hugh Jackman. which dropped 43.1% in its fourth frame as it earned $10.1 million to drive its domestic cumulative to $201.5 million. Logan, which was produced for just $97 million (a slim budget for a superhero film), has already earned $565.5 million worldwide.

Right behind Logan was Jordan Peele's socially conscious horror film Get Out, which slipped just 35.4% as it earned $8.7 million to bring its domestic total to $147.5 million making it the most successful horror film of 2017 so far, a title it may not have to relinquish if it continues to demonstrate "legs" like this.

Warner Bros. was hoping to match the success of the R-rated comedies based on the 21 Jump Street TV cop show with CHiPs, an R-rated comedy based on the cheesy California Highway Patrol series, but it was not to be. Dax Shepard wrote and directed CHiPs, which could only manage a "B-" CinemaScore from an audience that skewed male (53%) and older (68% over 25).

Another holdover that posted a slight drop (albeit from much lower numbers) was the Christian-themed film The Shack, which earned $3.8 million to bring its North American total to $49 million.

In its sixth weekend in theaters, Warner Bros.' The LEGO Batman Movie fell to number nine, and now appears near the end of its run. With a current domestic total of $170.8 million, the LEGO Batman Movie will finish well short of the original LEGO Movie's domestic total of $237 million.

Be sure and check back here next week to see if the animated feature The Boss Baby or the Scarlett Johansson-staring live-action Ghost in the Shell will be able to dislodge Beauty and the Beast from the top spot.