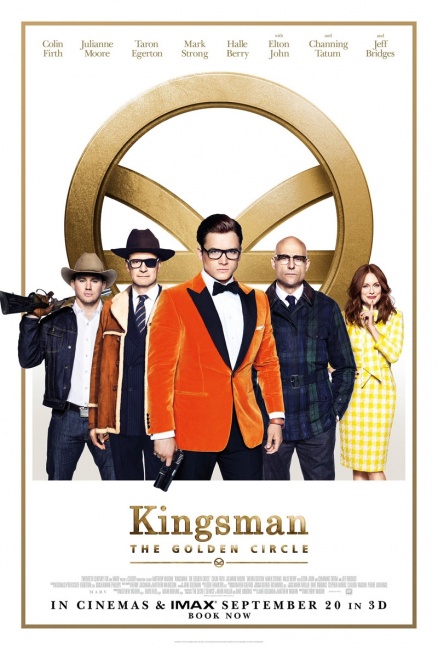 Once again a comic book-based movie topped the box office, only this time it wasn't a superhero film. Matthew Vaughn's second adaptation of Mark Millar's
Kingsman
easily topped the box office with a $39 million opening, while
The LEGO: Ninjago Movie
limped to one of the lowest opening yet for a major studio animated feature, and the horror film
Friend Request
became the latest widely released film of 2017 to open under $2.5 million. However with the September smash
It
earning $30 million in its third weekend in addition to
Kingsman's
solid debut, the total of the top 12 films was up 50% over the same weekend last year when
Sully
topped the charts with $21 million, putting Tinseltown on course for the highest-grossing September in movie history, which is quite a turnaround considering an abysmal Labor Day weekend, which was the worst in decades (see "
Box Office Tailspin Continues
").
While
Kingsman: the Golden Circle
came in a bit under analysts' expectations, its $39 million bow is still an improvement on the first
Kingsman
movie's $36 million debut in 2015. Though
The Golden Circle
is a bit ahead of its predecessor now, it should finish its domestic run with a similar $128 million total, though it will face stiff competition for its target male audience from films like
American Made
and
Bladerunner 2049
in the coming weeks.
While critics liked the original
Kingsman
(84% positive on review aggregator Rotten Tomatoes), a lot more than
The Golden Circle
(just 51% positive), audiences gave both films the same "B+" CinemaScore. Opening weekend crowds for the latest episode in Millar's "
Pygmalion
meets
James Bond
saga" skewed heavily male (58%) with 60% of the R-rated film's attendees ranging in age from 18 to 34. Caucasians made up 51% of the crowd, followed by Hispanics (17%), African-Americans (15%), and Asians (12%).
Kingsman: The Golden Circle
appears to be doing even better than its predecessor overseas, earning $61 million from 55 territories. While comic book-based superhero movies have had a strong year, it hasn't been that great for comic book-based films in other genres, so
Kingsman: The Golden Circle's
success should help the prospects of a number of non-superhero comic book movies now in development. The film's success is also good news for Fox, which hasn't had a hit since
Logan
and
The Boss Baby
, both of which debuted way back in Q1.
Second place went this month's horror film smash, Andy Muschietti's adaptation of Stephen King's
It
, which earned $30 million, bringing its 17-day domestic total to $266.3 million. Although it may not get a release in China,
It
has also earned $211.7 million overseas for a $478 million global total—not bad for a film that cost just $35 million to produce.
It
has been the film that turned Hollywood's September around, and has made it a near certainty that this will be the biggest September in box office history. Yes, It has now passed
The Exorcist
($232 million in 1973) to become the highest-grossing horror film of all time, but if you adjust
The Exorcist
for ticket price inflation, you come up with an adjusted total of $1.165 billion, which
It
will never match.
Weekend Box Office (Studio Estimates): September 22-24, 2017

Film

Weekend Gross

Screens

Avg./Screen

Total Gross

Wk#

1

Kingsman: The Golden Circle

$39,000,000

4,003

$9,743

$39,000,000

1

2

It

$30,000,000

4,007

$7,487

$266,338,881

3

3

The LEGO Ninjago Movie

$21,245,000

4,047

$5,250

$21,245,000

1

4

American Assassin

$6,250,000

3,154

$1,982

$26,180,459

2

5

Home Again

$3,311,821

2,685

$1,233

$22,347,652

3

6

mother!

$3,260,000

2,368

$1,377

$13,429,018

2

7

Friend Request

$2,400,000

2,573

$933

$2,400,000

1

8

The Hitman's Bodyguard

$1,850,000

2,037

$908

$73,597,979

6

9

Stronger

$1,747,910

574

$3,045

$1,747,910

1

10

Wind River

$1,265,285

1,431

$884

$31,653,034

8
While Warner Bros. has had some major hits this year (Wonder Woman, Dunkirk, Annabelle: Creation, and It), the poor debut of The LEGO: Ninjago Movie, which earned just $21.4 million, one of the lowest debuts ever for a major studio animated production, is certainly cause for concern. While no one expected lofty numbers like the openings of The LEGO Movie ($69.1 million) or LEGO: Batman's $53 million earlier this year, the Ninjago movie opened at least a third under most analysts' predictions. There may be extenuating circumstances (the more kiddie-oriented nature of the NInjago film and the considerable amount of Ninjago programming already available, etc.)--and The LEGO Movie 2, which debuts early in 2019, could get the franchise back on track-- but the trend line for Warner Bros. LEGO animated movie franchise is clearly headed in the wrong direction.

The problem for LEGO Ninjago could also be over-saturation of the marketplace. Did we really need a second LEGO animated feature this year? Overall the animated feature genre is having its worst year in memory with just two films, The Boss Baby and Despicable Me 3 that could be classified as outright hits. Whatever the reason, all of a sudden the fate of the franchise is riding on the success of The LEGO Movie 2.

Audiences for The LEGO Ninjago Movie skewed male (52%) with 46% of the audience under 18. Overall audiences liked the movie giving it a "B+" CinemaScore, though that is the lowest score in the franchise so far (The LEGO Movie received an "A" while LEGO: Batman got an "A-"). One of the big problems for Warner Bros. with this franchise is the fact that the rest of the world doesn't appear to like to see the block-like LEGO characters on screen as mcuh as we do, a trend that appears to be continuing with LEGO Ninjago, which earned just $10.5 million from 37 markets.

Lionsgate's American Assassin dropped 57.9% (the biggest drop in the top ten) as it earned $6.3 million to bring its ten-day total to $26.2 million and finish at #4. The Reese Witherspoon romantic comedy Home Again dropped just 36.1% in its third weekend, but only made $.3.3 million, barely more than Darren Aronofsky's mother!, which dropped 56.7% from its disastrous opening last weekend. So far the experimental psychological thriller has earned just $13.4 million against its $30 million production cost.

The social media horror film Friend Request debuted in 2,573 theaters and earned just $2.4 million for a pitiful $933 average. Although it did much better on a per-theater basis, the Jake Gyllehaal-starring Boston Marathon bombing saga Stronger brought in just $1.7 million from 574 theaters (a $3,045 average), which doesn't bode well for the future with lots of prestige pictures awaiting release over the next 12 weeks. The audience for Stronger was overwhelmingly female (65%) and they gave the film a solid "A-" CinemaScore.

Be sure to check back here next week to see what happened when a quartet of new films, including the Tom Cruise-starring American Made, a remake of Flatliners, and the psychological thriller 'Till Death Do Us Part, and the religiously-themed A Question of Faith, all open.