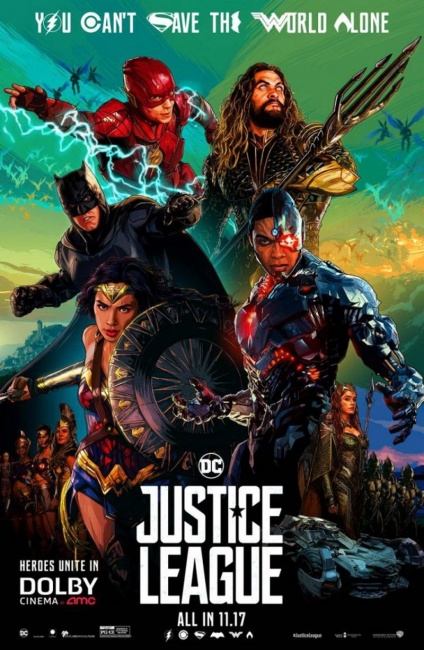 Warner Bros. DC Comics' team-up film
Justice League
easily won the weekend box office with an estimated $96 million debut, but in the current cutthroat environment for expensive blockbuster films, this nearly $100 million bow is widely seen as a disappointment for Warner Bros., especially since it comes in the wake of Patty Jenkins'
Wonder Woman
, which was the top blockbuster of the summer. Though its sub-$100 million opening may have been bad news for Warners and DC, it still kept Tinseltown's November win streak alive as it helped drive the box office to a 26% gain over the same weekend last year when
Doctor Strange
topped the charts with $43 million in its second weekend.
Justice League
also suffered the ignominy of having its thunder stolen by a far smaller production, the YA-based family drama
Wonder,
which earned just $27 million, but managed to outperform expectations, earn a coveted "A+" CinemaScore from audiences, as well as plenty of positive commentary from box office analysts, who expect
Wonder
, the heartwarming story of a boy with a facial deformity, to do solid business through the coming holiday season and beyond.
Both DC and Warner Bros. have a lot riding on
Justice League
, the fifth movie in the DC Extended Universe, and the franchise's first full-fledged team-up, designed as Warner Bros. and DC's answer to Disney and Marvel's popular
Avengers
series. The
Justice League
movie had a torturous path the big screen with many starts and stops, which didn't end when production began. Director Zack Snyder withdrew due to a family tragedy, and DC brought on Joss Whedon, who had helmed the
Avengers
films for Marvel, in to finish the film. Whedon did add some color to Snyder's somber palette via a series of expensive re-shoots, and Whedon, who shares the film's writing credit with Chris Terrio, also contributed some crackling dialogue and occasional bits of humor. But those reshoots drove the
Justice League
production budget to nearly $300 million, making it one of the most expensive films ever made and necessitating a huge box office run here in North America, where the studios get to keep a significantly bigger share of the box office than they do in overseas markets.
Trouble began even before the
Justice League
movie opened on Thursday as review aggregator Rotten Tomatoes declined to post a "critics' rating" for the film until after it opened, in spite of the fact that the film had been made available to reviewers. News of Rotten Tomatoes' decision spread throughout the media, with many observers heaping scorn on Rotten Tomatoes for a "conflict of interest," since Warner Bros. owns a 30% stake in Rotten Tomatoes' parent company. It is debatable how much influence these "aggregations" of movie reviews have on would-be viewers of genre films, and since
Justice League
now has a not great, but hardly damning, rating of 40% "fresh" on RT, it would appear that Warner Bros., which has perhaps the best promotional team of all the studios, may have erred if they did in fact pressure RT to keep the
Justice League
reviews under wraps until Friday.
While a $96 million opening would appear to signal success for most films, because of its enormous production cost, it means trouble for
Justice League
. For starters it's the lowest debut total for any film in the DCEU so far. Snyder's
Man of Steel
opened with $116.6 million in 2013, and the much-maligned
Batman vs. Superman: Dawn of Justice
debuted with $166 million in 2016, followed by
Suicide Squad
with $133.7 million, and the stand-alone
Wonder Woman
movie with $103 million this past summer. Heck
Batman vs. Superman
made almost as much in one-day of its debut weekend ($81 million) as
Justice League
did in all three. One bad sign is the fact that
Justice League
earned $13 million on Thursday night, which is $2 million better than
Wonder Woman
did, and yet Patty Jenkins' film substantially outperformed
Justice League
for the entire weekend, indicating that positive "word-of-mouth" that fueled
Wonder Woman's
strong debut and long run was just not there for
Justice League
.
Internationally
Justice League
earned $185.5 million from 65 markets, topping the overseas superhero debut total of
The Avengers
($185.1 million), though comparison of overseas results is fraught with peril—for example
The Avengers
earned its total from just 39 markets, which didn't include China where
Justice League
snagged $51.7 million of its overseas total.
In spite of its disappointing debut it is too early to write off all of
Justice League's
prospects in the domestic market. With the coming U.S. Thanksgiving holiday weekend there is still a chance that the
Justice League
film can reverse its domestic fortunes. Opening weekend audiences skewed heavily male (63%, compared with just 57% for
Thor: Ragnarok
), and older (69% over 25), which is troubling, though they did give the film an "OK" "B+" CinemaScore.
However should
Justice League
fail to demonstrate anything like
Wonder Woman's
extensive box office run, Warner Bros. and DC will have some difficult decisions to make about the future direction of the DCEU. A Patty Jenkins-helmed
Wonder Woman
sequel should prove to be a solid building block, but what about the rest of the DC-based superhero films
? Justice League
definitely indicates an attempt to dispel some of the visual "gloom" that has enveloped the Snyder-helmed DC movies, but will Warner Bros. and DC attempt to "lighten" the somber mood of the DCEU even further, or double down on the dark, gritty movie narratives that reflect the tone of DC's darker comic books?
Weekend Box Office (Studio Estimates): November 17-19, 2017

Film

Weekend Gross

Screens

Avg./Screen

Total Gross

Wk#

1

Justice League

$96,000,000

4,051

$23,698

$96,000,000

1

2

Wonder

$27,050,000

3,096

$8,737

$27,050,000

1

3

Thor: Ragnarok

$21,786,000

4,080

$5,340

$247,382,170

3

4

Daddy's Home 2

$14,800,000

3,575

$4,140

$50,576,447

2

5

Murder on the Orient Express

$13,800,000

3,354

$4,114

$51,728,362

2

6

The Star

$10,000,000

2,837

$3,525

$10,000,000

1

7

A Bad Moms Christmas

$6,890,000

2,948

$2,337

$50,912,155

3

8

Lady Bird

$2,529,915

238

$10,630

$4,702,390

3

9

Three Billboards Outside Ebbing, Missouri

$1,115,000

53

$21,038

$1,549,225

2

10

Jigsaw

$1,070,000

1,201

$891

$36,450,233

4
In a big surprise second place went to Wonder, Stephen Chbosky's screen adaptation of R.J. Palacio's bestselling Y.A. novel. With an 84% positive rating on Rotten Tomatoes, and a highly coveted "A+" CinemaScore from opening weekend audiences, which skewed heavily female (68%) and older (66% over 25), Wonder is positioned for a long run through the holidays. Will Wonder approach the performance of The Blind Side, which also scored an "A+" rating in 2009 on its way to a domestic gross of $256 million (after a $34 million debut)? Only time will tell, but Wonder should do solid business through the holidays.

Taika Waititi's Thor: Ragnarok finished in the third spot as it dropped 61.8%, the largest third week drop off in the history of the Marvel Cinematic Universe. Certainly the debut of the Justice League had something to do with this drop, as did the Friday release of Netflix's Punisher series. Interestingly the two next biggest MCU third weekend drop-offs all occurred on this same weekend to films that opened ln early November (Doctor Strange -58% in 2016, and Thor: The Dark World, -57% in 2013), and faced bigtime competitors opening (Fantastic Beasts, and The Hunger Games: Catching Fire, respectively) during their third frame. Still Ragnarok has already earned $248 million in 17 days of release here in North America and $738.1 million worldwide, which makes it the #9 film of 2017 so far. With a production cost nearly $120 million lower than that of Justice League, Ragnarok is already safely ensconced in the "black."

The comedy sequel Daddy's Home 2 dropped just 50% and landed in fourth place with weekend earnings of $14.8 million for a domestic total of $50.6 million, while the period murder mystery Murder on the Orient Express, which also opened ten days ago, finished close behind with $13.8 million and a domestic total of $51.7 million. When you see the two films on the screen it's hard to believe that Daddy's Home 2 actually cost more money to produce ($69 million) than Murder on the Orient Express ($55 million), but such is the case—and both films will have to do well overseas to make money. The oft-filmed Agatha Christie mystery has a big leg up on foreign sales with a current global total of $148 million, while Daddy's Home 2 is yet to get much exposure outside North America.

The Christian-themed animated film The Star opened weakly with just $10 million from over 2,800 theaters. In spite of a solid "A" CinemaScore from opening weekend audiences that skewed female (62%), and younger than most of this week's offerings (45% under 25), this Star is destined to be eclipsed by Pixar's visually spectacular Coco, which is due to open this weekend.

Greta Gerwig's indie drama Lady Bird continued its strong run (for an Oscar-contending adult drama), earning $2.5 million from 238 theaters for a solid $10,630 per-venue average. A24 is taking Lady Bird wide next weekend and should get some help from the fact that the film's star, Saoirse Ronan, will be hosting Saturday Night Live next weekend.

New to the top ten is another quirky film with definite box office potential, Martin McDonagh's dark comedy Three Billboards Outside Ebbing, Missouri, which earned $1.1 million from just 53 theaters. Three Billboards expands to 425 theaters on Wednesday, and more than 750 venues on December 1, depending on next weekend's earnings.

Be sure to check back here next weekend as Disney/Pixar's Coco, which debuts on Wednesday, is expected to challenge for box office supremacy.