This week's home entertainment offerings include the mega-hit Jumanji: Welcome to the Jungle, and the highly successful Pitch Perfect 3, but the real gems could be Alexander Payne's Downsizing, the noir-ish eighth season of Archer, and a French biopic about jazz guitarist Django Reinhardt.
Theatrical Movies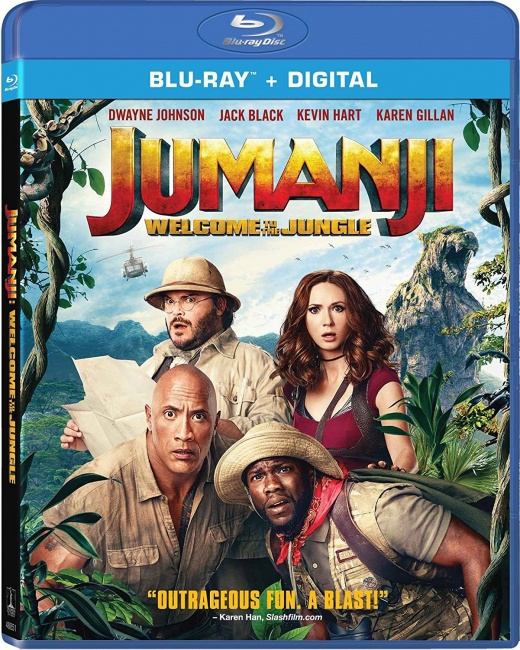 The hits keep coming in what (along with the fall) has become the peak time for movie releases on disc. This week it is
Jumanji: Welcome to the Jungle
(Sony, "PG-13," 119 min., $30.99, BD $34.99, 4K $45.99), the "trapped-in-a-video game comedy adventure starring Dwayne Johnson, Kevin Hart, Karen Gillan, and Jack Black, which has earned over $400 million at the domestic box office. Not only was Jumanji a box office hit, the film also has a solid 76% positive rating on review aggregator Rotten Tomatoes.
Also due on Tuesday is Pitch Perfect 3 (Universal, "PG-13," 93 min., $29.98, BD $34.98, 4K $37.98), the final film in the trilogy about the Bellas, the collegiate acapella group that reunites for one final European tour and competition.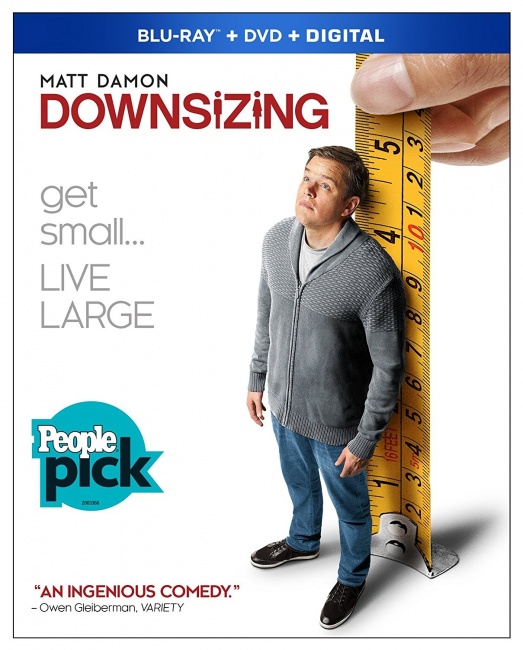 This week's most interesting release, Alexander Payne's
Downsizing
(Paramount, "R," 125 min., $29.98, BD $34.98, 4K $39.98), a science fiction fable about people who, worried about overpopulation and global warming, allow themselves to be shrunk to a height of five inches in order to save resources (and more venally, to make the homunculi's money stretch almost as much as the participants in the program have shrunk). This science fiction dark comedy has enough "high concept" notions for a trilogy of films, and perhaps this project would have been better filmed as a miniseries that would have allowed for greater exploration of the movie's many concepts, but "shrinking" humans for the movies is inherently visual and allows for all sorts of wonderful visuals that have made films like
The Incredible Shrinking
Man
(and even
Honey I Shrunk the Kids
) memorable.
Downsizing
might not have been your first choice to check out in a theater, but it is definitely worth a viewing on disc (or streaming).
Those who love "gypsy jazz" should definitely check out the French biopic Django (Under the Milky Way, "PG-13," English subtitles, $19.98). The film takes place in 1943 in Nazi-occupied France where Django Reinhardt remains a hugely popular musician, but is also in jeopardy as the Nazis are systematically killing gypsies (Romani) all over occupied Europe. A meandering plotline was cited by critics who gave Django mixed reviews, but the music in the film (provided by the Rosenberg Trio) is absolutely first rate.
TV on DVD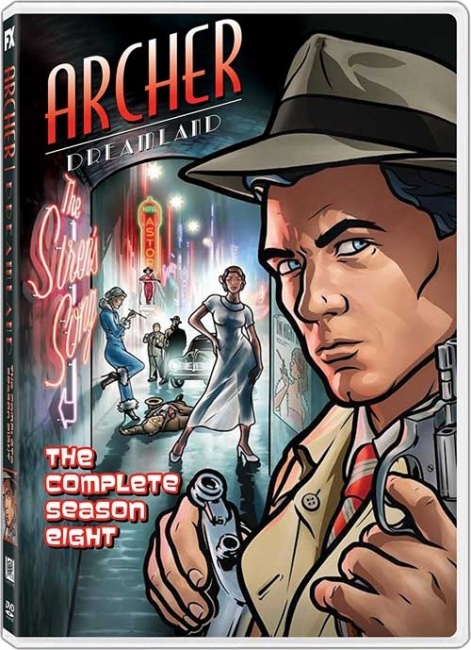 There is only one contemporary release of interest this week, the often hilarious adult cartoon series
Archer: The Complete Season 8-Dreamland
(Fox, 163 min., $29.98.
Season 8
, which finds our hero imagining the show's characters as participants in a 1940s noir/gangster saga set in Los Angeles, is one of the series best.
This week's only vintage TV release is also a good one, Lou Grant: The Complete Fifth and Final Season (Shout Factory, 1140 min., $39.97), presents the final 24 episodes of the post-Watergate newspaper series in which Ed Azner played a crusading editor.
Anime
This week's top releases include Chaos; Child: The Complete Series (Funimation, "TV-MA," 300 min., BD/DVD Combo $64.98), a 12-episode 2017 series from Silver Link that is based on the thriller/mystery video game from 5pb. Chaos; Child is a solidly entertaining and suspenseful mystery with some interesting characters; and Hand Shakers: The Complete Series (Funimation, "TV-14," 300 min., BD/DVD Combo $64.98), a 12-episode 2017 action-packed science fiction/fantasy produced by GoHands.
Also due on Tuesday are One Piece: Season Nine, Voyage Four (Funimation, "TV-14," 275 min., $39.98), which contains episodes 553-563 of the long-running anime (currently over 825 episodes have been broadcast in Japan) based on Eichiro Oda's hugely popular pirate manga (published here by Viz Media); and Chihayafuru Season 2 Complete Collection (Sentai Filmworks, "TV-14," 625 min., $79.98, BD $99.98 Premium Box Set. $149.98), which contains the second 25-episode season of 2013 anime from Madhouse based on the josei romance/card playing manga by Yuki Suetsugu (published here digitally by Kodansha USA). The Premium Box Set comes in a decorated box and includes an art booklet and a keychain.