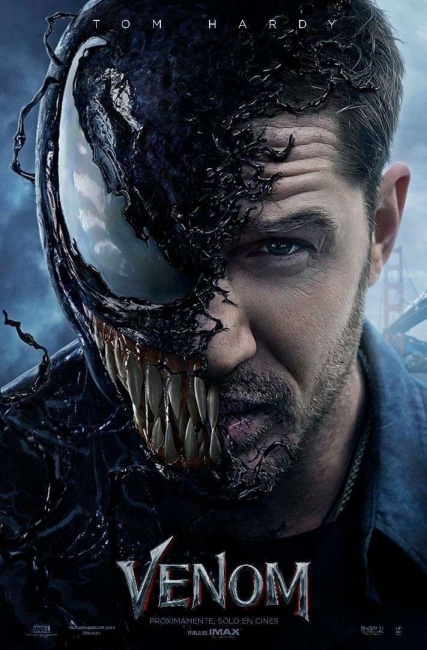 Sony's
Venom
set a new October box office record with an $80 million debut, and, with help from
A Star Is Born's
impressive $42.6 million opening, helped Hollywood set a new total weekend box office record for the month of October with totals for the top 12 films soaring 70% over the same frame last year when
Bladerunner 2049
bowed with $32.8 million.
While Sony/Columbia has more or less leased
Spider-Man
back to Marvel Studios, which was largely responsible for turning the franchise around with last year's
Spider-Man: Homecoming
, the studio has retained the rights to other characters from the Spidey-verse including Venom, Riot, and Carnage, etc. Although the critics hated
Venom
(the film currently has just a 32% positive score on review aggregator Rotten Tomatoes), opening weekend audiences, which skewed heavily male (70%) and younger (with way more than half under 25), gave the film an OK "B+" CinemaScore. Only 36% of the
Venom
audience was over 25, a statistic that vindicates the studio's decision to make the film "PG-13" rather than an "R."
Venom's
director Ruben Fleischer, who had a surprise hit with the zombie black comedy
Zombieland
, may have also succeeded in creating a genre-bending hit with Venom, which is primarily based on the
Venom: Lethal Protector
miniseries and the "Planet of the Symbiotes" narrative arc.
Venom
, who first appeared on screen as one of way too many villains in the bloated
Spider-Man 3
, gets the whole stage to himself this time with Spidey nowhere to be seen. The friendly neighborhood wall-crawler is slated to appear in future
Venom
movies, if the franchise, which adds elements of the monster movie to the normal superhero narrative, takes off as this debut would suggest.
Perhaps
Venom
will face a major drop-off in the weeks to come, but with few "PG-13" event movies to contend with over the next few weeks,
Venom
, which also earned $125.4 million overseas this weekend is well-positioned to make money and insure a sequel, though
Deadline
has suggested that the film, which reportedly cost $120 million to produce, will have to earn $450 million worldwide to reach real profitability.
But perhaps the best thing that
Venom
has going for it is the fact that it is a superhero film. Six of the top ten openings in 2018 belong to superhero-based films (
Venom
is #5 on this list, ahead of just
Ant-Man and the Wasp
, which debuted with $75 million). The critics have devalued Tom Hardy's performance as Eddie Brock/Venom, but audiences (at least so far) have responded positively, demonstrating that colorful, over-the-top characters like
Venom
(or DC's
Harley Quinn
) have enough "juice" with audiences to sustain a film (and perhaps a franchise).
The success of Venom is further proof that today there is no month in the year in which studios cannot launch major event films. After all Marvel Studios turned the box office world upside down with the mammoth $220 million opening of Black Panther in February, and now
Venom
has totally blown away the old October record ($55 million by Gravity in 2013) with its $80 million debut.
Also coming in above industry forecasts was Bradley Cooper's
A Star Is Born
, which earned $41.25 million over the weekend (a total of $43 million if you count the previews) as well as an "A" CinemaScore from opening weekend audiences and a stellar 91% rating from the reviewers surveyed by Rotten Tomatoes. Few stories have been remade as often as this tale of a romance between an up-and-coming female star and the fast-fading male star, who discovers and champions her. This the fourth version of the story with the title
A Star Is Born
, and the fifth version of the saga if you count 1932's
What Price Hollywood?
Suffice it to say that with these laudatory critical notices and strong audience reaction, the new version of
A Star Is Born
, which features Cooper and Lady Gaga, will be in theaters for a long time and make back many times its $36 million production cost.
Weekend Box Office (Studio Estimates): October 5-7, 2018

Film

Weekend Gross

Screens

Avg./Screen

Total Gross

Wk#

1

Venom

$80,030,000

4,250

$18,831

$80,030,000

1

2

A Star is Born

$41,250,000

3,686

$11,191

$42,600,000

1

3

Smallfoot

$14,900,000

4,131

$3,607

$42,760,945

2

4

Night School

$12,275,000

3,019

$4,066

$46,750,355

2

5

The House With A Clock In Its Walls

$7,295,000

3,463

$2,107

$55,050,560

3

6

A Simple Favor

$3,435,000

2,408

$1,426

$49,014,356

4

7

The Nun

$2,610,000

2,264

$1,153

$113,367,310

5

8

Hell Fest

$2,075,000

2,297

$903

$8,864,476

2

9

Crazy Rich Asians

$2,060,000

1,466

$1,405

$169,134,942

8

10

The Predator

$900,000

1,643

$548

$49,985,889

4
Women made up 66% of the opening weekend audience for A Star Is Born, which was also decidedly older, with 85% of the crowd for the R-rated musical/romance over 25. This tried and true showbiz drama is also a natural born Oscar contender, which will likely extend its run even further.

Warner Bros. Animation's Smallfoot enjoyed a modest drop (35.5%) from its muted opening, and finished in third place with $14.9 million, while the Kevin Hart/Tiffany Haddish comedy Night School took a bigger hit (55%), but still managed to make $12.3 million. Paul Feig's neo-noir A Simple Favor continued to chug along, dropping 47.5%, while this summer's big romcom hit Crazy Rich Asians remained in the Top Ten for an eighth straight weekend.

The socially-conscious YA novel adaptation The Hate You Give debuted impressively in 36 theaters with a $13,889 per-venue average, marking it as a film to watch as Fox adds theaters over the next few weeks.

Be sure to check back here next week to see what happens to a trio of new films including Universal's "true life" space drama First Men opens in 3,500 theaters, Sony's youngster-targeting Goosebumps 2: Haunted Halloween bows in 3,400 venues, and Fox's neo-noir Bad Times at the El Royale hits 2,800 locations.